Winged guests return after 29,000km flight
Amur Falcons were radio-tagged in 2019 to keep track of journey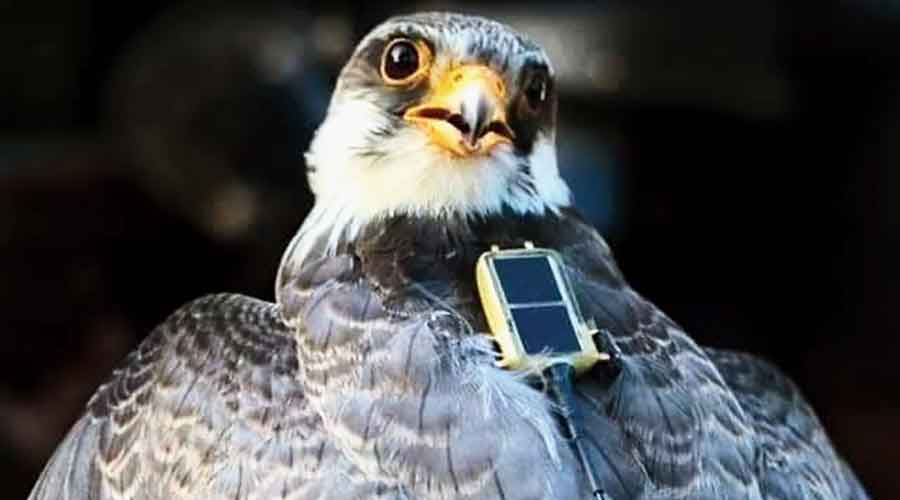 ---
|
Guwahati
|
Published 29.10.20, 12:06 AM
---
Irang, one of the five Amur falcons radio-tagged in Manipur's Tamenglong district in 2019, has returned back to the state after completing its 29,000km migratory route, a feat the ministry of forests and environment described on Tuesday as a milestone in bird conservation.
Amur falcons are pigeon-sized migratory birds originating in Siberia where they breed in the summer. At the onset of winter, they fly to India, especially to the Northeast, where they rest for about two months before leaving for South Africa where they stay for about four months.
On October 31 and November 1 last year, five Amur falcons — named Puching, Chiulon, Phalong (named after Manipur villages), Irang and Barak (named after Manipur rivers) — were radio-tagged as part of a collaborative project between the Manipur forest department and the Wildlife Institute of India.
The project is funded by the Union ministry of environment, forests and climate change for the conservation of migratory birds, especially Amur falcons.
Radio-tagging helps track the travel history, the route and the stay of the migratory birds during their journey helping prepare appropriate conservation measures.
"We are very happy that two of the birds — Chiulon and Irang — have returned after one complete circle of 361 days. Chiulon reached Puching village, one of the eight resting sites in Tamenglong, on October 26, while Irang reached today (Wednesday morning). We will be getting valuable information. These birds are sensitive to cold, a reason for the flight from Siberia at the onset of winter," Tamenglong divisional forest officer Kh. Hitler told The Telegraph.
Irang reached Chandel on October 25, about 200km from Tamenglong, but the forest department had lost contact with the bird. However, worry turned to joy as Irang returned to Puching on Wednesday. Tamenglong is around 100km from state capital Imphal and around 30km from Puching.
The ministry announced the arrival of the birds in a tweet, "A milestone has been achieved in the conservation efforts of birds, as an #Amur named Irang, tagged in #Manipur has returned back to the state after completing its migratory route full circle & covering 29,000km. Another Amur named Chiulon has also arrived in the state yesterday."
In another tweet, it said, "The people of #Manipur particularly in Tamenglong district where the... Amurs were tagged in Nov 2019 had been anxiously awaiting the arrival of the tagged #Amurs and this has now come true..."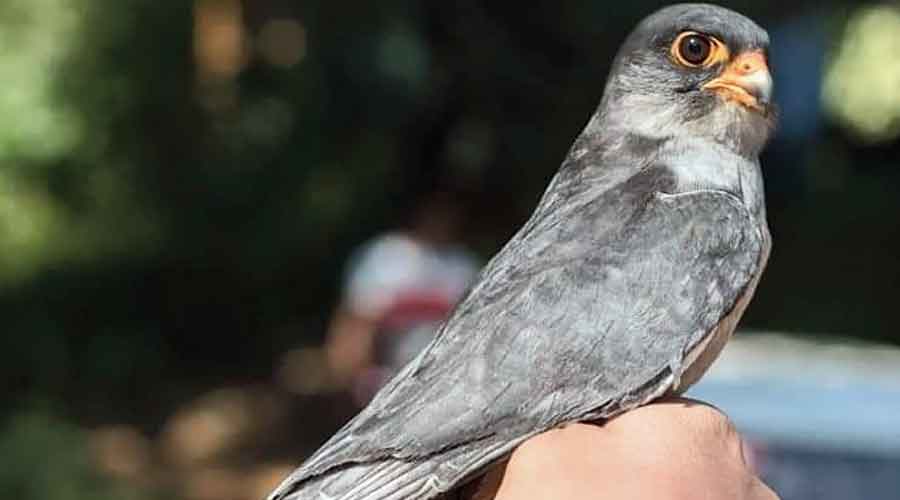 The anxiousness, locals said, stem from the fact that contact was lost with two of the birds three-four days after they left for South Africa and with the third one — Barak — on May 29 this year.
"We lost contact with Barak near the Meghalaya-Bangladesh border, one reason for our anxiousness. Though it is yet to be confirmed, a lifespan of an Amur falcon is said to be about five-six years. We want that they at least complete four-five cycles," Hitler said.
Amur falcons are hunted for their meat but things have changed in Manipur and Nagaland after conservation efforts were launched.
"The conservation initiative in Manipur was launched in 2015 with the Amur falcon festival but still there may be people who are hunting along the migratory routes. The bird is still vulnerable," Hitler said.
An Amur falcon weighs about 170 grams when it reaches the Northeast but its weight goes up to about 270g when it resumes its journey to South Africa.
"It usually feeds on harmful insects like termites and locusts. When they arrive people expect a good harvest. An Amur falcon used to fetch around Rs 30 to Rs 40 before 2015 but with growing awareness things have changed," Hitler said.