Will not always bow to NDA: Conrad
He had vehemently opposed the Citizenship (Amendment) Bill, 2019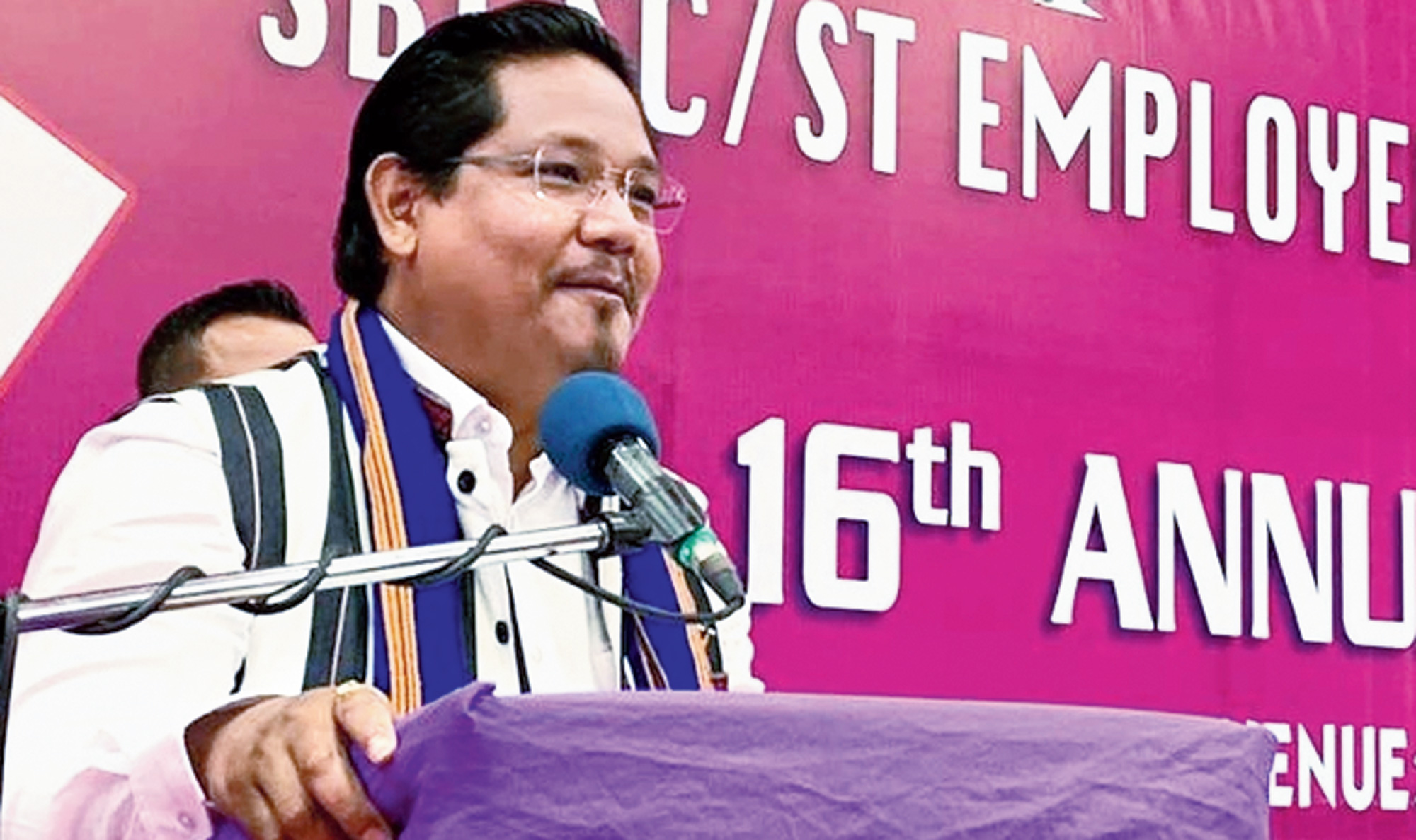 Conrad K. Sangma at a function in Shillong on Saturday.
Picture by UB Photos
---
Shillong
|
Published 27.04.19, 07:09 PM
|
---
Meghalaya chief minister Conrad K. Sangma, who attended Prime Minister Narendra Modi's nomination rally in Varanasi on Friday, said on Saturday that his party, the NPP, would not agree with everything the BJP or the NDA government does.
"We are very clear. We worked with the NDA in the past and fought against the Congress. But that does not mean we accept everything that is said in the coalition or everything that the BJP-led NDA puts on us. We will take our decisions in the best interest of the people. When opposition is necessary, we are ready to fight," the chief minister said.
He said the NPP was "no doubt" a part of the NDA but would fight against the BJP if the situation warranted.
Recently, Conrad had vehemently opposed the Citizenship (Amendment) Bill, 2019. He wondered why the Congress was making his visit to Varanasi an issue.
In a Facebook post titled "Betrayal! Betrayal", senior Congress legislator Zenith M. Sangma wrote on Friday: "Mr Conrad Sangma, Hon'ble CM of Meghalaya during the campaign for Lok Sabha election in Meghalaya, especially in Garo hills, had given eyewash statements to the people that the NPP is not in any case with the BJP. Just to disguise their deep relationship with the BJP, fielded BJP candidate on the request of Mr Conrad knowing the fact that people of Garo hills are agitated and are allergic to the BJP because of their evil design, anti-people and anti-tribal policies."
He added: "But now once the election is over in his home state, he has gone to Varanasi to show solidarity with his godfather Mr Narendra Modi. Is it not a betrayal? When the tribal people and minority religious communities are ceaselessly praying that BJP should not come back to power, he has gone there to support Modi's candidature."
"See his stand: he says if the CAB is passed, he will withdraw his ties with the BJP. Does he want to call the doctor when the patient is dead?" Zenith wrote.
Reacting to the Opposition tirade against him for accompanying Prime Minister Narendra Modi when the latter filed his nomination papers in Varanasi on Friday, Conrad, whose National People's Party (NPP) is a part of the NDA, said, "We must remember that in the last five years of the NDA government, a lot of development has taken place in the Northeast."
Speaking to reporters here, he said the NDA government had provided schemes four to five times more than the previous governments.
"One must appreciate the work done by the NDA government. In the road sector, for example, we have received almost a 10-fold jump in financial allocation under the Pradhan Mantri Gram Sadak Yojana in a year. One must realise the good work," he said.