Visit with National Register of Citizens fear
Arati Gope, a homemaker could not make it to the final NRC published in Assam on August 31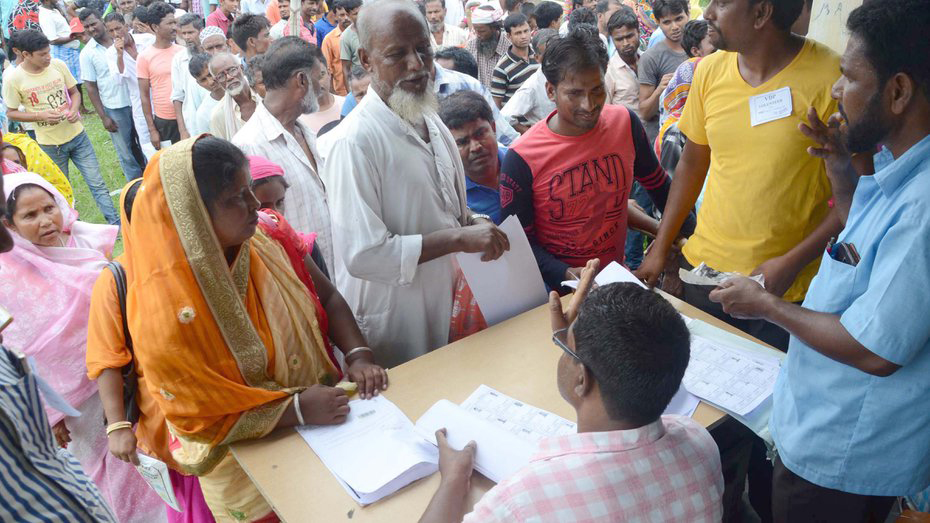 ---
---
Only a few days are left for Durga to come down to earth and pay her annual visit to her father's home.
Like Durga, many others like Arati and Laxmi, who hail from Cooch Behar and are married and settled in Assam now, also plan to spend Puja at their parents' home. They are expected to reach there this weekend.
However, unlike earlier when these women are an anxious lot this Puja. The reason: these women could not make it to the final NRC published in Assam on August 31. They are apprehensive that if they could not prove their citizenship, they will have to spent the next year's Puja at the detention camps.
Arati Gope, a 51-year-old homemaker from Barapeta Road in Assam who is from Baxirhat in Cooch Behar, is one among them.
Arati, who visits her father's place every year during Puja, has come in Baxirhat this year with her husband Manoj, a homeopath and daughter Luna. But they have taken a rented place this time.
"My name is not there in NRC while my husband and my daughter have been able to make it to the list. That is why we are here to try and get more documents to prove by citizenship as I will have to appear before the foreigners' tribunal. My mother is still alive and I don't want to see her tensed as she has no inkling about this issue," said the homemaker.
Similar is the situation for Laxmi Debnath and her family, who is also from Baxirhat and stay at Chotoguma in Gossaingaon of Assam.
Ahead of her marriage, her family used to stay at Bhanukumari in Baxirhat but later, they shifted to Khardaha in North 24 Parganas.
"We have come to know that my daughter's name is not there in NRC. She usually visits us during the festive season but this time, she is worried and is roaming around in Baxirhat to collect documents," said Anjali, her 71-year-old mother, over phone from Khardaha.