Realising that self-help is the best help, villagers of Kongkul, Old Borguli and New Borguli in East Siang district of Arunachal Pradesh have taken up the Herculean task of river control by indigenous methods to mitigate the fury of the Siang which frequently causes flash floods and erosion.
The villages, under Namsing circle of Mebo subdivision, 45km from here, had suffered one of the worst flash floods last year with many villagers suffering crop and cattle loss and many having to lose their home, hearth and land to massive erosion.
Since then, villages on the south bank of the river have been constructing porcupine spurs in the traditional style with trees, wood, bamboo and other items on their own without waiting for government funds.
They have also engaged JCBs and tractors. Work has been completed in some villages, is under way in some and will begin in others. The villagers want to complete the work before the onset of monsoon.
Kongkul constructed the spurs on Tuesday, Wednesday and Thursday while Old Borguli and New Borguli started the work on Friday.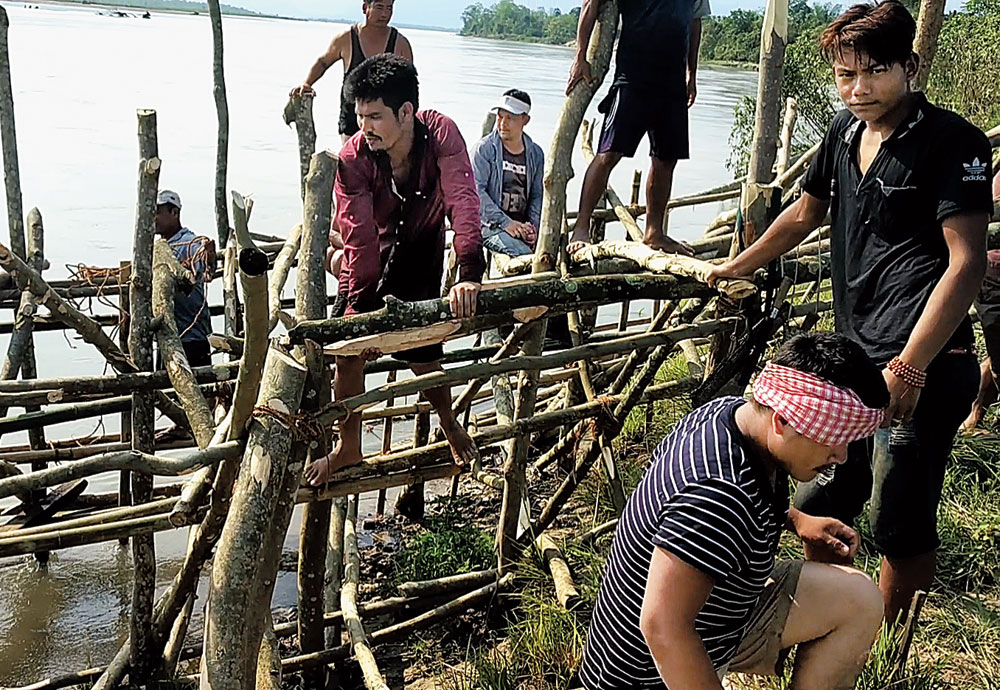 Villagers construct traditional porcupine spurs Picture by Maksam Tayeng
The Pema Khandu-led state government had, before notification of the Lok Sabha polls, announced Rs 35 crore for flood-control measures on the south bank of the Siang but the funds are yet to be released as the model code of conduct is in place.
To take stock of the situation and encourage villagers, East Siang deputy commissioner Kinny Singh and other officials visited Kongkul on Tuesday.
Appreciating the villagers, he said hard work and self-help will go a long way in securing the village and its lands from the Siang.
Group Captain (retd), Mohonto Panging, secretary general of SEEANG Foundation, who accompanied the administrative team, said though government funds are yet to be released, they would continue to help villagers construct spurs to help control flood and erosion.
SEEANG Foundation was formed by retired government officials and public leaders after last year's floods to help villagers take river-control measures on the south bank of the river in Mebo subdivision.
Khandu has said the funds are being cleared by the DoNER ministry and will be released anytime after the model code of conduct is lifted.
He, too, lauded the efforts of the villagers, Panging said.