Tribute to 'architect of modern Tripura'
The late king Maharaja Bir Bikram is considered the father of modern architecture in Tripura and one of the pioneers of land reforms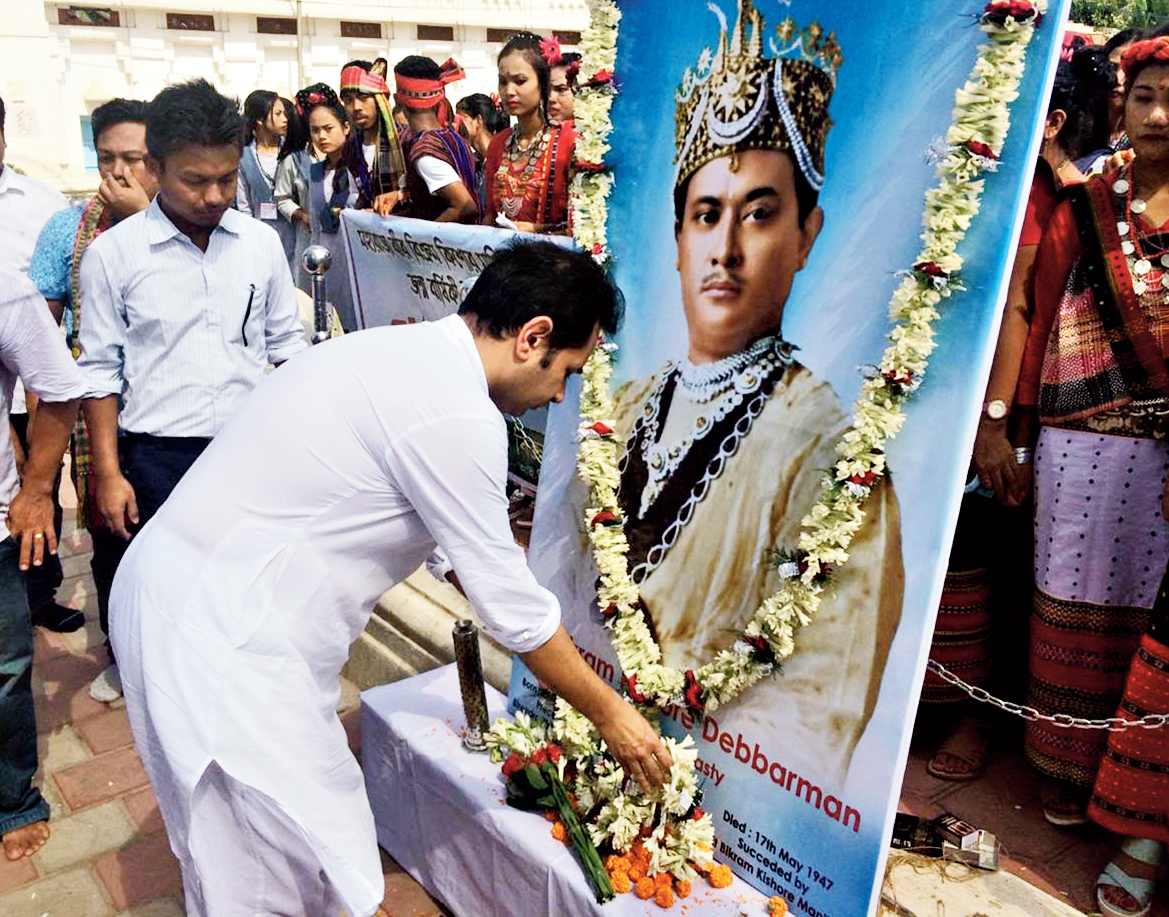 ---
|
Agartala
|
Published 19.08.19, 08:00 PM
---
The people of Tripura on Monday observed the 111th birth anniversary of the architect of the modern Tripura, Maharaja Bir Bikram Kishore Manikya here, remembering his contribution to the development of the state.
On Monday afternoon here, the royal scion, Pradyot Kishore Manikya Deb Burman, inaugurated a photo exhibition on the life of Maharaja Bir Bikram Manikya which was organised at Chandra Mahal here.
Deb Burman said the king, within a short span of time, had initiated a series of development projects for the state.
"At a very young age, he had been to foreign countries a number of times and met Benito Mussolini, Adolf Hitler and other leaders. In 1936, he had been to London and donated an amount to build a Vishnu Mandir for the Hindus living there," he said.
He added that Maharaja Bir Bikram went to Santiniketan to meet Rabindranath Tagore and to confer the Bharat Bhaskar award upon him.
The royal scion said if Maharaja Bir Bikram lived for another few years, the future of Tripura could have been different now.
"He died at a very young age and had developed Tripura by using modern technologies. He has modernised and designed the major cities of Tripura like Agartala, Dharmanagar and Udaipur. In 1940, he had reserved land for the indigenous people of the state," Deb Burman said.
The late king is considered the father of modern architecture in Tripura and one of the pioneers of land reforms.
In 1939, he reserved land for the indigenous population, which was later instrumental in the creation of the autonomous district council.
He also built the first airport in Tripura.
The Ujjayanta Palace was constructed between 1899 and 1901 by Maharaja Radha Kishore Manikya and was the home of the ruling Manikya dynasty until Tripura's merger with India in October 1949.
Inaugurating an event here on Monday morning, Tripura chief minister Biplab Kumar Deb said Maharaj Bir Bikram was not just a king of Tripura but also the architect of modern Tripura.
"Maharaja Bir Bikram Manikya was the man who developed Tripura at that time. He gave equal importance to all aspects and with proper planning, he developed the state," Deb said.
The chief minister said the king intended to invite people from other countries like artistes, architects, writers and businessmen to visit his state, claiming that after 1972 when Tripura got statehood status, the practice was stopped.
"After the BJP-IPFT government assumed office in March last year, we changed the name of Agartala airport to Maharaja Bir Bikram Airport, which was a long-pending demand of the people of the state," he said.
Deb said his government was planning to start a bus service from MBB Airport to Cox Bazaar in Bangladesh via the under construction Feni river bridge.
The Cox Bazaar sea beach is Asia's longest natural beach.
"The government is also planning to plant trees on both sides of the national highway till Feni bridge to make Tripura a green corridor, Deb said.