Tinsukia teacher establishes weather monitoring station
Chinmay Chetia wanted to encourage students to study science and help farmers by predicting weather conditions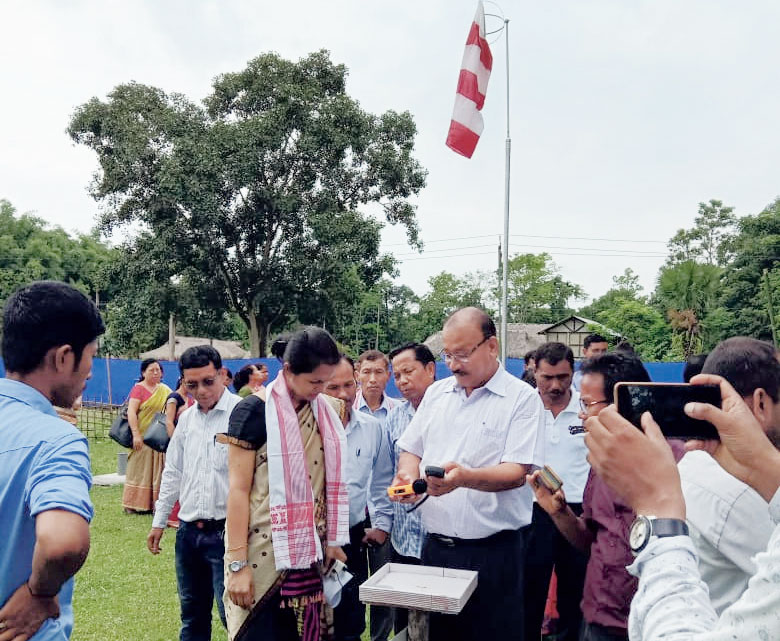 Chetia shows the weather monitoring station equipment to visitors at the school
(Picture by Manoj Kumar Ojha)
---
Doomdooma
|
Published 27.06.19, 07:14 PM
|
---
Chinmay Chetia, a science teacher and headmaster in-charge of N. Them Middle English School under Margherita sub-division of Tinsukia district, has established a weather monitoring station, to encourage students to study science and help farmers by predicting weather conditions.

The school is 22km from Margherita and 75km from Tinsukia.
"Students will get the basic knowledge of the local weather through this system. A barometer, a wind sock, a hydrometer, a thermometer, an anemometer and a rain gauge have been included in the station. A special unit with the school's students has been formed to collect data for the station every day. The station will be equipped with more apparatus. I seek cooperation from all to make it a full-fledged and a highly-advanced weather monitoring station," Chetia said.
Tinsukia district elementary education officer Binty Sharma said: "It is really praiseworthy that a headmaster of an upper primary school of a remote region has come up with such an innovative idea. Local residents, especially students, can gauge actual temperature, humidity, rainfall, wind speed and wind direction in this area and plan their everyday activities accordingly through this station."
Margherita block elementary education officer Tankeswar Gogoi said: "This will help residents get specific information about weather conditions. It will help them with necessary information during floods too."
The president of the Margherita Subdivision Prathmik Shikshak Sanmeelan, Bharat Neog, said, "This is a good initiative to keep people updated about the local weather. It will help us take necessary precautions during rain or floods as well."
Mayuri Moran, a class VIII student here, said, "I want to be a meteorologist. I will study atmospheric chemistry and physics with major focus on weather forecasting. The weather monitoring system, set up by our sir, will help me a lot learn these things."
Students of other schools of the adjoining areas are visiting N. Them Middle English School to know about the station.
There are 198 students in the school which was established in 1973 and provincialised in 1978. Chetia joined the school in 1995.