Tinsukia NGO links felling of trees to flood havoc
The Doomdooma divisional forest officer said, 'We have no report of illegal felling of trees'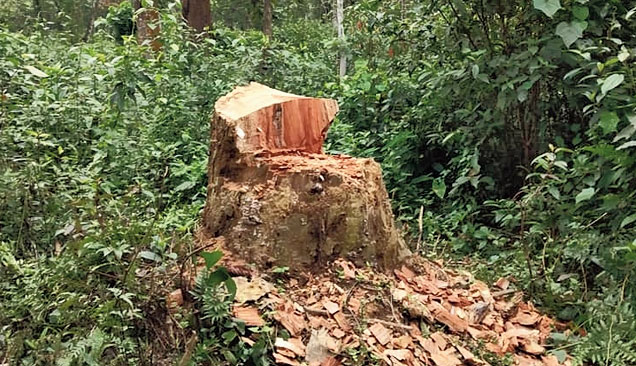 A chopped tree in Digboi forest division.
Picture courtesy: Devajit Moran
---
Doomdooma
|
Published 20.07.19, 08:34 PM
|
---
An NGO based in Upper Assam's Tinsukia district on Saturday alleged that illegal felling of over 10,000 trees was one of the reasons for this year's floods.
Devajit Moran, secretary of Green Bud Society, said, "We have been working since 2012 for wildlife and forest conservation at Dehing Patkai forest range in Tinsukia district. Over 10,000 trees were cut down this year, which is one of the major reasons for flood havoc this year."
He said rampant deforestation was going on at Tinkupani, Namphai, Powai, Lakhajan, Namdang and Ulop under Digboi forest division and at Duamara, Pengeri and Bordumsa under Doomdooma forest division. "We always try to work with the forest department but they don't reciprocate. We conduct plantation programmes on a regular basis," Moran added.
On Friday, Moran wrote on Facebook, "Digboi and Doomdooma forest divisions are competing in chopping off trees. The partnership between timber smugglers, rangers and DFO has led to felling of trees along the road. They should understand that they get their bread and butter due to the forests and wildlife. The educated officers don't understand that the main reason for floods is the destruction of nature."
When contacted, Doomdooma divisional forest officer Dilip Kumar Deka said, "We have no report of illegal felling of trees."
The office of the environment and forests minister Parimal Suklabaidya said, "The complaint will be brought to the notice of the minister and necessary action taken."