Tearful adieu to Khasi Students' Union (KSU) activist on final journey
'I will go to Ichamati whenever a meeting takes place (against the Citizenship Amendment Act)'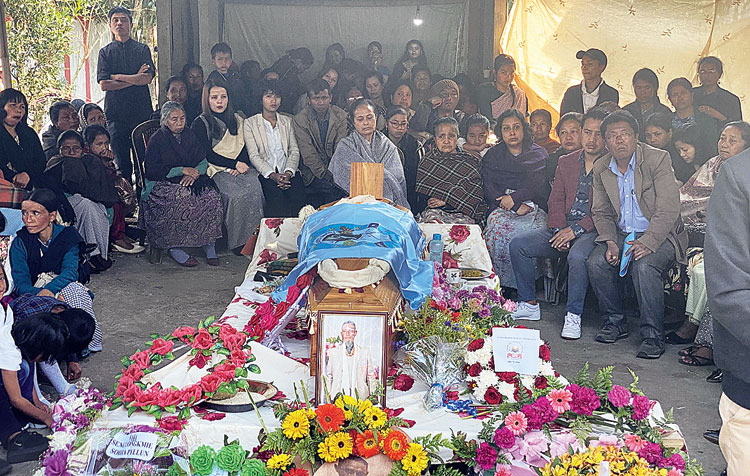 People pay tributes to the mortal remains of Lurshai Hynñiewta
Telegraph picture
---
Published 02.03.20, 06:53 PM
|
---
"I will go to Ichamati whenever a meeting takes place (against the Citizenship Amendment Act)…I will fight for my land, and for the future of my children…"
These were the words of Lurshai Hynñiewta, a Khasi Students' Union (KSU) activist, more than a month before he succumbed to his injuries after he was attacked by a group on Friday evening at Ichamati village under Sohra civil sub-division in Meghalaya's East Khasi Hills district.
As thousands of mourners bid farewell to Lurshai — who celebrated his 38th birthday on February 26, two days before he died — his widow, Balawanrisha Khongshei told The Telegraph that her husband had spoken about the Ichamati meeting more than a month before it was held.
"He told me that whenever there will a meeting at Ichamati, he would attend. I persuaded him not to go by saying that he already has a family. However, he shot back saying: 'I will fight for my land so that my children will survive, so that their future will be secure'," Balawanrisha said as Lurshai's moral remains were cremated here, about 56km from Shillong.
On Friday, a clash broke out between two groups after a meeting against the CAA concluded at Ichamati market. Armed with machetes and sticks, some men thrashed KSU activists leading to Lurshai's death.
Little did Balawanrisha know that shortly after his assertion, Lurshai's words would actually come true.
"It is only now that I realise what he had told me," she said. On Friday, she said that things were normal with Lurshai. The couple have four children — the eldest being 11 years oldand the youngest only 15 months.
In the evening, she said that she had received a call asking her to go to Ichamati village to fetch her injured husband from a health centre. Lurshai died at Sohra the same night.
Balawanrisha wants the struggle to continue. "I want people to continue with the struggle (for the protection of our land). This was what my late husband had fought for. If we achieve in our struggle, then Lurshai will also attain peace," she added.
Various speakers at the funeral service mourned Lurshai's demise. The funeral procession from his home at Saitsohpen to the cremation ground witnessed participation of a huge number of mourners.
KSU chief Lambokstarwell Marngar said: "This is a great loss for everyone. Lurshai left this world not because he did anything wrong. He fought for the cause of the land and the indigenous people. We hope that our people will take time to ponder why such a thing happened. Is it because of external factors or due to internal reasons?
"We cannot wipe away the tears of sorrow, but we will fight on the ground and that will be the answer to the loss we suffered with Lurshai's demise," Marngar said.