Tea tribute to health workers in Arunachal Pradesh
Estate raises funds for frontline staff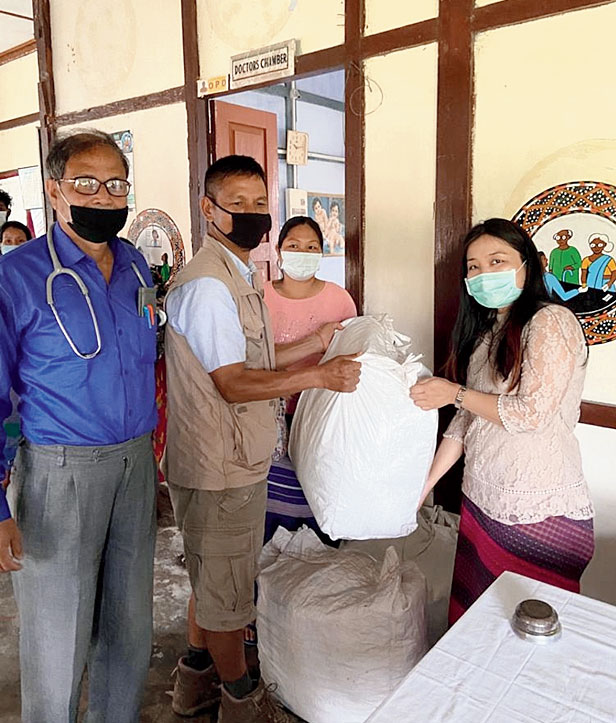 The community auction at Sille primary health centre in Arunachal Pradesh's East Siang district on Thursday
Telegraph picture
---
Guwahati
|
Published 22.05.20, 11:39 PM
|
---
A community tea auction in Arunachal Pradesh has raised funds for the health community in a unique way.
Tea pluckers from Sanggo self-help group in Oyan village adjacent to Donyi Polo tea estate in East Siang district of Arunachal Pradesh had plucked tea during the lockdown which was auctioned on International Tea Day on Thursday.
The group volunteered to do the plucking to help the garden since tea workers could not come from Assam because of the Covid-induced lockdown.
The total proceeds from the tea auction, Rs 52,700, went to the public health centre at Sille, where the auction was held and which is run in public-private partnership.
Donyi Polo superintending manager Manoj Kumar said, "These pluckers from adjoining Oyan village had volunteered to pluck leaf from April 20. Teas made from leaves harvested by them were auctioned and around 500kg of green tea was distributed among villagers in a bid to boost their immune system."
"The bidding price ranged from Rs 5,200 to Rs 6,500 for each tea box. The total fund raised from the sale was Rs 52,700. It will go to the corpus fund for micro-credit facility for the nurses and doctors of Sille PHC," he said.
"The health workers have rendered yeoman's service during the lockdown. We felt this would be a great way to express our gratitude to them. A few of our regular buyers agreed to participate in this sale from cities across India. I feel lucky to be a part of such a compassionate environment where each one cares for the other," he said.
CTC, green tea and orthodox tea was sold during the auction. The highest price fetched for a box was Rs 6,500, which was paid by Bohagi Advisory, Gurgaon.
Absolute Tea from Guwahati, Russian buyers from Saint Petersburg, R.N. Associates from Jonai, Bohagi Advisory from Gurgaon, Vivek Trade Combine of Sille, Singh & Singh Enterprise of Pasighat, Moyong Store of Pasighat and Mrs Dinu Tayeng from Pasighat participated in the bidding.
The auction was conducted by tea master T. Darang, who is also manager of Donyi Polo tea estate.
The Donyi Polo garden, owned by Siang Tea and Industries Private Limited, has already earned a name by making superb teas which have earned record prices at the auctions.
The director of Siang Tea Industries Ltd, Omak Apang, said the objective of the UN International Tea Day is to raise global awareness about the economic significance of tea and the health benefits of drinking it regularly. "With this initiative, we are trying to revive economic livelihood in the rural areas during the lockdown," Apang said.