'Suspended expulsion' for IIT Guwahati students
The students have only been kept under 'suspended academic expulsion' from the institute for a semester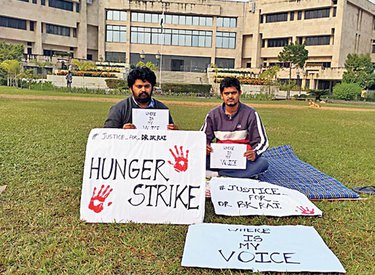 Vikrant Singh and Himanchal Singh on hunger strike at IIT
Telegraph picture
---
Guwahati
|
Published 20.03.20, 07:28 PM
|
---
The Students' Welfare Board, IIT Guwahati, on Friday said the two PhD students — Vikrant Singh and Himanchal Singh — have not yet been suspended.
Aaditya Sanwal, the general secretary of the Board, said the students have only been kept under "suspended academic expulsion" from the institute for a semester.
"The 'suspended academic expulsion' terminology commonly used in the disciplinary proceedings here (IIT) means that they have been awarded an academic expulsion, but it is not effective immediately. Technically, it means that they have not yet been suspended. It is more of a strict warning that if you violate the code of conduct for students in the future, then the same may be imposed by the students disciplinary committee," Sanwal told The Telegraph.
An IIT notice to the students on Tuesday had stated, "You (the student duo) are kept under 'suspended academic expulsion' from the institute for one semester, which will be applicable any time during your stay at IIT Guwahati. Violation of any clause of Ordinance on Code and Conduct of Students, including indulging in the above mentioned charges (A,B&C) in future, will lead to your expulsion from the day the SDC deems fit, without further deliberation. No appeal in this regard will be entertained."
According to the notice, disciplinary proceedings were carried out against the student duo as they had "indulged in misinterpretation of facts in print and electronic media related to the institute without verification, resulting in defa-mation of the institute" besides staging a hunger strike from January 4 to 7, a move which "interfered with the operations of the institute".