Submersible pumps for Meghalaya coal mine
The mine is over 320 feet deep, of which more than 150 feet is submerged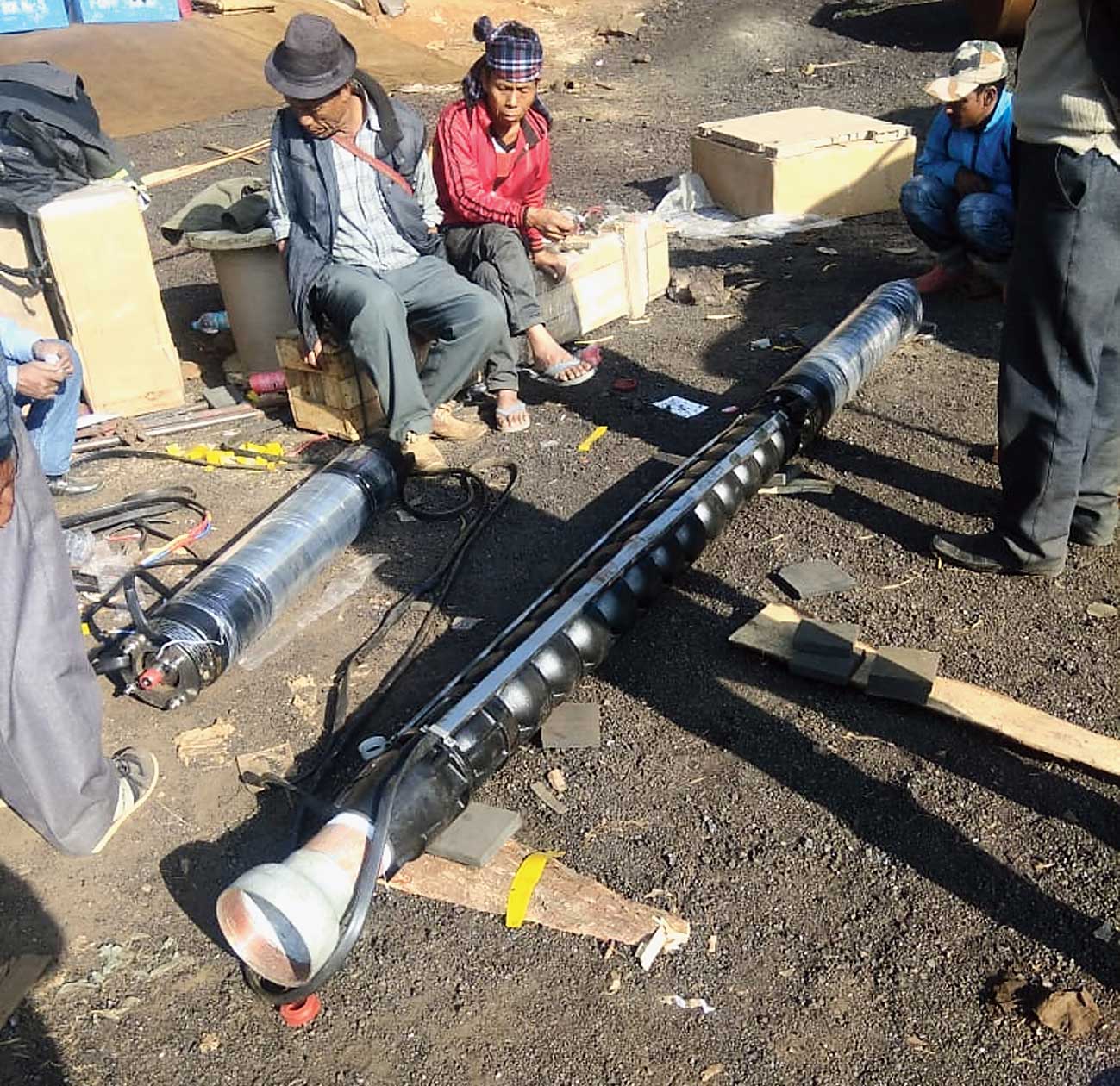 Workers with equipment to be used for rescue operations at the mine in East Jaintia Hills
The Telegraph picture
---
Shillong
|
Published 03.01.19, 06:43 PM
|
---
Coal India Limited and Pune-based Kirloskar Brothers Limited on Thursday readied high-power submersible pumps for the mine where 15 workers have been trapped since December 13 last year.
Official spokesperson R. Susngi said from ground zero that personnel from the Odisha fire and disaster management services resumed operations at 10am.
On Wednesday, the personnel had reported that the water level in an old shaft located near the main mine where the miners are trapped had receded by 1.4 feet.
However, Susngi said that on Thursday morning the water level in the old mine had risen again.
One more pump was then deployed to boost the dewatering process.
Susngi said around 1.20pm, the personnel installed three dewatering pumps in another old shaft situated downhill. He said the team from Kirloskar was preparing a submersible pump to be inserted in the main shaft.
At 5.10pm, the Odisha personnel stopped operations.
The water level in the old shaft decreased by six inches and the level in the other shaft dropped by 13 inches.
Personnel from Coal India Limited are also readying their submersible pump to make it functional at the earliest, Susngi said.
The navy and NDRF divers did not go down the main shaft on Thursday.
The mine is over 320-feet deep, of which more than 150 feet is submerged.
On the interim relief of Rs 1 lakh each, as announced by the East Jaintia Hills district administration last month, Susngi said information was sent through all respective superintendents of police of the districts concerned to intimate the relatives.
However, no family member has responded to the intimation, Susngi said, adding that the family members of the 15 miners can contact the East Jaintia Hills district administration.