Solve Meghalaya-Assam border issue before 2022: Group
Referendum suggested to allow people on border to chose their state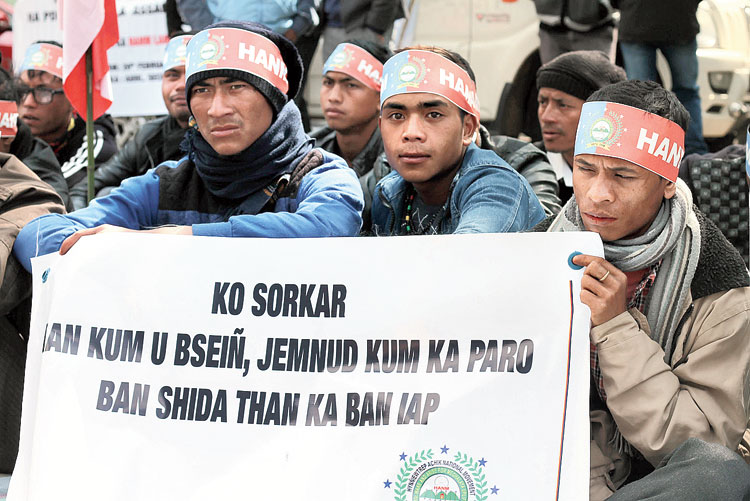 HANM members during the protest in Shillong on Wednesday
(UB Photos)
---
Shilong
|
Published 20.02.19, 06:41 PM
|
---
The Hynñiewtrep Achik National Movement (HANM) on Wednesday said Meghalaya should resolve the long-pending inter-state boundary dispute with Assam before the state celebrates its golden jubilee in 2022.
The organisation pitched for a referendum in order to allow residents along the Meghalaya-Assam border to decide to which state they wanted to side with, especially when both the states are adopting tactics to delay in arriving at a solution.
The organisation made this statement as hundreds of its members staged a protest near the additional secretariat here on Wednesday, to pressurise the NPP-led Meghalaya Democratic Alliance (MDA) government to speed up the process of finding an amicable solution to the dispute.
HANM president Lamphrang Kharbani said during the 2018 Assembly elections, the NPP had promised that if elected to power, the priority of the party would be to solve the inter-state boundary dispute.
Kharbani recalled that in 1966, when late Hoping Stone Lyngdoh was an executive member of the erstwhile United Khasi Jaiñtia Hills Autonomous District Council, he had reaffirmed before the undivided Assam government that the areas under Block I and II, Raid Nongtung, Jirang Umthna and several others would fall within the jurisdiction of the council.
"Unlike late Lyngdoh, our leaders are not serious in getting this issue resolved. The more the government delays, the more it becomes an opportunity for Assam to claim the areas that are part of Meghalaya," Kharbani said.
"The delay has led to the state losing many villages, including areas under Block I and II to Assam though they fall under the erstwhile United Khasi-Jaiñtia Hills," he said.
"The state should have its proper boundary before celebrating the 50th year of statehood in 2022," Kharbani said.