Push to Assam's handloom
Weaving is replete with artistic sensibility and intimately linked to folk life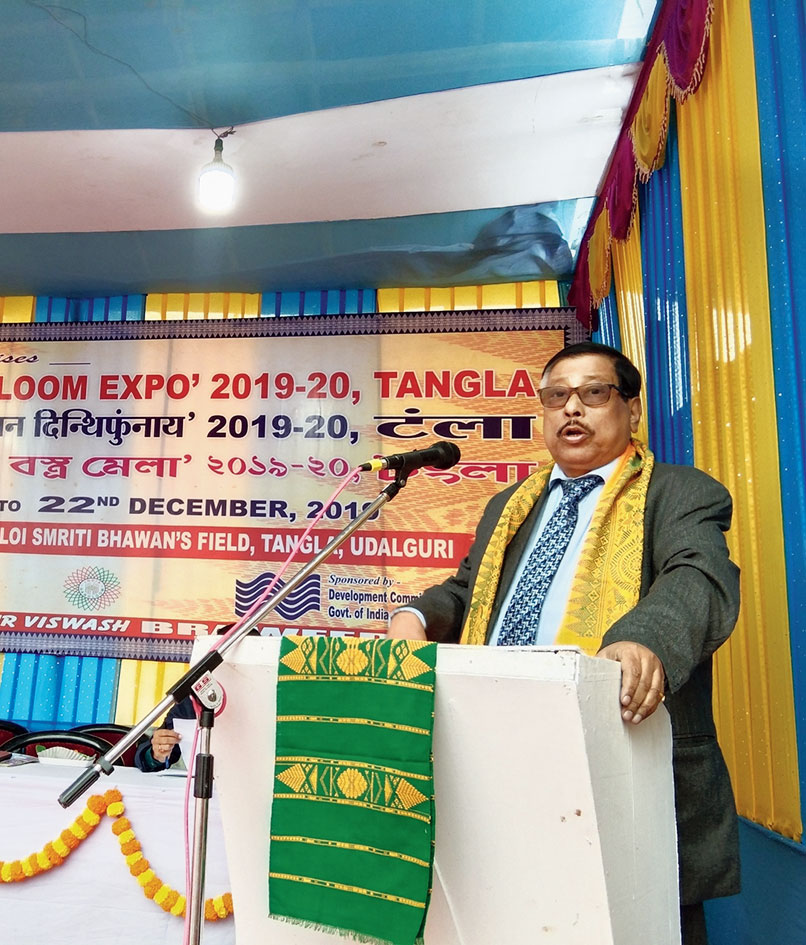 ---
|
Udalguri
|
Published 22.12.19, 09:04 PM
---
The managing director of the Bodoland Regional Apex Weavers and Artisans Cooperative Federation Ltd, N.N. Rana Patgiri, on Sunday underscored the growing demand of Assam's handloom products in national and international markets.
Addressing a gathering on the concluding day of the 14-day National Handloom Expo at Tangla town in Udalguri district on Sunday, Patgiri said, "The handlooms and textiles industry of Assam has a global market. The need for authentic and quality products has paved the way for village women to tap the booming commercial market and generate income to become economically independent."
Traditional designs and motifs in the handloom products of the greater Assamese society always sport a unique identity and charisma, he added.
"In Assam, weaving is replete with artistic sensibility and intimately linked to folk life," Patgiri said.
Assistant director of the Weavers Service Centre, Guwahati, Sarbeswar Das, stressed the need for weavers and entrepreneurs to revive the production of hand-woven textiles through technological advancement.
Deputy director of the state handloom and textiles department Jayanta Dev Sarma dwelt on the need for trending and appealing designs by weavers to suit the changing demand of buyers.
The expo was organised by Bodoland Regional Apex Weavers and Artisans Cooperative Federation Ltd in collaboration with the development commissioner for handlooms, Union ministry of textiles, where 61 participants from across the country took part. A theme pavilion was set up where handwoven products were put on display.
Sources said the expo recorded a business of Rs 1.2 crore.
The Bodoland Territorial Autonomous District (BTAD) region, covering Kokrajhar, Chirang, Baksa and Udalguri enjoys the unique distinction of producing all three varieties of commercially exploited natural silks — eri, muga and mulberry.
The Bodo belt is the largest producer of eri silk in Assam after Karbi Anglong. A total area of 2,895 hectares is covered under muga, eri and mulberry silkworm food plant in the BTAD with 51,195 families directly involved in sericulture.