Protest coal mining decision: Akhil Gogoi
Activist says such decisions by govt will destroy the biodiversity of the region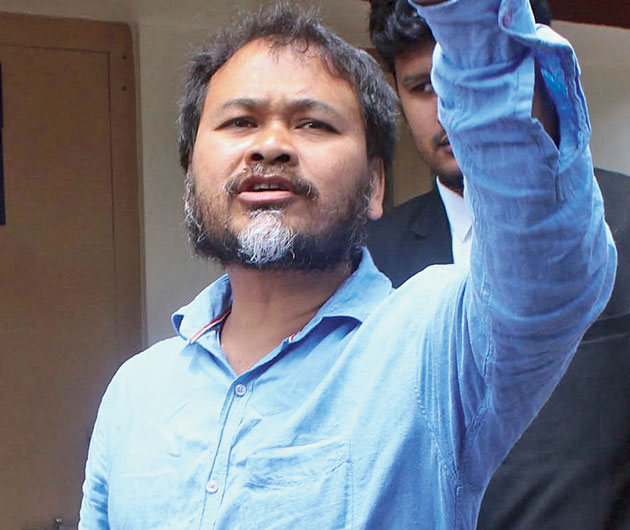 Akhil Gogoi
Picture by UB Photos
---
Guwahati
|
Published 26.05.20, 10:31 PM
|
---
KMSS leader and anti-CAA activist Akhil Gogoi, while being produced at the forensic laboratory in Kahilipara here for voice sampling, asked the people of Assam to unite and protest against the government's decision to mine coal in Dehing Patkai wildlife sanctuary.
Akhil was brought to the laboratory by Assam police for a forensic voice sample test to be used as evidence against speeches made by him during the protests against Citizenship Amendment Act (CAA).
Akhil was not allowed to speak to the media but he sent his message through written points, which he handed over to his colleagues, asking the people of Assam to unite and protest against the Dehing Patkai coal mining issue.
He said such decisions by the government would destroy the biodiversity of the region, which should not be allowed. "We should all forget our differences and join hands to save our Dehing Patkai and Dibru Saikhowa," he added.
He alleged that the government was trying to keep him in jail because it does not want voices raised against its "wrong doings". Irrespective of what happens, he said, the voice against CAA should not be stifled. "No matter what, we will never accept CAA."
He demanded that the government provide people who have lost their livelihood because of the lockdown with Rs 6,000 per month for at least six months to help them tide over financial hardships.
Akhil has been under detention since December 12, 2019 in connection with NIA case No. 13/2019 registered under Sections 120B, 253A, 153B of IPC and Sections 18 and 39 of the Unlawful Activities (Prevention) Act, 1967. He was granted bail on March 17 by NIA special judge after the NIA failed to chargesheet him within the mandatory 90 days but the order was stayed by the high court on April 7 following an NIA appeal.
Akhil has been in judicial custody since December 27.