Priceless family moment on stage
The story of these two brave souls began when Chara was two years old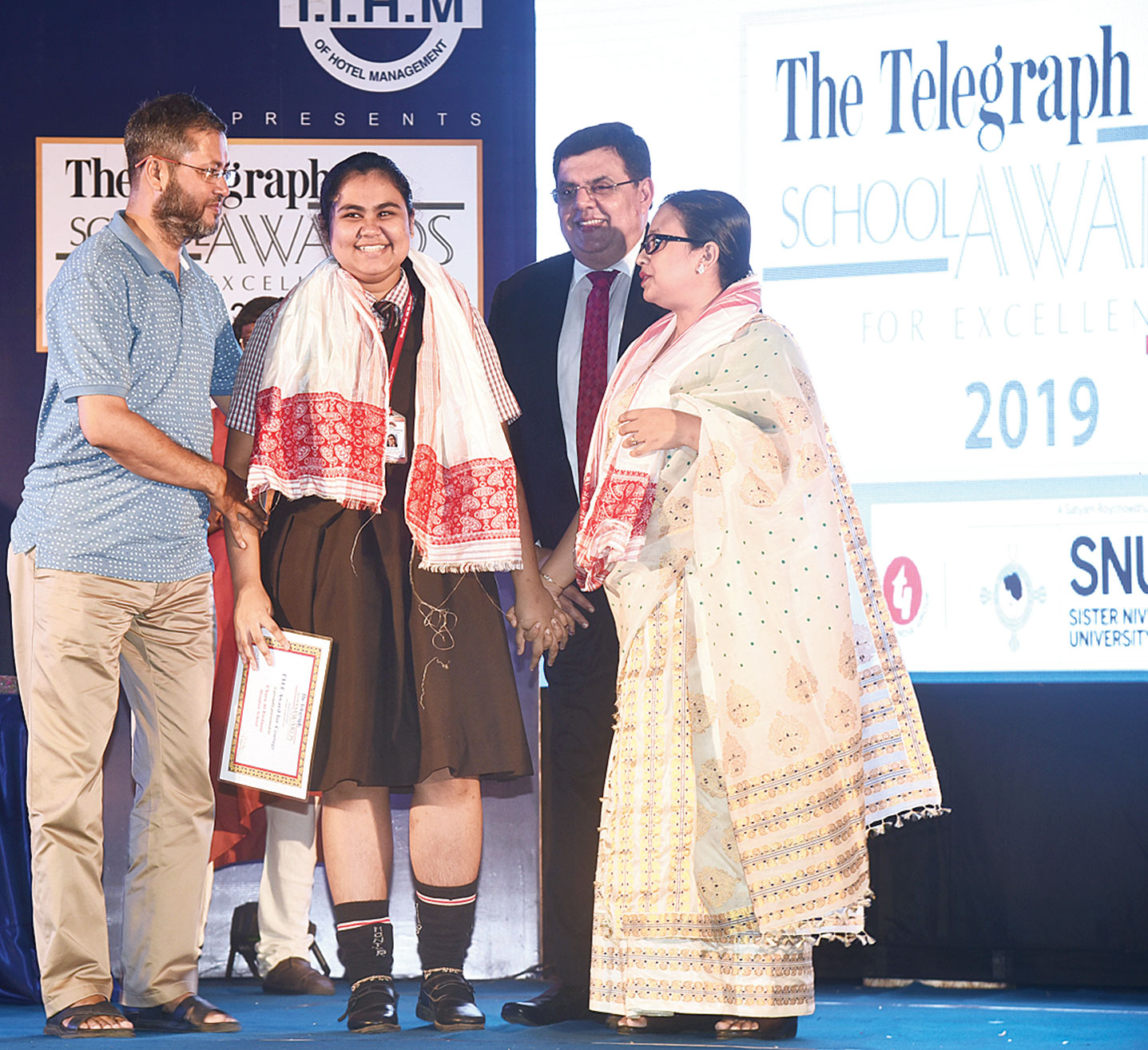 ---
|
Guwahati
|
Published 28.09.19, 06:44 PM
---
Atifa Shahnaz Begum and Chara Al-Firdausi of Guwahati are inspiring protagonists of a mother-daughter story. And when Atifa presented Chara with the TTEF Award for Courage and kissed on her head during The Telegraph School Awards for Excellence 2019 Northeast at the GMCH auditorium here on Saturday, it left most in the packed hall emotional.
The story of these two brave souls began when Chara was two years old.
She could not speak and could only communicate through gestures. Autism had held a heavy sword on her future. But she refused to buckle down and with her determination continued to nurture her artistic talent.
Chara, 14, is now a class VIII of Montfort School, located at Jorabat under Kamrup (metro) district, studying with other normal children. She hones her artistic self by attending music, art, recitation and yoga classes under the guidance of professional instructors.
Recognising her indomitable spirit to take all odds head on, The Telegraph Education Foundation (TTEF) on Saturday honoured Chara with the TTEF Award for Courage during The Telegraph School Awards for Excellence 2019 — North East.
Chara's journey so far probably would have not been possible had her mother Atifa not decided to dedicate herself to help Chara overcome all hindrances and climb the ladder of life step-by-step.
Chara had developed anxiety disorder too when she was in class IV. "Sometimes when her anxiety increases, the teacher cannot control her. So I have to be with her in school and at the same time help other children with special disabilities," Atifa said.
"We realised that Chara needed special care more than a normal child. But she is also blessed with an extraordinary musical talent and very good artistic skill. She is attending music classes, art classes, recitation classes and yoga classes under the guidance of professional instructors," she said.
During the event on Saturday, Chara displayed her talent in front of a packed auditorium. She, along with six other students of her school performed beat-boxing, singing We are the World, mesmerising the audience and winning a standing ovation.
Atifa was also felicitated at The Telegraph School Awards for Excellence 2019 for her role as "autism caregiver". Many in the audience got emotional when among other awardees of TTEF Award for Courage, Atifa had to felicitate her daughter.
"It is a privilege to be felicitated by The Telegraph. We are happy this kind of award was being given to specially-abled persons. It makes it an inclusive as well an exclusive awards function," said an emotional Atifa, wiping away her tears.
Atifa had a good academic record. A masters in philosophy, she also acquired an LLB degree.
"But after Chara was born, Atifa dedicated herself to bringing up her daughter. Every day Atifa takes Chara to school, helps her and other children there and brings her back," Chara's father Ziaul Hoque said.
The others who won the TTEF Award for Courage are Abhilash Borthakur from Silver Oak High School, Kothakoli Nandi from St Vivekananda English Academy, Nayana Barman from Montfort School, Jebin Kousar from Maryam Ajmal Women's College of Arts, Shimpi Bora from Nagaon Government Girls HS School, Thapana Kaibartta from Guwahati Public School and Yaman Chetri from Montfort School.
All the awardees have done well academically despite the odds.