Oinam Bembem Devi appeals to ISL and I-League clubs for women's teams
Durga of indian football hails Gokulam Kerala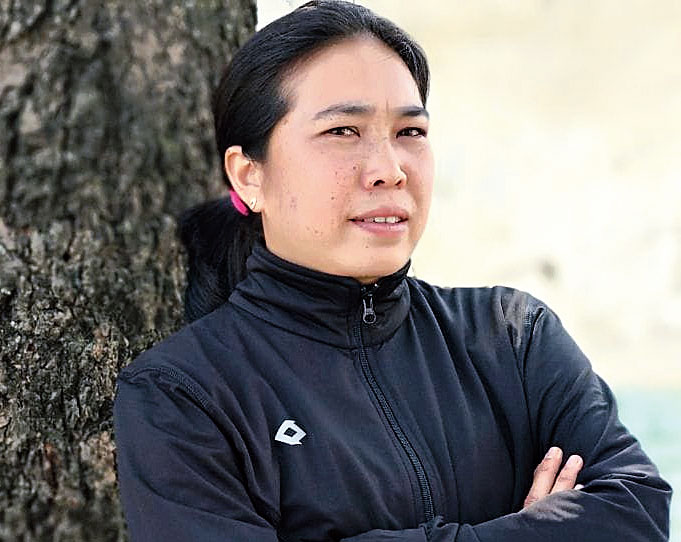 Beacon of hope: Bembem Devi.
Picture by Abdul Gani
---
Guwahati
|
Published 19.05.20, 07:55 PM
|
---
The first Indian woman footballer to be honoured with Padma Shri, Oinam Bembem Devi, has appealed to the ISL and I-League clubs to start their women's teams so that women's football can develop at the same pace as that of men.
Bembem Devi also welcomed the AIFF move to reduce the number of foreign players in the I-League.
"Clubs play a major role in the development of football which we have seen in the European countries. Similarly, here in India also they can play a role. The women's team also needs the same importance. Over the years, women's football has improved. If these clubs can come up with their women's teams, it will be a huge boost for the game," Bembem Devi told The Telegraph.
So far, I-League clubs Gokulam Kerala and East Bengal FC and ISL side Pune City FC have their women's teams. Gokulam Kerala are the reigning champion of the Indian Women's League (IWL).
"More teams mean more players will get to play. More matches will help in growing the players' confidence. To form a women's team and participate in the leagues is very difficult. As these clubs already have their own set-up, it becomes easier for them to form a women's team and march ahead," she added.
Bembem Devi also appreciated Gokulam Kerala for their team which has won the 4th edition of IWL.
"This year, the way the Gokulam Kerala women players played was really fantastic. The performance level has gone up by leaps and bounds, thanks to the facilities the club has provided. Only these ISL and I-League clubs can provide these kinds of facilities and thus play a huge role in development of women's football," the 40-year-old former midfielder, nicknamed the Durga of Indian football, said.
Bembem Devi, who has played the highest number of matches for India, also welcomed the AIFF move to reduce foreign players in the playing XI in I-League from five to four.
"I have always believed that reducing the number of foreign players will facilitate Indian players with opportunities to play more games and improve. Quality foreign players, but less in number on the field, will be helpful for the local guys to compete with them and grow. I am really happy with this development," she added.
The AIFF executive committee recently decided to implement the 3 (foreigners) plus 1 (Asian) recruit rule for I-League matches from 2020-21 season.