NRC cloud over Durga artisans
Idol-makers leave craft for legacy data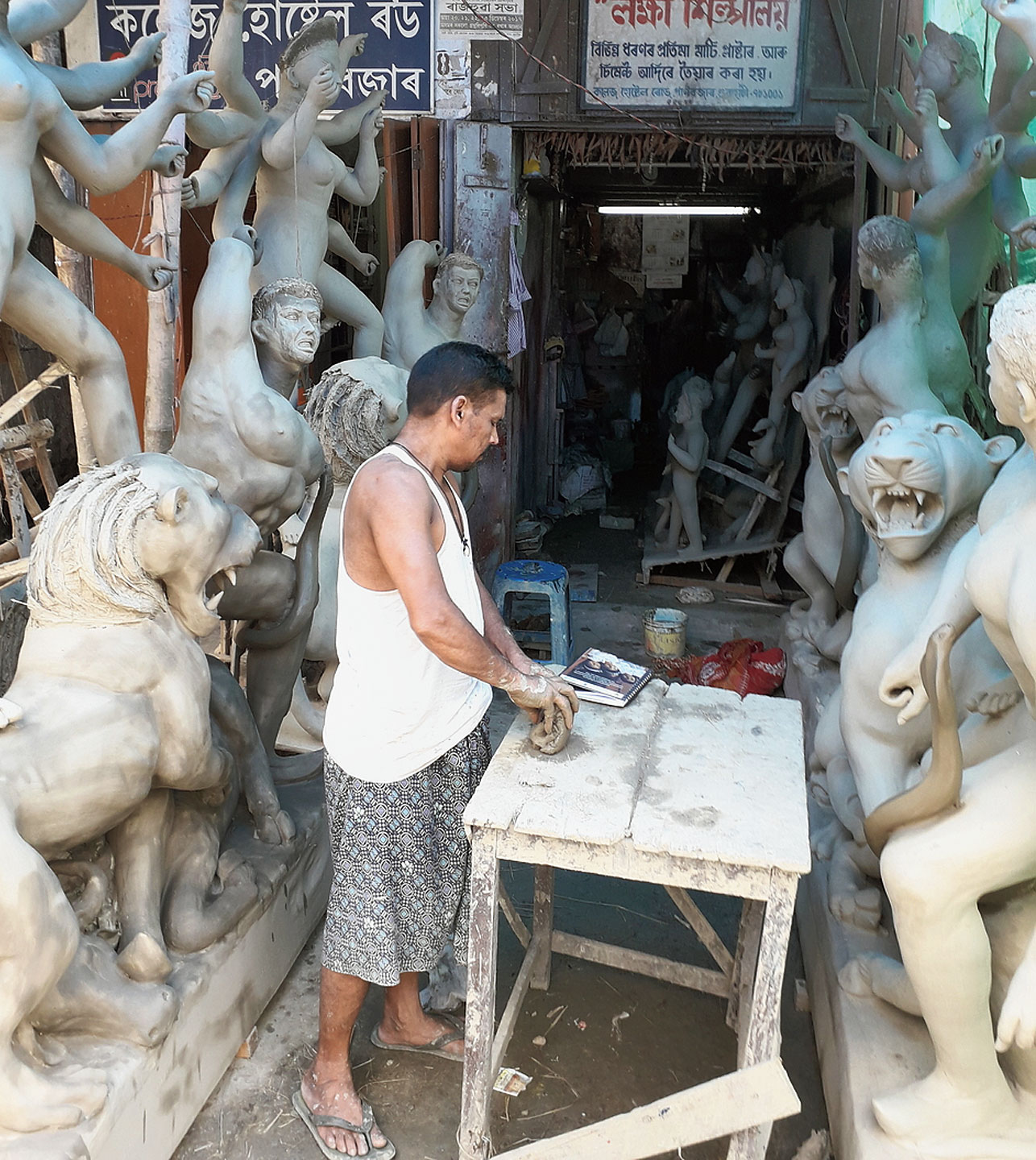 The shop in Guwahati.
Picture by Gaurav Das
---
Guwahati
|
Published 10.10.18, 06:40 PM
|
---
The NRC update has taken a toll on Lakhi Silpalaya, one of the oldest Durga idol-making shops in the city, with many of its artisans toiling to secure legacy documents instead of crafting idols. Business prospects, as a result, have dimmed.
Four artisans of the shop, whose names are missing from the final draft of the National Register of Citizens (NRC), have gone to their respective villages to ensure their own enrolment and that of their family members.
With the artisans, one of whom hails from Malibari village in Goalpara district and the others from Kamrup district, tied up with NRC work, Apuraj Pal, one of the chief idol makers of the shop, has decided to limit pratima (idol) orders to seven this year compared to 18 last year.
To add to his woes, escalating prices of raw materials have put a strain on his already depleting resources.
"This is the impact of NRC. I have limited manpower now. The four artisans who work under me have no option. They didn't find their names in the updated draft NRC and are now busy with the process. NRC is more important than lending a hand at idol-making. It is a question of citizenship and there can be no compromise," Apuraj said.
Over 40 lakh people were excluded from the final draft NRC, which was published on July 30. Those excluded can get their names included in the updated NRC during the ongoing process of claims and objections which began on September 25.
Keshav Pal, 33, who found his name and that of his family missing from the draft NRC, however, decided to stay back and help Apuraj with idol-crafting.
"The names of all my family members, including that of my father Paban Chandra Pal, are not in the draft NRC. But my father's elder brother's name is included. It is traumatic but I decided to stay back as the manpower is already limited," Keshav, who has been working in the shop for 10 years, said.
Founded in the 1920s, Lakhi Silpalaya is a small, decrepit shop located on Cotton College Hostel Road (a yesteryear nostalgic name given to this desolate stretch) in Panbazar. With Durga Puja just a week away, it bears the look of a small, organic factory with bamboo poles, sheets of clay and straw strewn all over its narrow premises.
It is upholstered with a tin shed, a few plastic stools and a wooden table with a blue tarpaulin cover to protect the rows of yet-to-be coloured Durga pratimas and her divine entourage.
Apuraj and his brothers are descendents of Nanda Kumar Pal, who left Dacca (now Dhaka) more than 100 years ago and adopted Guwahati as his hometown where he opened the iconic Lakhi Silpalaya.
Chitraranjan Pal, the present patriarch who is in his eighties, allocates work to his sons.