Gauhati High Court stays exam results
Northeast briefs: Assam irrigation department has been prohibited from announcing the results without permission from HC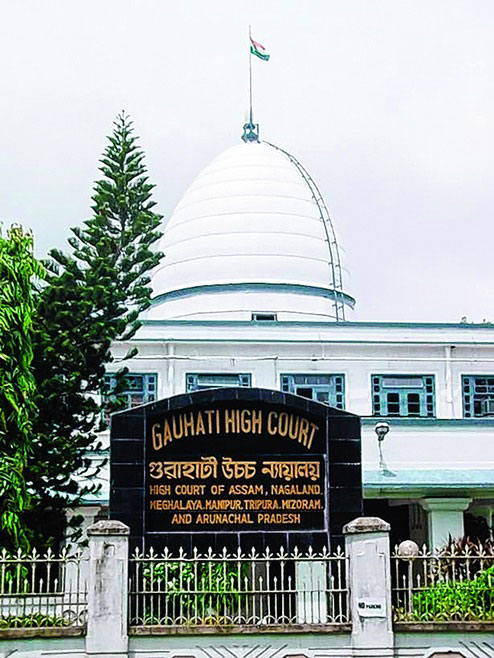 ---
|
Aizawl
|
Published 20.02.20, 09:12 PM
---
Gauhati High Court on Wednesday stayed the declaration of results of the examination to select section assistants for the Assam irrigation department. The department has been prohibited from announcing the results without permission from the court. Advocate J.I. Borbhuiya, counsel for the petitioners, said, "The exams were conducted through Aptech, which was earlier blacklisted by Allahabad High Court." The department held exams for various posts on February 1 and 2.
Ganja seizure
RPF personnel seized 54kg ganja, valued at Rs 2.7 lakh, from Rangapara station, under NFR's Rangiya division, on Tuesday night. The seized ganja was later handed over to the excise department.
Hunting ban
Mokokchung deputy commissioner Limawabang Jamir on Thursday banned hunting of wild animals with immediate effect in view of the novel coronavirus outbreak. In an order, Jamir said hunting increases the chances of contact of animals and their products with humans.
Sleuths seal petrol pump
Food and civil supply sleuths sealed an Assam Oil petrol pump, Priyamkar Trade Agency, on Thursday for allegedly mixing water in fuel. The sleuths also took samples from the pump before sealing it, for testing.
Arms recovered
Police on Thursday recovered a pistol, 11 rounds of cartridge and a magazine in front of the house of Nijam Uddin Choudhury of Rangauti on the outskirt of Hailakandi town. No one has been arrested in this connection.
Rs 5000 stolen
Thieves stole Rs 5,000 and golden jewellery from a wedding reception at Hathi Pathar village in Namsai district of Arunachal Pradesh.
Appointed
The appointments committee of the cabinet approved the appointment of Pankaj Kumar Goswami as director (operations) of Oil India Limited on Tuesday. He is currently serving as chief manager (projects) at OIL.
Lecture
An Oil India Limited sources said on Thursday they organised the Second Percy Evans Memorial Lecture on Tuesday at Zaloni Club here on OIL's 61st Foundation Day.
Workshop
The Kohima Press Club, in collaboration with Nagaland Pollution Control Board, will organise a workshop for journalists on pollution in Kohima on Saturday.
Mock drill
Nagaland homeguards based in Mon, in collaboration with the disaster management committee, Wang-khao College, conducted a mock drill on the campus on Thursday.
Road upgrade
Nagaland minister for health and family welfare S. Pangnyu Phom launched the upgrade of Longleng-Tuenasng road at Nakalempon in Longleng district on Wednesday, a release said on Thursday.
Concern
A Manipur-based Gangte Students' Organisation on Thursday expressed concern over the deletion of the Gangte tribe from Mizoram's Scheduled Tribes list.
Training camp
City police officials participated in a sensitisation and training camp on the protection of children from sexual offence and juvenile justice held at Basistha police station on Thursday.