Muslims raise funds for temple
All Assam Muslim Association members set up kiosks to provide juice and water to Sikh devotees on Guru Nanak Jayanti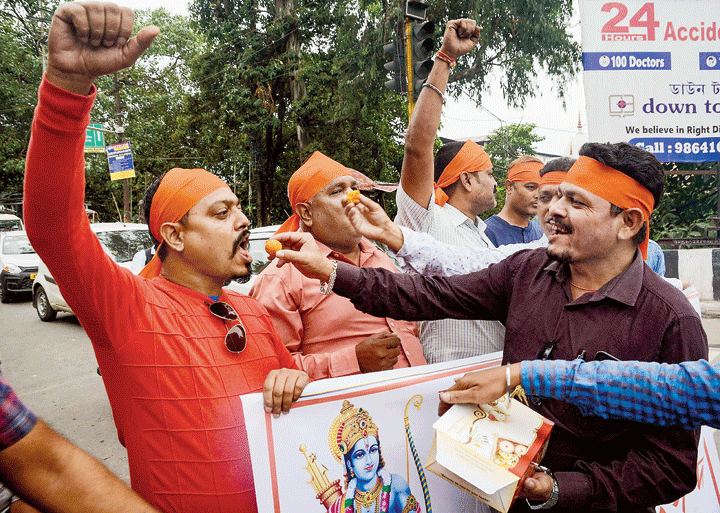 Activists celebrate the Supreme Court verdict in the Ayodhya case in Guwahati on Saturday
UB Photos
---
Guwahati
|
Published 09.11.19, 06:35 PM
|
---
At least 21 indigenous Muslim organisations of Assam have started raising funds for the construction of the Ram temple in Ayodhya.
The move was announced within hours of the five-member Constitution bench of the Supreme Court, headed by Chief Justice of India Ranjan Gogoi, delivering its landmark verdict on the Ayodhya title suit, paving the way for construction of the Ram temple at the disputed site.
The chief convener of the Jonogosthiya Somonnoy Parishad, Asom, a joint platform of 21 minority organisations, Sayed Mominul Awal, said, "Already Rs 5 lakh has been raised. The money will be contributed to the Ram temple trust."
Awal, who is also in-charge of the BJP's minority cell in the Northeast, said any other organisation under the council can contribute if they want. The Goria Moriya Yuva Chatra Parishad has announced it will contribute an additional Rs 1 lakh to the temple trust.
According to the Goriya Moriya Parishad, there are around 1.18 crore Muslims in the state, of which nearly 42 lakh belong to indigenous Assamese communities like Goria, Moria, Ujani, Deshi, Jola and Poimal. They had either converted to Islam or were prisoners of war of the battles betweens Mughals and Ahoms in the 13th century.
In Jorhat, All Assam Muslim Association members set up kiosks by the roadside to provide juice and water to Sikh devotees on Guru Nanak Jayanti on Saturday. "We are very happy. The Supreme Court has finally brought a closure to a much-debated issue and the verdict it has pronounced is exemplary. People of both religions are happy today and we want the entire country to replicate the same spirit of brotherhood like that we have in Assam, the state of Shankar-Azan," an association member said.
Opposition parties, too, hailed the apex court judgment and believed it has not only brought an end to the age-old controversy but also to the politics around it.
AIUDF Dhing legislator Aminul Islam said, "Many politicians and political parties grew around the case and lot of politics in the country revolved around it. I am happy the Supreme Court has brought an amicable conclusion to the issue and am happier that it was done by Chief Justice Ranjan Gogoi, who is a son of the soil of Assam. I am happy and proud at the same time."
The Supreme Court, in a 5-0 unanimous verdict on Saturday, ruled that the 2.77 acres of disputed land in Ayodhya would be handed over to a government trust for the construction of Ram temple. The apex court also ruled a five-acre plot be allotted in Ayodhya for the construction of a mosque. The court directed the Centre to frame a scheme within three months to allot land for the mosque and form the temple trust.