Modi is corrupt number 1: Gogoi
The former CM asked how the BJP got so much money for its massive publicity drive in the Lok Sabha elections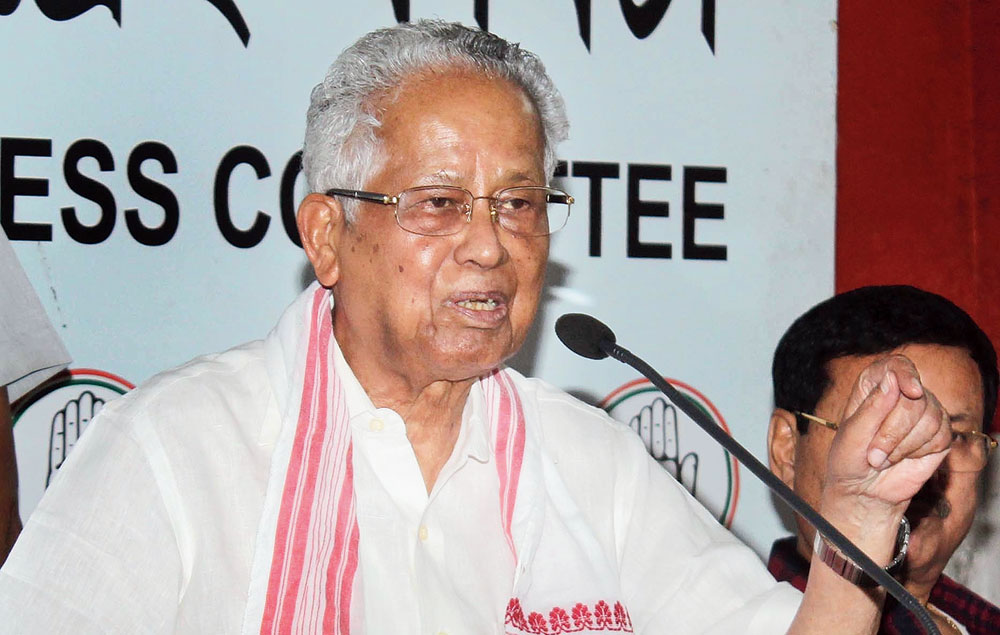 Tarun Gogoi in Guwahati on Tuesday
Picture by UB Photos
---
Guwahati
|
Published 14.05.19, 06:50 PM
|
---
Veteran Congress leader and former Assam chief minister Tarun Gogoi on Tuesday returned Prime Minister Narendra Modi's "bhrashtachari number 1" jibe at Rajiv Gandhi by questioning how the BJP got so much money for its massive publicity drive in the Lok Sabha elections.
"Prime Minister Narendra Modi says Rajiv Gandhi was 'bhrashtachari number 1'. I would say it is Modi who is bhrashtachari number 1. Otherwise, from where does his party get so much money to spend in publicity for the Lok Sabha elections and how has the BJP become the richest party?" he asked.
Gogoi, a staunch critic of Modi, said as the Lok Sabha election was nearing its end, Modi had become "frustrated" because of the prospect of losing and started speaking nonsense. "Otherwise, how can he say that he used a digital camera at a time when there was no digital camera?" he asked.
Modi reportedly told a news channel on Saturday that he used a digital camera in 1987 or 1988, took a photo of senior BJP leader L.K. Advani and mailed it to him.
"Again a few days back while speaking about the Balakot air strike, Modi talked about ability of cloud and rain to avoid radar. This has also been proved wrong," Gogoi said.
"Modi now does not talk about the promises he had made five years ago to the people. Either he is trying to divert people from the real issues or he is suffering from dementia."
Gogoi said the BJP government had approved Cairn Oil & Gas, a vertical of Vedanta Limited, for oil exploration in 274 areas of the country, depriving oil majors like ONGC.
"Everyone knows that Modi has a good relationship with the Vedanta group. That is why the approval was given even for opening government offices on holidays," he said.
The former chief minister took a dig at Modi for his frequent mention of his humble origin. "India's first Prime Minister Jawaharlal Nehru was born in a rich family and wore khadi. Modi has a poor background, but he wears Rs 10-lakh suit," Gogoi said.
He was referring to a pinstripe suit Modi wore while meeting former US President Barack Obama a few years back. Each stripe of the coat had Modi's name over and over. Later, it was reported that the suit was given to Modi by an NRI businessman and it cost Rs 10 lakh.