Mizoram's Zoramthanga warns of Neda pull-out over citizen bill
All parties in the state are opposing the bill, some will boycott local R-Day parade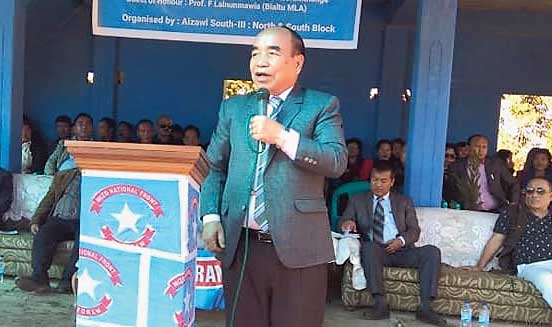 Zoramthanga addresses the party meeting at Aibawk.
Picture by Henry L. Khojol
---
Aizawl
|
Published 24.01.19, 06:31 PM
|
---
Mizoram chief minister and Mizo National Front (MNF) president Zoramthanga on Thursday said his government and party would not hesitate to spearhead an agitation against the Citizenship (Amendment) Bill, 2019, or pull out of the BJP-led North East Democratic Alliance (Neda).
Zoramthanga's comment comes a day after Zoram Nationalist Party president and Zoram People's Movement leader Lalduhoma said the MNF should cut off ties with the BJP and pull out of Neda to show solidarity with the people of Mizoram against the bill.
"The government is vehemently opposed to the passage of the bill. We would like to spearhead an agitation against the bill and will not hesitate in pulling out of Neda, if necessary," Zoramthanga said at a function at Aibawk village, 28km south of Aizawl.
He said he was opposed to the bill and had made massive efforts to get it scrapped.
He said he had raised the matter before Prime Minister Narendra Modi and home minister Rajnath Singh in Delhi last week. "I told the Prime Minister and the home minister that the people of Mizoram were vehemently opposed to the bill. We are also opposed to the bill to honour the Mizoram Accord which gives special protection to the people of the state within the framework of the Constitution," he said.
He said the people would not be happy if the Centre goes against their interests. He said he had reminded the Prime Minister and the home minister of the 20-year-long insurgency in the state and told them that the Mizo people, during the insurgency period, had thought of turning towards Burma or remaining a crown colony.
The agitation against the bill intensified in the state after NGO Coordination Committee, an umbrella body of major civil society and student groups, decided to boycott Republic Day celebrations.
Committee chairman Vanlalruata said civil society organisations would go ahead with their move despite an appeal by state home minister Lalchamliana to withdraw it.
He said the boycott call was given by the committee to draw the Centre's attention to their opposition to the bill.
The Zoram People's Movement and the People's Representation for Identity and Status of Mizoram have also decided to boycott Republic Day by skipping official functions.
All political parties, including the ruling MNF and the BJP, are opposing the bill.