Minister's response upsets mill workers
Sawant said the government has not taken any decision on releasing the pending salaries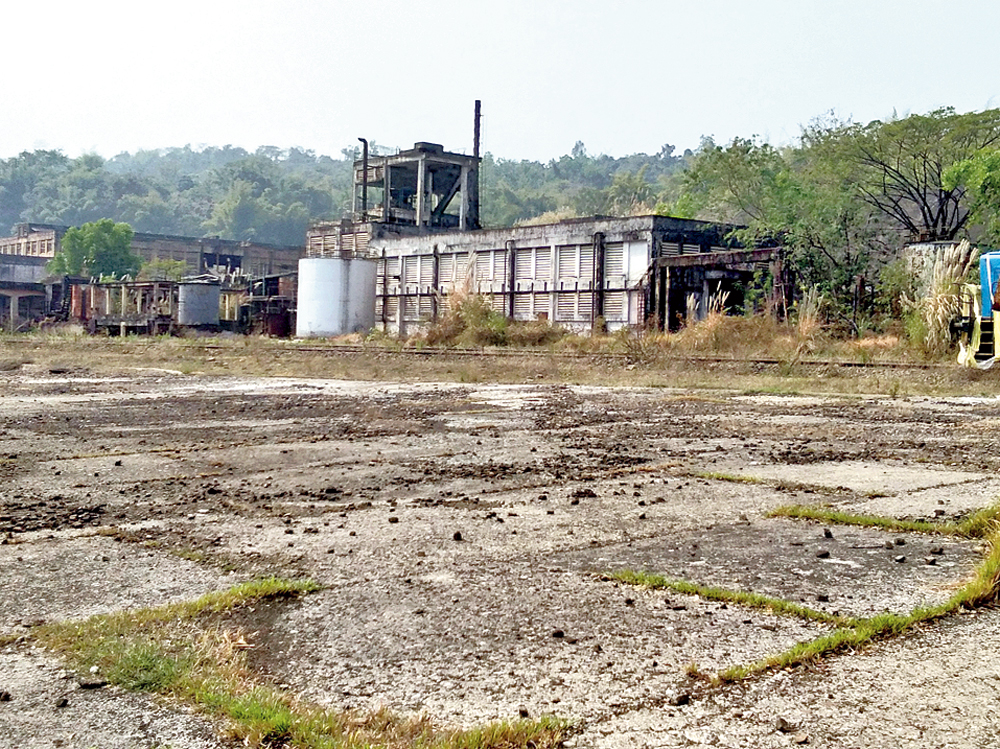 Cachar Paper Mill at Panchgram
A file photo
---
Silchar
|
Published 17.07.19, 06:38 PM
|
---
The response by Union minister of heavy industries and public enterprises Arvind Sawant in Parliament on Tuesday in connection with a question by two Barak Valley MPs, Rajdeep Roy and Kripanath Mallah, over the issue of the two paper mills in Assam has drawn severe flak from the mills' workers and members of different unions and organisations.
The two mills — Cachar Paper Mill at Panchgram in Hailakandi district and Nagaon Paper Mill at Jagiroad in Morigaon district — have been lying non-functional since October 2015 and March 2017 respectively. Their workers have not got their salaries for more than two years.
On Tuesday, Sawant, while responding to a question by Roy and Mallah, said the government has not taken any decision on releasing the pending salaries or on providing any financial support to the mills' employees.
This has left a huge number of people associated with the industrial units, who were expecting "good days" to arrive, completely dazed.
Talking to The Telegraph on Wednesday, Manabendra Chakraborty, chief convener of the HPC Paper Mills' Revival Action Committee, a conglomerate of workers' unions of the two mills and president of the Cachar Paper Project Workers' Union, said 57 workers have died since the mills stopped functioning and still the government is not taking any initiative to resolve the matter.
"Two more workers (both of Nagaon Paper Mill) passed away this month — Kanak Saikia on July 3 and Sayed Abdus Savan on July 6 — taking the number of deaths to 57. The list (of deaths) is getting longer day-by-day, but the government is in a state of slumber," Chakraborty said.
He said a plan of action will be finalised if the government does not initiate measures to remit the salaries and revive the mills soon. "We are going to fight till our last breath," he said.
Supriyo Bhattacharjee, adviser to the Kagaj Kal Bachao Jautha Mancha, a conglomerate of trade unions and different organisations, said Sawant had misguided Parliament by over-highlighting the National Company Law Tribunal (NCLT)'s order and not saying much about the order of the National Company Law Appellate Tribunal (NCLAT), which had said the mills should continue as "going concern" and directed Kuldeep Verma, who was appointed as the liquidator, to approach the government for a revival package and release of dues.
He said they would have a meeting within the next two to three days and chalk out a plan to push for the mills' revival and remittance of salaries.
Dipak Chandra Nath, general secretary of Cachar Paper Mill Officers' and Supervisors' Association, said they are "extremely disappointed" by the government's role over the matter. "People (mills' workers) are dying, but the government is showing no urgency to clear the salaries. What is it waiting for — some more deaths? This is really disappointing," he said.
The government should give due honour to the NCLAT's order and take steps for the mills' revival and payment of the workers' pending salaries, he added.