Methanol fuel rolled out in Assam
Niti Aayog launches pilot project for the Northeast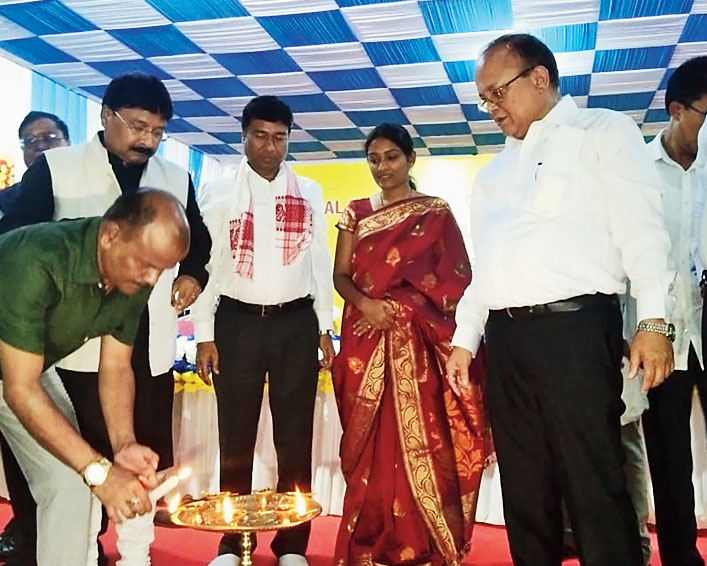 The inaugural event in Dibrugarh on Friday.
(Avik Chakraborty)
---
Dibrugarh
|
Published 05.10.18, 07:41 PM
|
---
The Namrup-based Assam Petrochemicals Limited (APL) on Friday rolled out the country's first methanol-based cooking fuel, that will be cheaper than conventional LPG.
Niti Aayog member V.K. Saraswat set the ball rolling by inaugurating the Green and Clean Fuel Pilot Project on Methanol Cooking Stove.
Terming it a historic moment, Saraswat said it was India's first step towards realising the concept of "methanol economy", the flagship programme of Niti Aayog.
Through the programme, Niti Aayog has been working on a road map to replace 20 per cent of the country's crude imports through methanol, Saraswat added.
He said adopting methanol would not only mitigate the ever-rising fuel price, including that of LPG, but would also bring down pollution in the country by over 40 per cent.
The concept of methanol economy is being actively pursued by China, Italy, Sweden, Israel, the US, Australia, Japan and many other European nations.
Nearly 10 per cent of fuel in China's transport sector is methanol based.
APL chairman Jagdish Bhuyan said under the pilot project, stove and methanol canisters would be made available in a limited scale.
In two months, APL will start commercial production of methanol-based cooking fuel. Initially, the product will be available for the northeastern region, Bhuyan added.
In contrast to the present cooking fuel being used in liquefied gas form, the methanol fuel will come in vapour form.
Unlike LPG, which can explode if it catches fire, the methanol canister will burn out without any explosion.