Meghalaya declares lockdown in Ri Bhoi district, along Assam border
Ban on transport, operation of markets and commercial establishments and movement of individuals prohibited along inter-state border with Assam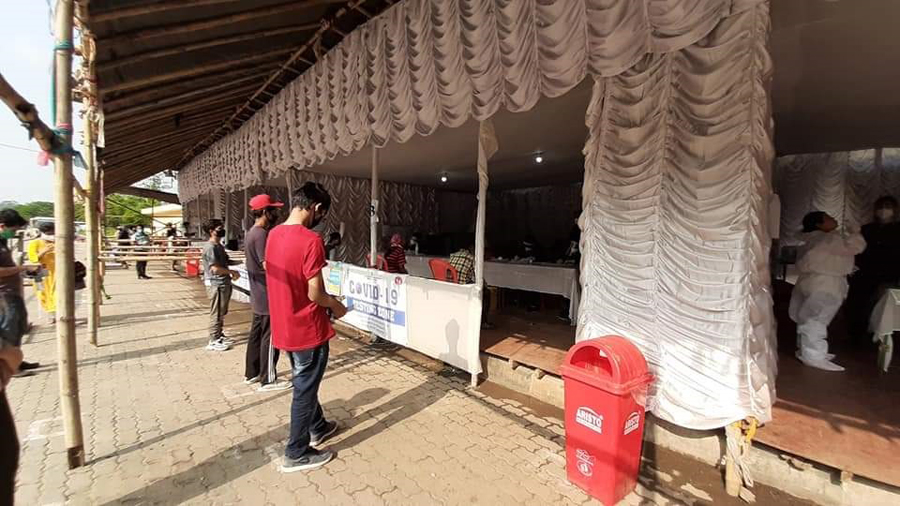 ---
Shillong
|
Published 30.06.20, 12:12 AM
|
---
Meghalaya has imposed a lockdown in the border areas in Ri Bhoi district near Guwahati following a surge in Covid-19 positive cases in Assam.
Ri Bhoi deputy commissioner R.M. Kurbah, through an order issued on Monday under Section 144 CrPC, Meghalaya Epidemic Diseases, Covid-19 Regulations, 2020, and guidelines issued by the Union ministry of home affairs, enforced a lockdown, which will come into effect from 6am on Tuesday till July 13.
If one travels from Shillong to Guwahati, the border areas on the left side are under Meghalaya while those on the right fall under Assam.
The areas to be affected by the lockdown include those under Byrnihat, Khanapara and Jorabat, such as Baridua, Ampatama, Umshru Sukhoinijira, Iew Mawroh, Bakhlapara, Hawla, Jimbrigaon, Lyngkhung, Patgaon, Umsen, Jyrmang, Bernongsai Nongkhlaw, Bernongsai Nongspung, Umsaliang, Gunapati, Mairapur, Nongkyllang, Rani Jirang, Umshalani, Ranibari, Balakhawa, New Balakhawa, Bilpara, Halher, Akhoinijira, Garobhanga and Ulubari.
Kurbah said the assembly of five or more persons in public areas and premises beyond individual households has been prohibited. 
Operation of public and private transport along the inter-state border with Assam, operation of markets and commercial establishments and movement of individuals has also been prohibited.
However, Kurbah said the order will not affect the arrangement of fair-price shops, identified wholesale and local retail traders, which will remain open as per schedule.
Local headmen and district police will regulate the operation of shops in their respective localities and villages.
They will also ensure compliance with advisories issued by the state health department, with special reference to physical/social distancing.
The order has also exempted several sectors from its purview, including MGNREGA, agriculture, horticulture and allied activities, home delivery of essential items, online food delivery, pharmacies and others.
Deputy chief minister Prestone Tynsong said the decision to impose the lockdown was taken after a surge in Covid-19 cases in the neighbouring Kamrup (metro) district.
"We decided to impose the lockdown to ensure that the people are safe from the virus. People could be infected if we allow shops to open on the Meghalaya side of the border," Tynsong said.
The Assam government had imposed a lockdown in Guwahati from Sunday following the surge in Covid cases.
 Tynsong also said inter-state movement would not be allowed till July 15. However, there will not be any hindrance in the flow of essential commodities.
The state chief secretary has been directed to write to the Union home secretary, requesting him to put on hold all transfers relating to central security forces, central government officials, and bank employees to and from Meghalaya.
"This has been decided because the situation is still not conducive in Meghalaya," the deputy chief minister added.
He also said the state government will continue to arrange transportation service for its stranded citizens who arrive either at Guwahati airport or the railway station. They will, however, have to pay for the service themselves.
This arrangement will be effective till July 15. 
The government has been making this arrangement for its stranded citizens since June 11.
 Health minister A.L. Hek said till Monday, 18,823 stranded citizens have returned to the state.
 He also said Meghalaya has seven active Covid-19 cases. These include four in East Khasi Hills district, two in South West Garo Hills and one in Ri Bhoi. 
Hek said samples collected from 19,287 individuals have been sent for testing, of which, 18,657 samples have tested negative, while the results of 580 samples were awaited.
Meghalaya has till date has recorded the highest recovery rate of Covid-19 patients. It has 42 individuals who have recovered from the disease while one patient died on April 15.