Meghalaya chief minister tables deficit budget
Conrad Sangma skips mentioning new promises and taxes since the model code of conduct for the Lok Sabha polls has come into force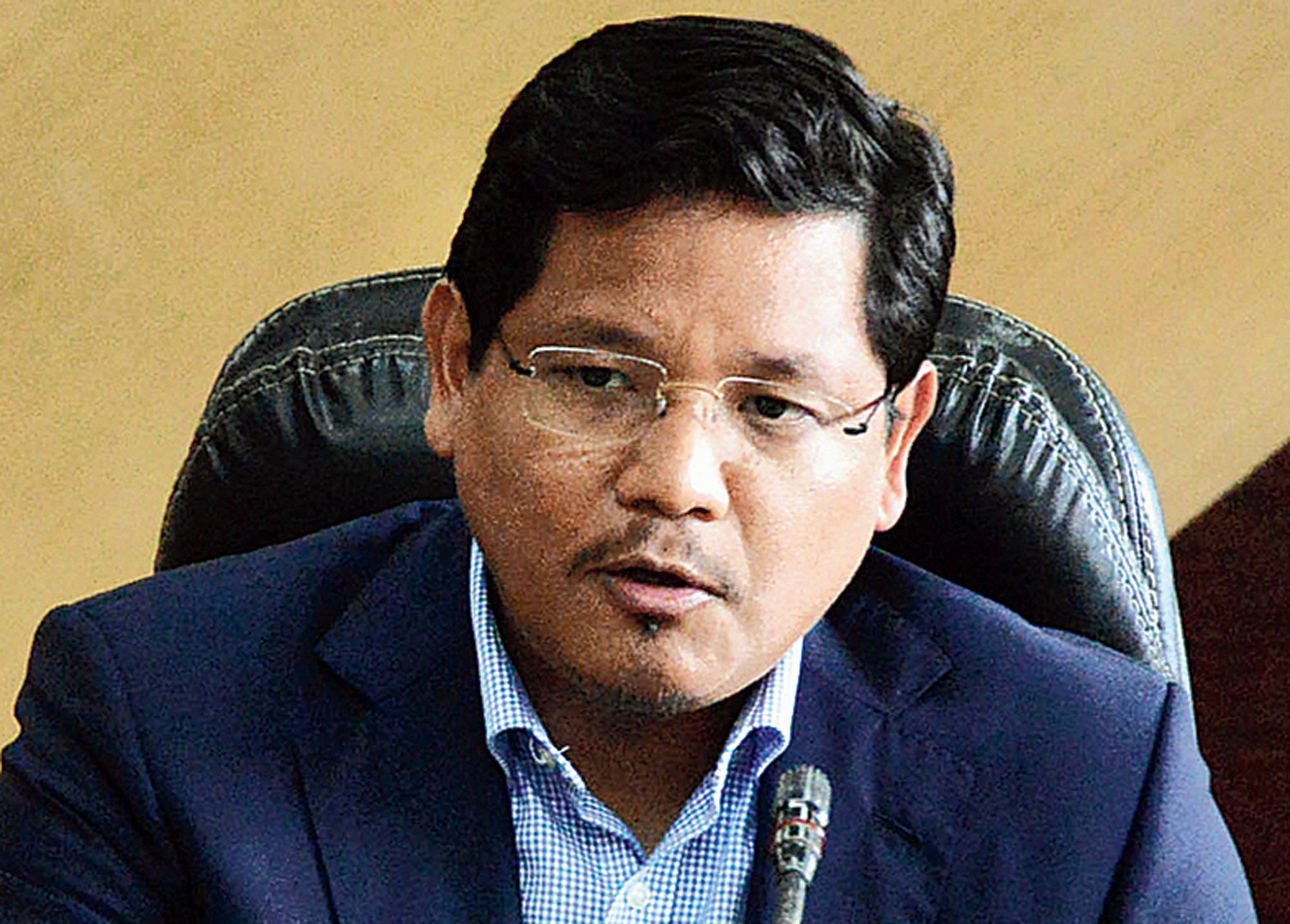 Conrad K. Sangma
The Telegraph picture
---
Shillong
|
Published 12.03.19, 07:02 PM
|
---
Meghalaya chief minister Conrad K. Sangma presented a deficit budget of over Rs 1,300 crore for the 2019-2020 fiscal on Tuesday.
Conrad skipped mentioning new promises and taxes since the model code of conduct for the Lok Sabha polls has come into force.
The chief minister, who also holds the finance portfolio, said in 2017-18, the gross state domestic product (GSDP) at current price was Rs 29,864 crore, as per quick estimates — an increase of 10.33 per cent over the previous year. Advance estimates indicate that the GSDP for 2018-19 is Rs 32,972 crore, an 10.41 per cent increase over 2017-18, he said.
Meghlaya's per capita income at current prices for 2018-19 stands at Rs 94,556 as per advance estimates, as against Rs 87,500 in 2017-18, an increase of 8.06 per cent.
Conrad said the revenue collected by the taxation department is expected to touch Rs 1,478 crore, an increase of 15 per cent, by the end of the current financial year.
The overall tax revenue, including goods and services tax (GST), excise and motor vehicle taxes is estimated at Rs 1,716 crore for 2018-19. "For 2019-20, I have estimated Rs 2,090 crore and Rs 601 crore for tax and non-tax revenue collection, respectively," he said.
For the next fiscal, he estimated that the total receipts, excluding borrowings of Rs 1,736 crore, would be Rs 14,463 crore. He said excluding repayment of loans of Rs 416 crore, the total expenditure would be Rs 15,786 crore, resulting in a fiscal deficit of Rs 1,323 crore, around 3.65 per cent of the GSDP.
The fiscal deficit for 2019-20 is around Rs 173 crore higher than the estimated fiscal deficit of the current year.
For 2018-19 fiscal, Conrad had presented a budget with a fiscal deficit of Rs 1,150 crore, which was around 3.32 per cent of the GSDP.
In his budget speech, the chief minister spoke of various ongoing initiatives for infrastructure development, entrepreneurship promotion, poverty alleviation, sustainable rural livelihoods and social security and welfare.
For 2019-20, he announced Rs 1,077 crore for the education sector, Rs 66 crore to procure medicines, Rs 740 crore for the health and family welfare sector and Rs 590 crore for roads and bridges. An investment of Rs 1,050 crore will be made over a six-year period on the Meghalaya Integrated Transport Sector Project, a World Bank-funded project.
For the urban sector, Rs 188 crore has been allocated and Rs 172 crore for the transport sector.
On industrial promotion, he said a single-window agency has been created to approve investment proposals. About 59 proposals with proposed total investment of Rs 2,830 crore was cleared in 2018-19. These projects have an employment potential of 2,525, he added.