Manipur students say careers at stake
Protests in universities in Imphal and Dibrugarh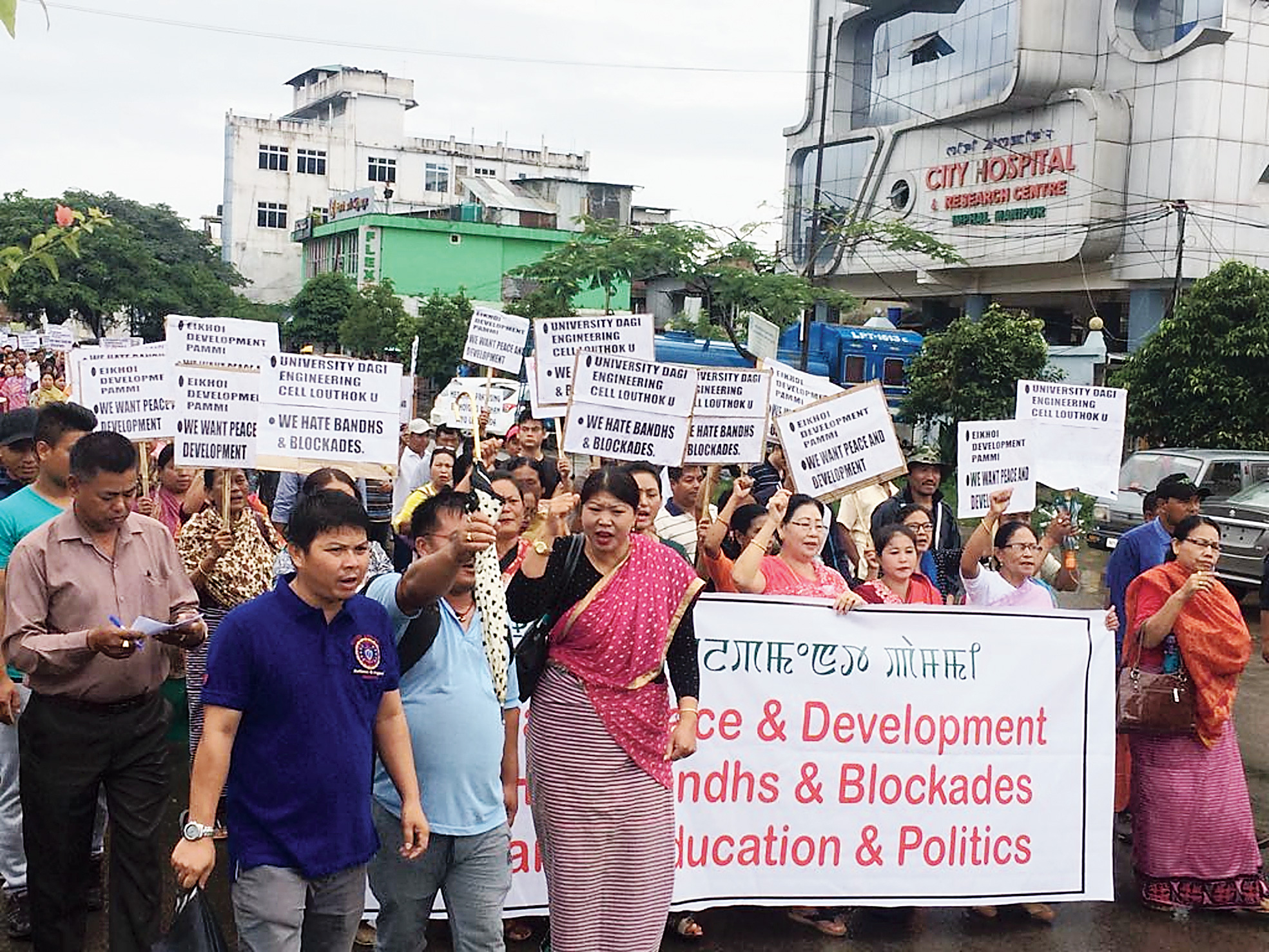 ---
Imphal
|
Published 25.09.18, 08:02 PM
|
---
Manipur University students said on Tuesday their careers were at stake with the impasse brought back by professor K. Yugindro who was appointed as pro vice-chancellor by suspended vice-chancellor Adya Prasad Pandey during his forced leave.
A group of students told this correspondent that normality had returned in the university with its reopening on August 23.
"Classes resumed and exams started. However, Yugindro taking charge as the pro vice-chancellor and arrests of teachers and students following police action at the hostels on the midnight of September 20 have prompted the university community to demand a probe against Pandey for his misconduct," a student said.
Due to the agitations demanding ouster of Pandey, the university was shut down for 85 days. "Post-graduate exams would have been completed by May-June. The exams that began in the first week of September could not be completed due to fresh disturbances," one of the students said.
Research scholars and post-graduate students also demanded the unconditional release of arrested teachers and students.
"What is the intention behind arresting the teachers and students who oppose Yugindro's appointment as the pro vice-chancellor? Everyone knows the order of Pandey is invalid. If the university authorities want restoration of normalcy on the campus, the teachers and students must be released and the pro vice-chancellor must step down," a student said.
"As our research guides and teachers are staying away from classes, our future is uncertain," the students said.
They asked on what ground were the large number of state police and paramilitary forces deployed on the university campus and why the movement of boarders was restricted and monitored by security personnel. "They have even restricted assembling in groups on the campus as if a curfew has been imposed there. This mental harassment must be stopped immediately," they said.
According to them, they need discussions as their rights to education and freedom of expression are being infringed upon.
"Is this an attempt to stop an inquiry into allegations against Pandey? We want a free and fair probe without interference. Please do not attempt to divert the issue of Pandey's ouster," said the students.
They claimed that firing tear gas shells and mock bombs when the students were sleeping in the hostel has caused trauma, adding that the security force also fired through a window of the hostel while a student was studying.
"We have democracy only in name, but actually it is dictatorship," one student said.
Students organised protests in different parts of Imphal on Tuesday. Police fired mock bombs at DM College Road to disperse them.
The students also denounced issuing of post-graduate application forms for the current year.
Chief minister N. Biren Singh said any issue must be resolved through dialogue.