Manipur CM axes 6 ministers, inducts 5
Reshuffle carried out due to intense infighting within BJP and differences among ministers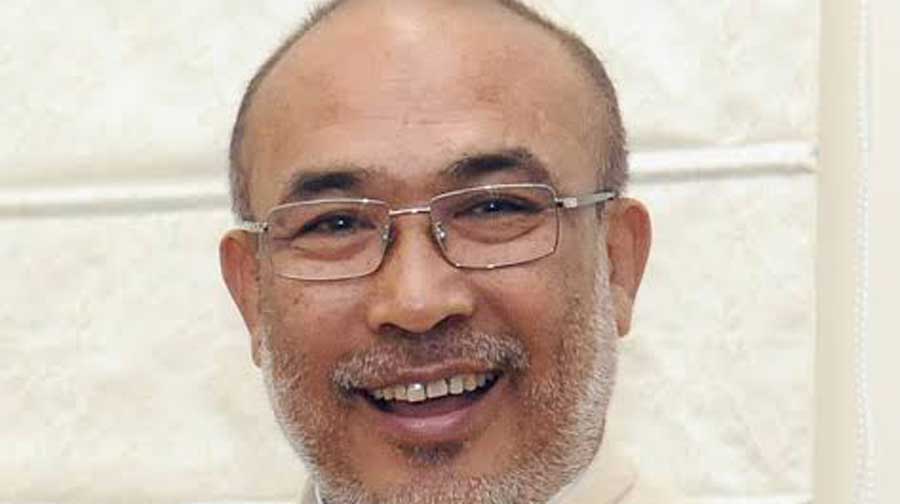 ---
|
Guwahati
|
Published 25.09.20, 03:50 AM
---
Manipur chief minister N. Biren Singh on Thursday evening carried out a shuffle of his council of ministers, dropping six ministers and inducting five, including two former Congress MLAs.
The axed ministers included three from the BJP and two from allies National People's Party and one from another ally LJP. The dropped BJP ministers are V. Hangkhalian, Nemcha Kipgen and Th. Radheshyam Singh and while those from the NPP are L. Jayantakumar and N. Kayisii. The size of the ministry is 12, including the chief minister.
Ruling BJP leaders told The Telegraph that the party had no option but to carry out the reshuffle because of the intense infighting within the party and differences among ministers were taking its toll on both the government and the party.
Manipur governor Najma Heptulla said in an official order that she had appointed sitting BJP MLAs Sorokhaibam Rajen, Thokchom Satyabrata Singh, Vungzagin Valte and two former MLAs Okram Henry Singh and Oinam Lukhoi Singh as ministers.
Henry and Lukhoi were among the five Congress MLAs who resigned and joined the BJP in Delhi on August 10. Henry is the nephew of Manipur CLP leader and former chief minister Okram Ibobi Singh.
Manipur state BJP president S. Tikendra Singh told this newspaper that the reshuffle was carried out with the blessings of the Central leadership after thorough consultations.
He also said that the remaining vacancy will be filled up after the byelections to be held in November-end.
Both Tikendra and Biren Singh returned from Delhi with BJP national vice-president Bijaiyant Panda on Monday and initiated the reshuffle process. There was stiff opposition from the NPP with one of the ministers saying that they will pull out of the government if any of their four ministers is dropped.
A senior BJP leader said: "The national leadership was apprised of the need for reshuffle or face electoral reverses in the ensuing bypolls and the next Assembly polls. To save the government and party from disintegration and ensure its return, the reshuffle was required."
He also said there was no threat to the Biren Singh government as it has the numbers. Manipur has a 60-member Assembly but the strength of the House is 47. " The BJP on its own has 20 MLAs plus support of our allies," one of the leaders said.
Sources said that the move to reshuffle the ministry started soon after the Biren Singh government won the Rajya Sabha polls on June 19. Two days before the polls, the four ministers of the NPP had pulled out of the ministry along with five other MLAs, including three from the BJP, to reduce the government into a minority. After talks involving both the NPP and BJP leaders in Delhi, they soon returned with their ministership intact. "But it only complicated matters," one of the BJP leaders said.