Life in the time of curfew
Guwahatians on streets again, but for essentials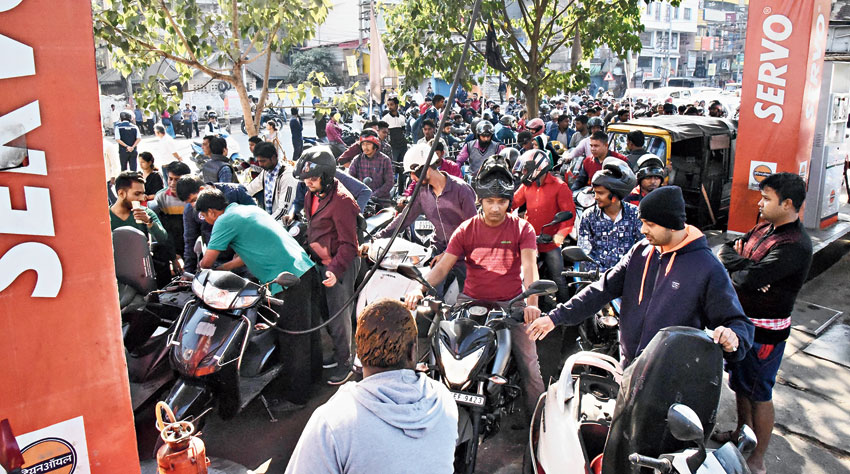 People queue up outside a petrol pump after curfew was relaxed in Guwahati on Friday
PTI & UB photos
---
Guwahati
|
Published 13.12.19, 09:27 PM
|
---
Curfew was not relaxed in the city but Guwahatians came out in large numbers to participate in the fast called by the All Assam Students' Union (AASU) at Chandmari and in search of essentials which was fast running out of stock because of bandh and curfew since Tuesday.
"Curfew has not been withdrawn but we will review the situation if peace holds," a senior district administration official said.
People also came out because they purportedly confused withdrawal of curfew till 1pm in Dibrugarh with its withdrawal in Guwahati.
"But everything was peaceful," a grocery shop owner said.
The city was trying to return to normalcy but it was apparent that it would take some time, given the charged atmosphere and after Thursday's protests that left at least three dead in suspected police firing.
Altogether 26 injured were rushed to the Gauhati Medical College and Hospital (GMCH).
The army conducted flag marches across the city in the morning for the third consecutive day.
Lengthy queues were seen outside shops, including grocery stores and poultry, vegetables and fish markets, at Uzan Bazar, Chandmari,
Six Mile, GS Road, Khanapara, Ulubari, Bhangagarh, Hatigaon, Lachit Nagar, Christian Basti, Zoo Road and Silpukhuri with a large number of people coming out on two and four-wheelers.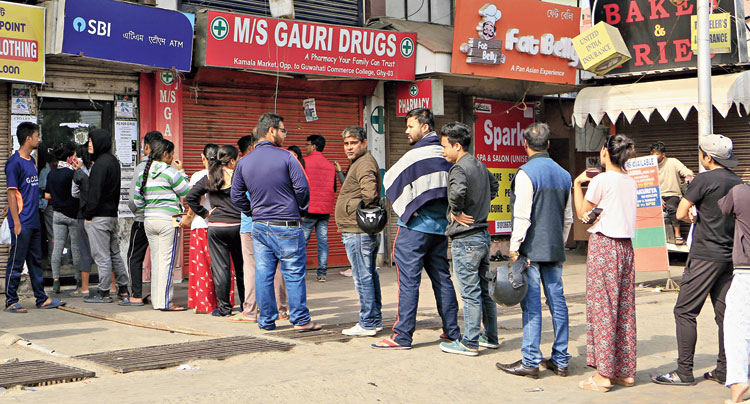 Long queues were also seen outside ATMs, most of which soon ran out of cash.
Santanu Sarma, a resident of Six Mile, said, "People are stocking essentials amid uncertainties over the protest against the Citizenship Amendment Act."
On the outskirts of the city, between Khanapara and Jorabat, there was a huge rush outside wine shops. People also rushed to buy ration, petrol and diesel.
Online transactions through mobile phones were not working because of suspension of mobile Internet for the third day running.
The state government set up an emergency help desk in the city on Friday. The state emergency operation centre (toll free number 1079 and mobile phone number 94010-44617) and the district emergency operation centre at DC Office, Kamrup (metro) (toll free number 1077 and 0361-2733052) may be contacted during emergency.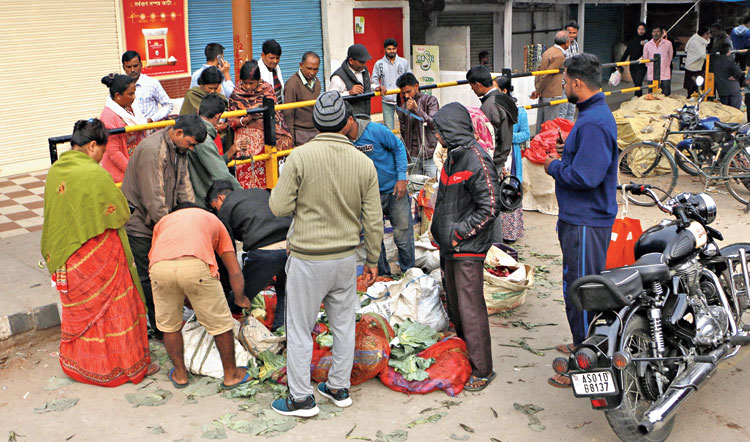 The government also arranged bus services from railway stations and distribution of food packets, drinking water and first aid at the LGBI Airport, Guwahati railway station, Kamakhya railway station and the inter-state bus terminus (ISBT) for stranded passengers.
Apart from the massive protest by AASU at Chandmari, students of Gauhati University staged a hunger strike on Friday in protest against the Citizenship (Amendment) Act, 2019.
Cotton University students organised a protest programme, We want peace, to convey that students do not support violence and are not involved in violent protests. The students alleged that a "third party" was involved in violence.
GMC workers started cleaning the city, which witnessed widespread vandalism and mayhem over the past two days, since early morning.
GMC commissioner Debeswar Malakar told The Telegraph, "The roads were littered with tyres, iron gates, branches and trunks of trees and signage damaged by protesters while dispersing during clashes.
A huge amount of damaged public property across the city was towed and cleaned off the streets, which otherwise could have posed a lot of road obstructions and hampered vehicle movement, he said.
Additional reporting by Sanjana Bordoloi