Left ruined education: Deb
He said the Left Front government was responsible since the quality of education was never maintained during their regime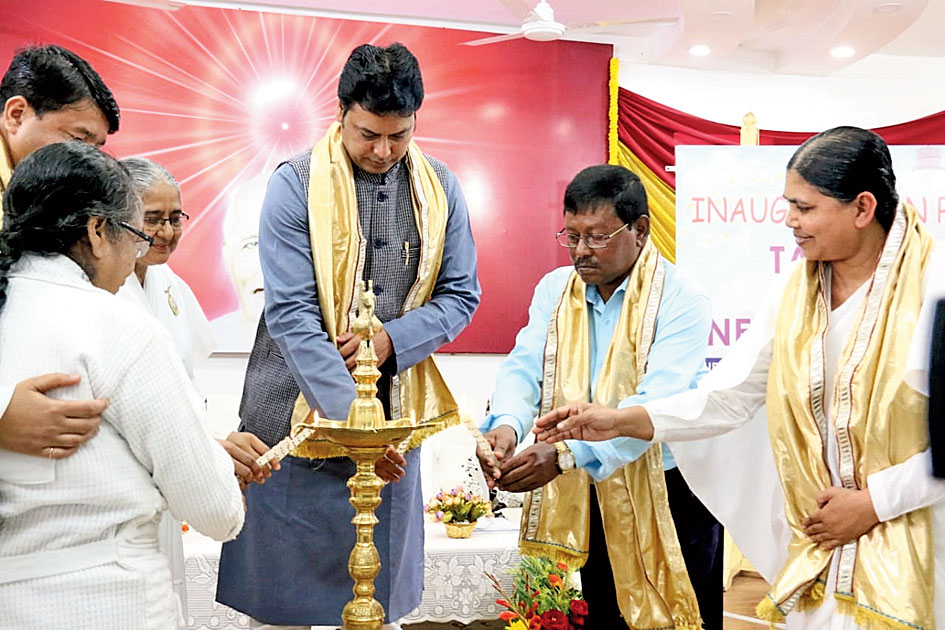 Tripura chief minister Biplab Kumar Deb inaugurates the event on Sunday
Picture by Kinkar Shill
---
Agartala
|
Published 15.12.19, 09:58 PM
|
---
Tripura chief minister Biplab Kumar Deb on Sunday accused the erstwhile Left Front government of not maintaining the quality of education in the state.
Deb claimed that there are government jobs in Tripura but a lack of qualified job takers for which the Left Front government was responsible since the quality of education was never maintained during their regime.
"More than one lakh aspirants had applied for the last teachers' eligibility test but only 1,100 could crack it. There are a good number of vacant posts in the education department and the government is trying to fill them up at the earliest as it is one of the priority sectors but candidates are failing to grab the opportunity as the quality of education was poor during the Left rule," Deb said, while attending the inauguration programme of Temple of Meditation and Sneha Milan Utsav at Brahma Kumari's Gyanoday Bhawan here on Sunday.
Deb said since the new government was formed in the state, they have given priority to the quality of education.
"The new government, unlike the Left Front which gave priority to party and its cadres, has given more priority to quality education. This government would not send any unqualified person to teach because it would destroy the future generation and the nation," Deb said.
He also said job applications were invited for filling 170 posts of stenographers in the state secretariat and around 5,000 aspirants had applied for the job but after the test and interview merely 50 could qualify.
"People are now showing interest in self-employment and entrepreneurship. A good number of job creators have already come up in the state," he said.
He claimed that in Tripura, as many as 2,303 persons got government jobs (including 1,912 in regular posts) in less than two years since the formation of the new government and 6,000 more jobs are to be secured, which has been approved by the finance department.
"But I don't consider it as a parameter of development. My work is to develop various sectors including infrastructure, health, education, IT and more importantly to provide 24 lakh Ayushman Bharat cards by April 2020," Deb said.
He also said the state government is doing a lot of work in every sector to transform Tripura into a model state.
He also assured of providing allowances and other benefits to the employees after receiving awards from the 15th finance commission.