Land rights body slams Assam government
There are at least 362,450 landless indigenous people in the state and at least 40 lakh without land pattas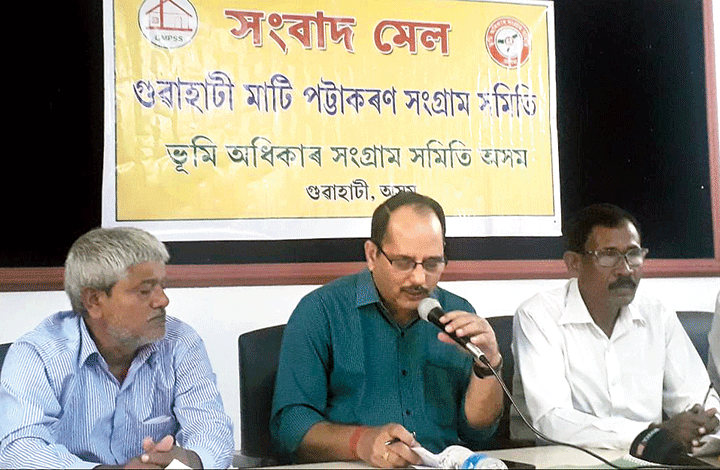 ---
Guwahati
|
Published 04.11.19, 07:40 PM
|
---
The Bhumi Adhikar Sangram Samiti, Assam, and the Guwahati Mati Pattakaran Sangram Samiti on Monday unanimously criticised the Assam government's decision to adopt a new land policy which will allegedly "empower" the corporate sector rather than the indigenous people of Assam.
According to adviser to the Bhumi Adhikar Sangram Samiti, Adip Kumar Phukan, a three-member committee — headed by Congress leader Bhumidhar Barman and constituted in 2013 — had recommended providing seven bighas to the landless indigenous people of the state.
The Committee for Protection of Land Rights of the Indigenous People of Assam, constituted by the government on February 6, 2017 under former chief election commissioner Hari Shankar Brahma, had recommended five bighas of land. Reducing it further, the Assam government, in a cabinet meeting held on October 21, decided to adopt a new land policy wherein the landless people will be allotted 3.5 bighas — three bighas for agricultural land and an additional half bigha for constructing a house.
Phukan said, "The new land policy will strengthen the corporate sector to occupy more agricultural land in the state."
According to him, there are at least 362,450 landless indigenous people in the state and at least 40 lakh indigenous people who do not have land pattas (deeds).
"There are more than 85,000 indigenous people in Guwahati alone who do not have pattas," he said, adding that the Sarbananda Sonowal-led government's decision to reduce it to 3.5 bighas was an attempt to override the rights of the indigenous people. "It is against the 'jati, mati, bheti (community, land and hearth)" slogan, he said.
Phukan alleged that the Centre and the state government were trying to strengthen the corporate giants by withdrawing the Urban Land (Ceiling and Regulation) Act, 1976. "Because of this, vast areas of agriculture land have been declared basti (slum), taking advantage of which the corporate and a business elite class from outside are grabbing land from the poor local inhabitants," Phukan said.
Arguing that no government had ever conducted a land survey since 1964, Phukan asked, "Where is that land which will be provided to the landless people of the state?"