Kids' cancer hub turns one
The centre at Dr B. Borooah Cancer Institute on AK Azad Road in Guwahati is currently housing 26 cancer-affected children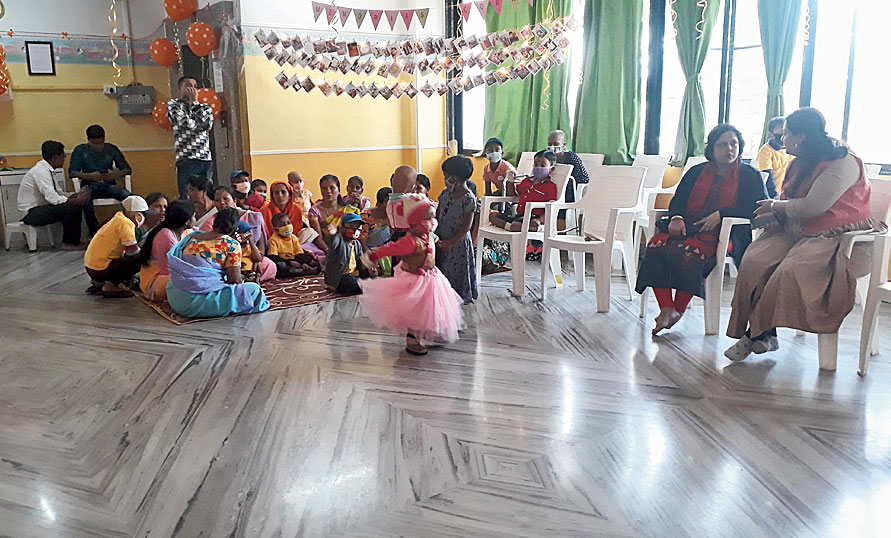 Children at the event at Saint Jude India Child Care Centre in Guwahati
Picture by Hiranya Barman
---
Guwahati
|
Published 11.02.20, 06:50 PM
|
---
Pragyashree, 5, and Violina 9, were besides themselves with joy as they danced to the tune of a Bihu song.
They were among 26 children who danced, recited poems and participated in fun-filled activities as Saint Jude India Child Care Centre, their home for now, completed a year on Monday.
The centre at Dr B. Borooah Cancer Institute on AK Azad Road in the city is currently housing 26 cancer-affected children below 15 and their parents.
"Most of the children have blood cancer and we are trying our best to make their life easier here. Throughout he entire day they were engaged in fun-filled activities like playing, drawing and painting besides watching movies. They come from economically weak background," the centre's manager Sherry Marbaniang said.
"We maintain strict timings for the children. Even after their stay here, they follow the same timings when they go back home," Marbaniang added.
The centre currently has four employees. Funds for treatment of the children come from the project Aparajeeya under the Assam Gas Company Ltd's corporate social responsibility (CSR) initiative.
More than 400 children have been treated free of cost under this project.
"If a patient is exposed to music and fun-filled activities her mind gets distracted from the ailment. Then she will start complying with treatment and take medicines. Fun-filled activities and music also strengthen a patient's immune system. We are thinking of expanding the centre to house more children," its director A.C. Kataky, said.
"My nine-year-old daughter Violina is a blood cancer patient. Initially, the test reports were satisfactory, but the last test dashed our hopes. It is very sad to see her in this condition. When children run wild after butterflies, they are captivated here due to irony of fate. I used to run a small business, but as my wife and I are staying here with our daughter, I had to leave work. We are grateful that at least we are getting free treatment here," Probadh Saikia, a resident of Nagaon, said.
Makra Chauhan of Udalguri has sold livestock for treatment of his 12-year-old daughter Sita before coming to the centre.
"After this if we need more money we have to sell our land and stay at the railway station," Chauhan lamented.