Keep the air clean, it's what we breathe
NGO programme will sensitise the public about the causes and adverse effects of air pollution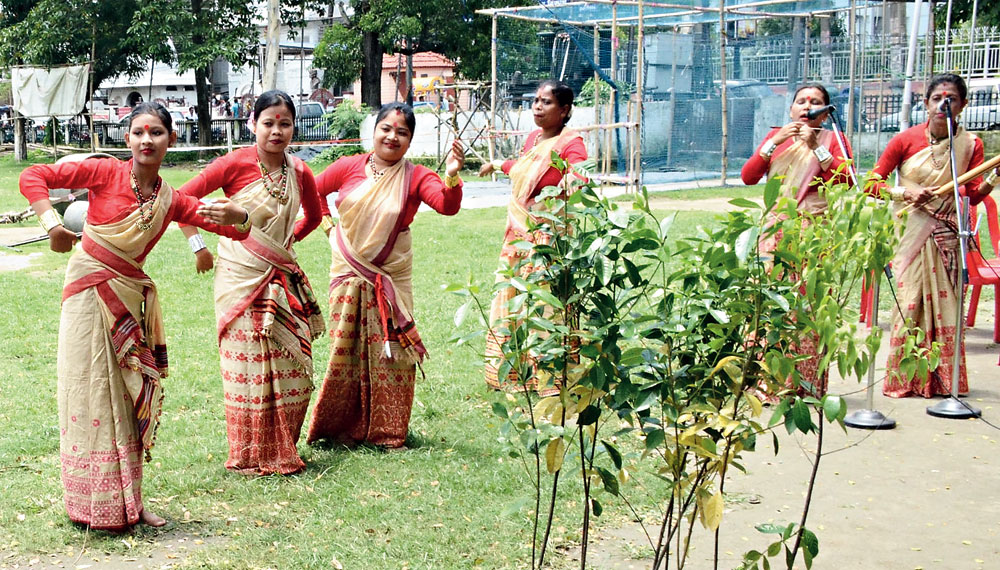 Dancers perform at an event on World Environment Day in Guwahati on Wednesday
Picture by UB Photos
---
Guwahati
|
Published 05.06.19, 06:42 PM
|
---
Aaranyak, an NGO working for environment conservation, on Wednesday announced a three-year programme called Act for Clean Air. This comprises working with sections such as traffic police, fire safety people, drivers and conductors of public transport and motor garage workers and sensitising them about the air pollution.
Partha J. Das, the head of the water, climate and hazard division of Aaranyak, said the programme, with round-the-year activities, will sensitise the public about the causes and adverse effects of air pollution.
"We will work with the vulnerable sections like traffic police, fire safety people, drivers and conductors of public transport and garage workers. We will also help the government, private sector and civil society groups to curb air pollution," he said.
Aaranyak has requested the state government and citizens to consider air pollution as one of the most serious environmental and health problems and take immediate steps for its mitigation in an emergency mode.
He said according to the Assam Pollution Control Board, the number of deaths that are caused due to Acute Respiratory Infections (ARI) has increased considerably.
The National Health Profile, 2018, released recently by the Central Bureau of Health Intelligence (CBHI) reported that Assam alone had 20,667 cases of ARI and 200 deaths caused in 2016.
"The high Air Quality Index (AQI) for Assam, which indicates low air quality, is likely to increase as most cities and townships are undergoing significant construction and infrastructure development, rapid expansion-cum-urbanisation and other development activities," he said.
"Monitoring of air quality by the Assam Pollution Control Board in Guwahati has revealed the presence of respirable suspended particulate matter and suspended particulate matter well above the prescribed limit since 2008. Guwahati's air is found to have very high content of black carbon," he said.