Hopes wane but wait still on for Meghalaya's 15 miners
Search and rescue operations by various agencies, both government and private, have so far yielded no results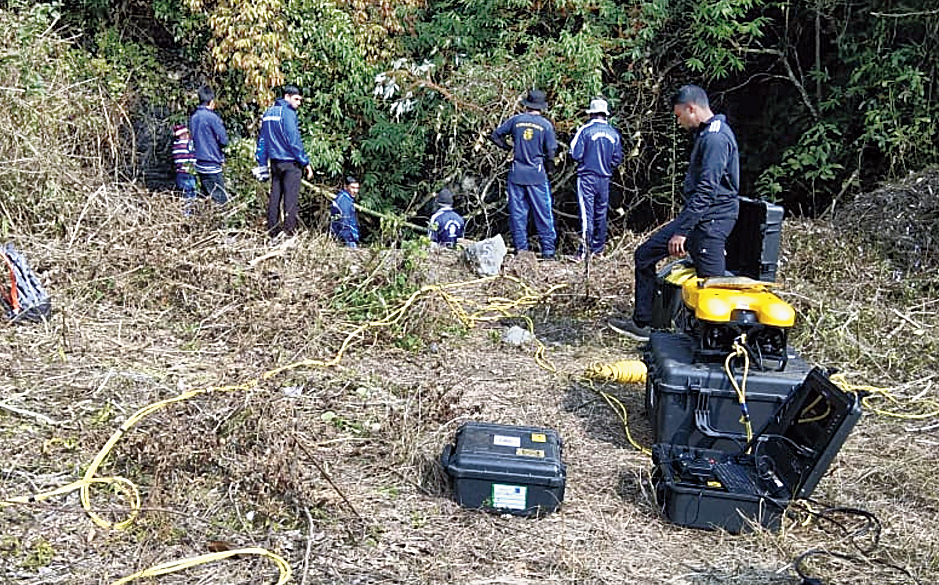 Search operation under way at Ksan.
The Telegraph picture
---
Shillong
|
Published 13.01.19, 06:45 PM
|
---
On a cold December morning, a group of miners descended into a coal mine at Ksan in Meghalaya's East Jaintia Hills, allegedly to haul out the "black diamond" but never returned till today.
It was on December 13, around 8.30am, that the miners went inside the coal mine, which was a box cutting, using an "iron mug".
The person manning the crane, where the mug was hooked to, dropped the miners inside the mine which is more than 320 feet deep, and where the water level is more than 150 feet.
The mine, which is reportedly interconnected with other abandoned mines, is located in a remote corner at Ksan near the Leteiñ river under Saipung police station.The area is around 160km from here.
Soon afterwards, it was reported that the miners have been stuck inside because of flooding.
By December 13 evening, East Jaintia Hills district police chief Sylvester Nongtnger came on record about the accident and provided the names of 13 miners who were stuck inside the mine.
A few days later, two more names were added to the list of missing miners after relatives reported to the police.
The 15 miners, three locals from the nearby Lumthari village, seven from villages under Rajabala constituency in West Garo Hills, and five from neighbouring Assam, have been inside the coal mine since that fateful morning.
The miners reported stuck inside include Omor Ali, Mezamur Islam, Mominul Islam, Amir Hussain, Munirul Islam, Saiar Islam, Shirapat Ali, Mozid Sheikh, Raziul Islam, Md Samsul Haque, Chal Dkhar, Iong Dkhar, Nilam Dkhar, Abdul Kalam Sheikh and Assh Bahadur Limbu.
Back in Magurmari and Phesakandi under Rajabala, and in Chirang and Karbi Anglong of Assam, and in the nearby Lumthari village close to where the mine is located, the families are waiting for their loved ones, many of whom were the sole bread earners.
But their hopes are steadily waning.
Search and rescue operations by a team of various agencies, both government and private, have so far yielded no results.
The police had subsequently arrested the coal mine owner, Jrin Chulet, while the district administration announced an interim relief of Rs 1 lakh each to the next of kin of the trapped miners.
Sayeb Ali, who hails from Chirang district, was the fortunate one who escaped from the mine accident.
He said on that fateful morning, 18 miners, including himself, had been dropped inside the mine while four others were overground.
Search operations
Official spokesman R. Susngi said on Sunday officials and personnel from the National Geophysical Research Institute (NGRI), Gravity and Magnetic Group, and others have arrived in East Jaiñtia Hills.
They will begin their survey and operations on Monday.
Susngi also said different agencies at Ksan were still engaged in dewatering the shaft where the miners are stuck, and from adjoining old shafts.