Hariya pill to wean away sulai addicts
Hariya, a rice-based traditional drink of the Adivasis, could help wean away habitual tea garden drinkers from spurious liquor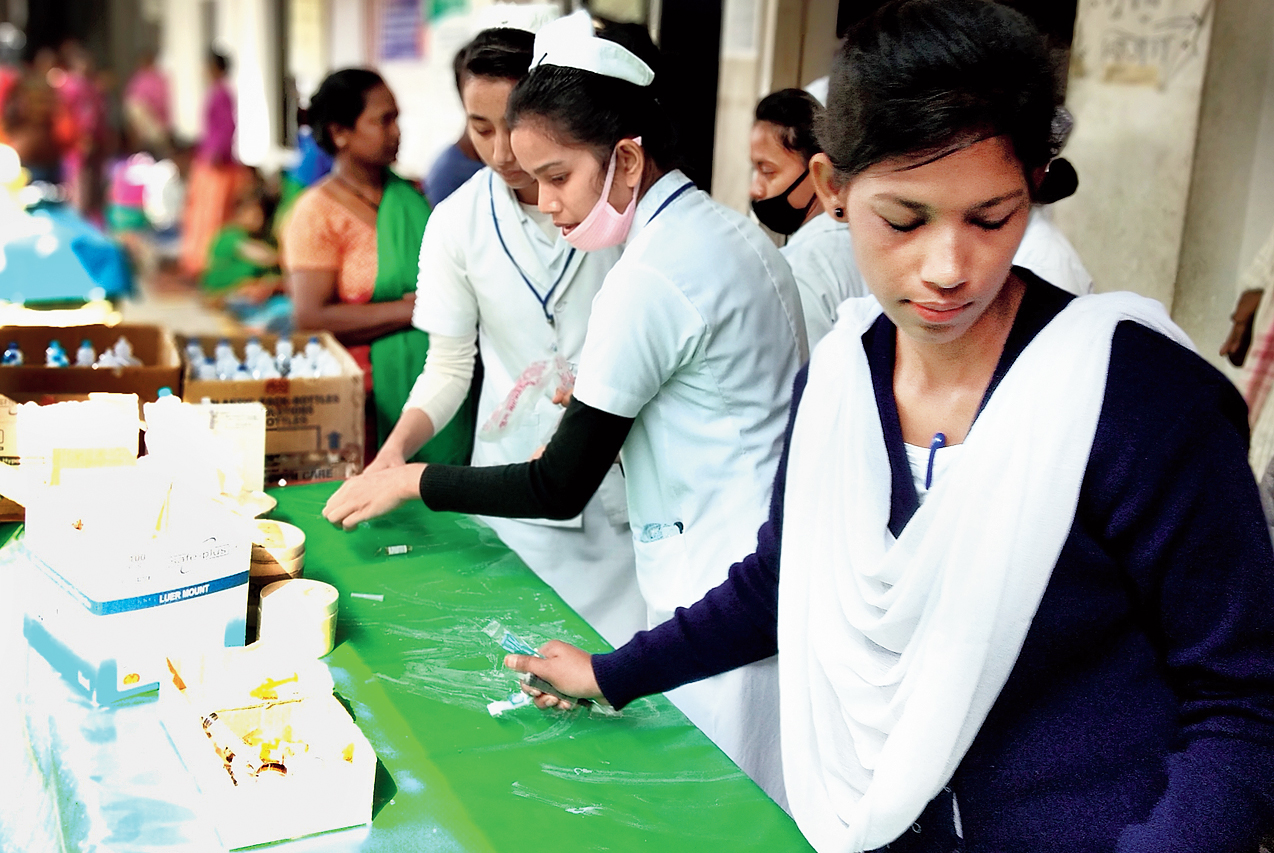 File picture of nurses attending to victims in Golaghat.
The Telegraph
---
Golaghat
|
Published 03.03.19, 11:35 PM
|
---
A section of doctors treating victims of the hooch tragedy in Assam feel that the moderate use of legally permissible drinks such as hariya could help wean away habitual tea garden drinkers from spurious liquor.
Hariya is a rice-based traditional drink of the Adivasis, to which community most tea and ex-tea garden workers belong.
Almost 100 workers from three tea gardens were among the 157 people who died in Jorhat and Golaghat districts due to the consumption of sulai, a liquor, often spurious, made from molasses.
Though there is unanimity over stopping the manufacture, storage and sale of illicit liquor, doctors, administrators and tea sector fear that a complete ban on liquor as sought by pressure groups could push alcoholics towards drugs and violence.
Anil Das, working as the Golaghat district epidemiologist, who has been visiting tea gardens and hospitals in the wake of the tragedy, had mooted encouraging hariya at a meeting convened on Thursday by D. Hazarika, the Golaghat deputy commissioner.
"Even legally permissible excise department manufactured country liquor can be encouraged. It can be rationed. There can be routine health check-ups. Wet canteens and rationed alcohol as made available to defence personnel is an example of how to deal with this situation effectively," Das said.
Excise department officials said there was no ban on heritage drinks such as hariya and a person can possess up to five litres for personal consumption.
Pranjal Sarma, a resident doctor with Halmira tea estate, said stopping sulai alone cannot check the menace of alcoholism in the gardens. Not everybody can afford IMFL in the gardens, he said.
Halmira lost 57 garden workers in the recent tragedy.
Ashok Kullu, a Halmira tea estate employee, said more than 90 per cent of the workers drink.
"Sulai is not available now but the fear is that the addicts will drink everything, even kerosene. Hariya was used before sulai became easily available. Sulai is also cheaper compared to country spirit and stronger than hariya which takes four to five days to prepare. Sulai can be made in a few hours not to mention the spurious products mixed with it to make it more potent, and which of course turns deadly as in this case," Kullu said.
Das and Sarma said one needs to look at the tradition of the garden workers — that they do hard labour and have been using alcohol for generations. Abruptly stopping alcohol intake could lead to withdrawal symptoms.
"Habitual drinkers could turn violent and aggressive if they abruptly stop drinking," Das said. "It is better to gradually reduce the intake by setting deadlines, proper medical counselling and rehabilitation which may take months. Lessons in spirituality also. We need a multi-pronged approach based on reason, not emotion, to check the alcohol menace," Das said.