Guwahati bio-toilets run into space hurdle
Project part of smart city plan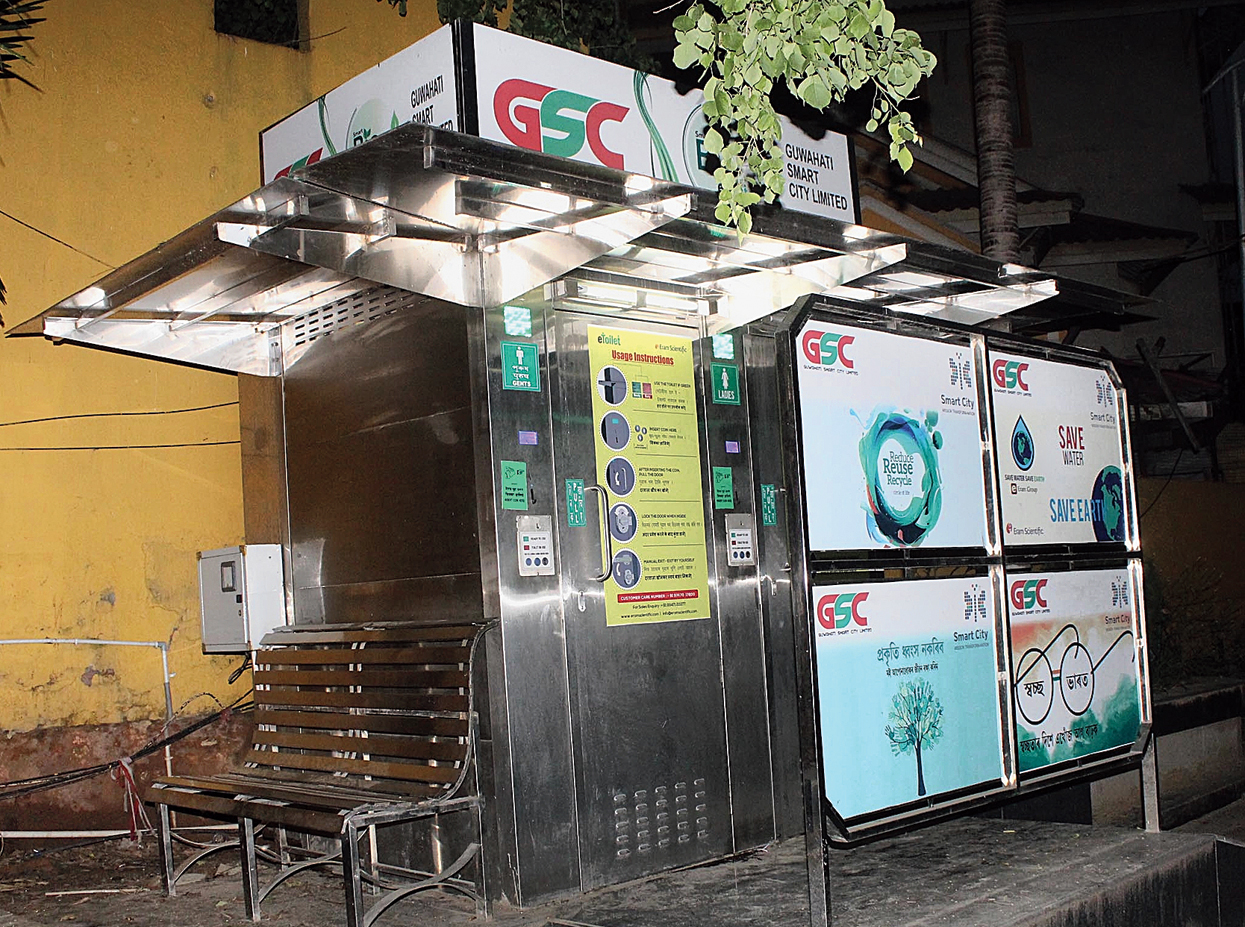 The bio-toilet at Nehru Stadium in Guwahati.
(Ali Fauz Hassan)
---
Guwahati
|
Published 28.04.19, 06:55 PM
|
---
The ongoing installation of bio-toilets in the city by Guwahati Smart City Limited (GSC) has run into space hurdle.
GSC sources here said the plan was to install 30 bio-toilets but the company has managed to set up only 23 because of unavailability of adequate government plots in the city.
Altogether 20 toilets, each costing Rs 26 lakh, have been set up at Judges Field, GMDA office, Gauhati Medical College and Hospital, BBCI, Sonaram Field, Mahavir Uddyan at Fancy Bazar, Azara Civil Hospital, state zoo (two toilets), Dispur circle office, Assam Engineering Institute at Chandmari, District Transport Office at Betkuchi, Nabagraha Temple, RSC Khanapara, Sarusajai stadium, Dharapur, Gorchuk vegetable market, Nehru Stadium, Tarunram Phookan Park and Food Villa with three under-construction toilets at the ISBT, Jalukbari and Basistha.
The GSC is now on the hunt for more such suitable places with heavy footfall to cater to the needs of the public and also make the toilets self-sufficient so that the revenue earned can be used for their upkeep. But unavailability of suitable space is holding up the execution of the project, company sources said.
The bio-toilets, also called bio e-toilets, comprises a male and female toilet unit and can be used by inserting Re 1 and Rs 2 coins. The bio toilets have tanks containing chemicals where the waste is converted into water and small amount of methane gas, which is environment-friendly. The water is then drained out while the gas is released into the air.
The toilets are automated and no one is required to man them. Eram Scientific Solutions Pvt Ltd, a Kerala-based company was successful in bidding for the tender for installation, operation and maintenance of the toilets. The company is being paid quarterly.
GSC sources said they have taken up the space constraint matter with the Guwahati Municipal Corporation, tourism and transport departments and hoped they will be able to finalise a few sites very soon.
The company is being careful while selecting the sites because some of the bio-toilets in operation are rarely used and is generating low revenue.