Gift soap, not chocolate, to keep kids healthy
It was first implemented in Baruajani Bapuji LP School, Kamalpur block, Kamrup district, in 2015-16 and is now being followed by nearly six LP schools in that district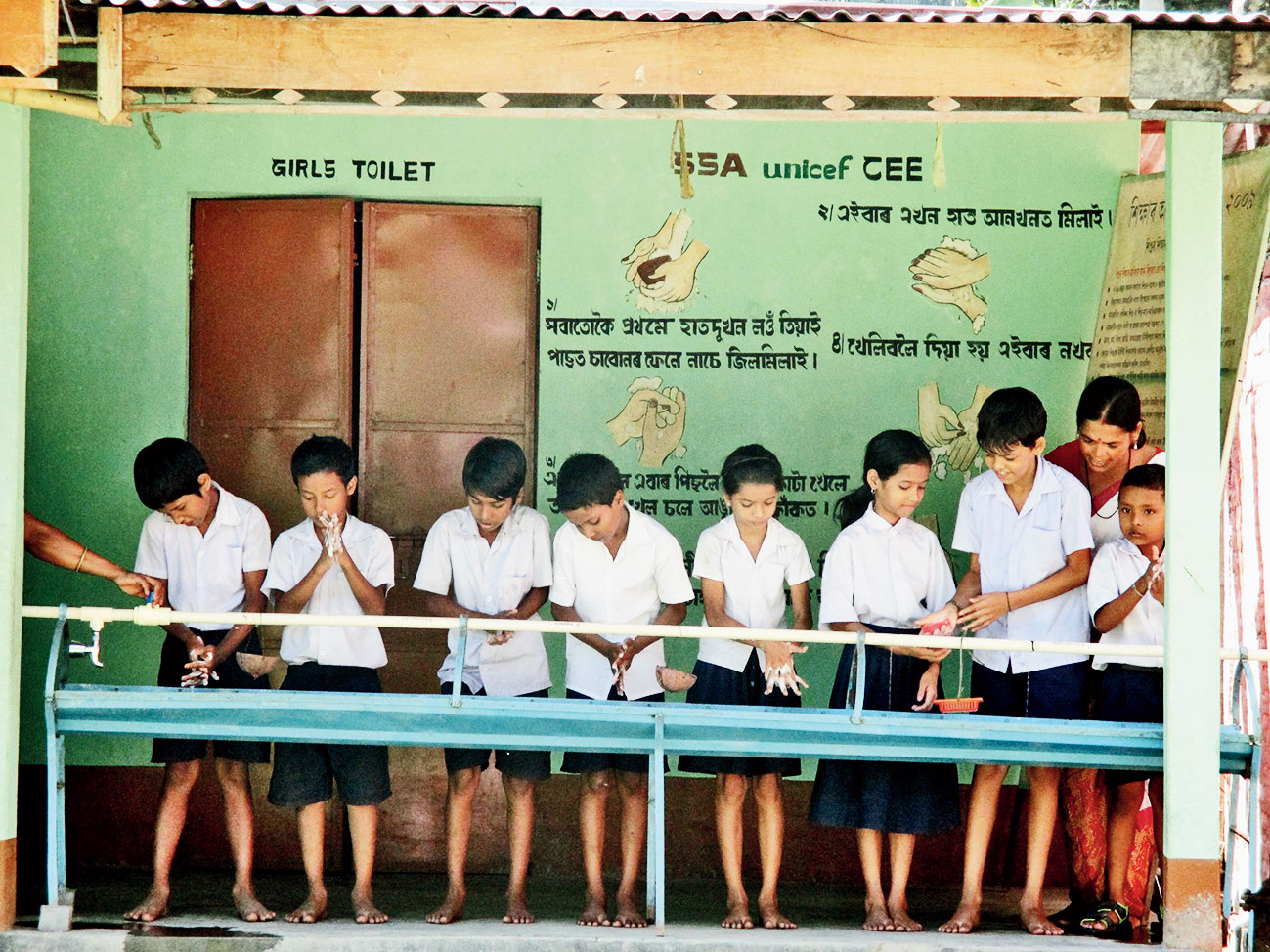 Students of Baruajani Bapuji LP School in Kamalpur block wash their hands as part of the camapaign.
Picture courtesy: Simanta Kalita
---
Guwahati
|
Published 04.10.18, 09:28 PM
|
---
Parents of schoolchildren in some lower primary (LP) schools in Kamrup district of Assam are deviating from the usual practice of gifting toffees or chocolates to them on their birthdays and giving soap instead, to help develop the hygienic practice of washing hands with soaps.
Though Assam is yet to achieve full success in hand-washing practices across the schools in the rural areas, the idea is slowly being implemented in government-run lower primary (LP) schools in the district.
It was first implemented in Baruajani Bapuji LP School, Kamalpur block, Kamrup district, in 2015-16 and is now being followed by nearly six LP schools in that district.
The idea is the brainchild of the Centre for Environment Education (CEE), a national institution, to generate environmental awareness among parents of children studying in LP schools two years ago.
The idea was to develop a sense of hygiene by gifting them soaps as a minimum deterrent against disease-causing germs.
Simanta Kalita, the coordinator of CEE, Northeast, said: "We had read about the idea of telling parents to gift their children a bar of soap instead of chocolates for hygiene purposes, in some books. We thought the idea can be implemented in the rural schools of Assam. We approached parents in some rural schools in the district a few years ago. Some months ago, I contacted the schools and was told that the practice is still there. The soaps can be used by children in a particular classroom as well."
When the student of an LP school gets a bar of soap as a gift, a teacher maintains a ledger. The soap is used by other students in the classroom. Parents can also give soaps to teachers.
This way, if a classroom has 40 students, the practice of giving a bar of soap continues almost throughout the year.
There are around 27,000 group hand-washing stations across state-run LP schools in Assam. Almost half of the stations have soap bars. But the soap is not always there.
"There is a provision in the midday meal scheme, which is earmarked for soaps. But that is not enough. During surprise visits to schools we find that there are no bars of soap at the washing stations. In some schools, teachers and administrators feel that soaps should be provided by the state," added Kalita.