Facebook helps sisters reunite after 39 years
The miraculous story of the family's reunion is doing the rounds in social media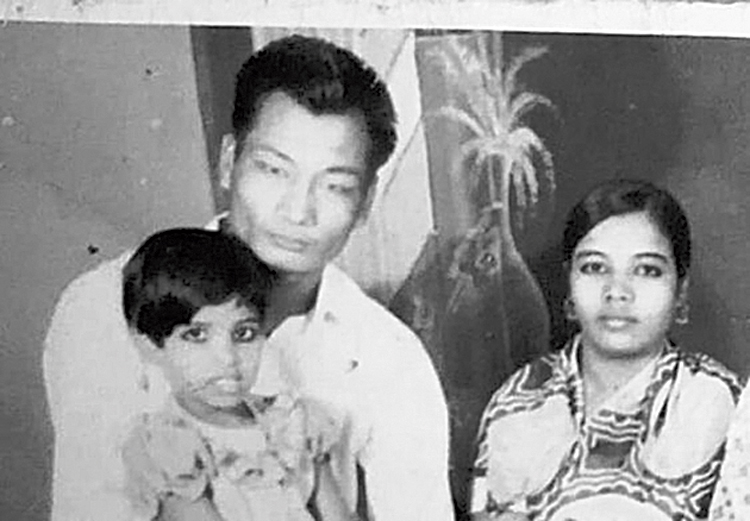 Lallianzara, Kamala and young Jyothi Edla Rudrapathi
Picture by Henry L. Khojol
---
Aizawl
|
Published 17.07.19, 06:38 PM
|
---
After 39 years of intense search and rumours of death, many people would have given up hope but not Jyothi Edla Rudrapathi.
An NRI, Rudrapathi, continued to search for her long lost sister, Kamala, who went missing after she married a Mizo CRPF jawan and moved to Mizoram back in 1980.
Now, the miraculous story of the family's reunion is doing the rounds in social media.
Rudrapathi posted a request on a Facebook group called Mizoram News (in English) on Monday, asking help from the members to find her sister, who she believed was still alive and living in Mizoram. She attached a four-decade-old photograph of Kamala with her husband, who was known by the name "Hmingliana" in CRPF camps, with her post.
Rudrapathi, who was only five years old at that time, was also seen on the photo sitting on Hmingliana's lap.
The post was widely shared on social media and within two hours, Rudrapathi found her sister.
Speaking to The Telegraph over phone from the US, Rudrapathi said her brother-in-law Hmingliana, who hailed from Sialsuk village, married Kamala when he was posted as a CRPF jawan in Andra Pradesh (now Telangana) in 1980.
They lost contact when the family moved to Mizoram.
She said they have been searching for them for the last 38 years. They tried to contact the family through Kiran Bedi, when she was posted as deputy inspector-general (range) of Mizoram in early 1990s. But Bedi was transferred to New Delhi in 1993 before she could do anything.
Kamala's parents, Edla Joseph and Edla Karunamma, then rushed to the nearby CRPF camp, where they were told that their son-in-law was no more in the service.
This put the family in a more difficult situation.
Rudrapathi said a CRPF jawan from Mizoram came to Telangana in 2013, who told the family that Kamala had died in that year. "Despite the news, I believed that one day I will meet my sister. I finally did and now my joy knows no bounds," she said.
She said they have spoken to Kamala. "This is wonderful time for our family. My mother, who is now 86, is the happiest mother."
Rudrapathi lives in the US her two children and husband, who is a pastor. Her father Joseph died in 2010. She said the family would soon organise a reunion. "We are highly indebted to the Mizos for their help."
Kamala said her husband, whose actual name was Lallianzara, a resident of Lawipu on the outskirt of Aizawl, joined the CRPF in the 1970s.
They married in 1980 and had four children, the eldest of whom died in infancy. All the children are now married.
The family had to live hand to mouth after Lallianzara left his service without formal retirement. He died in 2013 of cancer.
Kamala lives with her only son Zorammawia in Lawipui, who said he had made several attempts to find his grandparents but could not do so because of financial constraints.