Exempt Assam from law: Conrad K. Sangma
Conrad demands exemption of the non-scheduled areas of Meghalaya from CAA and protections for the people of Assam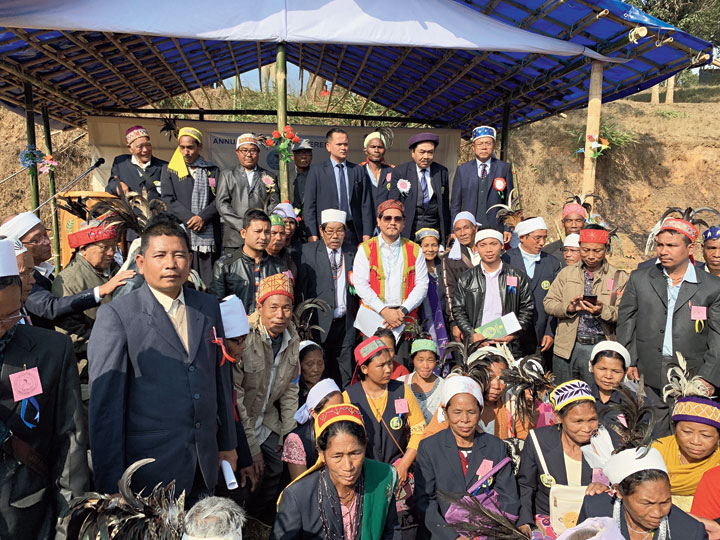 Meghalaya chief minister Conrad K. Sangma with nokmas during the meeting at Jengjal on Saturday
Telegraph Picture
---
Shillong
|
Published 11.01.20, 07:51 PM
|
---
Meghalaya chief minister Conrad K. Sangma on Saturday demanded exemption of Assam from the purview of the Citizenship (Amendment) Act, 2019 and sought protection for its people in the form of inner-line permit (ILP) or other laws.
Conrad said this while addressing the 15th annual general conference of the Council of Nokmas at Jengjal in West Garo Hills. Nokmas are traditional heads in the Garo hills.
"I am thankful to the Centre for having exempted states like Manipur and a large part of Meghalaya. But we still demand exemption of the non-scheduled areas in Meghalaya," Conrad said, a day after the Act was made operational.
The Act exempts states where ILP is in operation — Arunachal Pradesh, Mizoram, Manipur and Nagaland — and the areas where the Sixth Schedule is being implemented. In Assam, three districts are exempted from the Act while the legislation will not operate in 97 per cent of Meghalaya.
On Assam, Conrad said his demand is that the state should be exempted from the Act, and, if possible, various protections should be given to its people.
"We have passed a resolution in the House that ILP must be implemented in Meghalaya. We also feel that the people of Assam and rest of the Northeast need similar protection," he said.
Urging the Centre to exempt all of Meghalaya from the Act and to extend ILP to this hill state, the chief minister said the same should also be extended to Assam. He said this was the only way to ensure that "we will be able to get complete protection".
Conrad, who is also the national president of the National People's Party (NPP), had recently come under fire from various quarters after his lone MP from Tura, Agatha K. Sangma, voted in favour of the legislation in the Lok Sabha at a time when the indigenous people of the Northeast were vehemently protesting against it.
Although Conrad was able to ensure that the Assembly adopts a unanimous resolution to urge the Centre to implement ILP in Meghalaya, the resolution is yet to see the light of day. The resolution was adopted in a special session of the Assembly held on December 19.
The chief minister has been planning to meet Union home minister Amit Shah to ensure that the Centre takes the resolution seriously, and extends the provisions of the Bengal Eastern Frontier Regulation, 1873 to Meghalaya.
Shah had told Conrad in December to meet him after Christmas. But till date, the chief minister is yet to get an appointment with Shah.
While addressing the nokmas, Conrad urged them not to sell their land to outsiders, who adopt unfair means to obtain land in Meghalaya. He was referring to cases of benami land transfers.