Dimbeswar Baruah's plea to honour educationists
Baruah was moved on getting the news about the award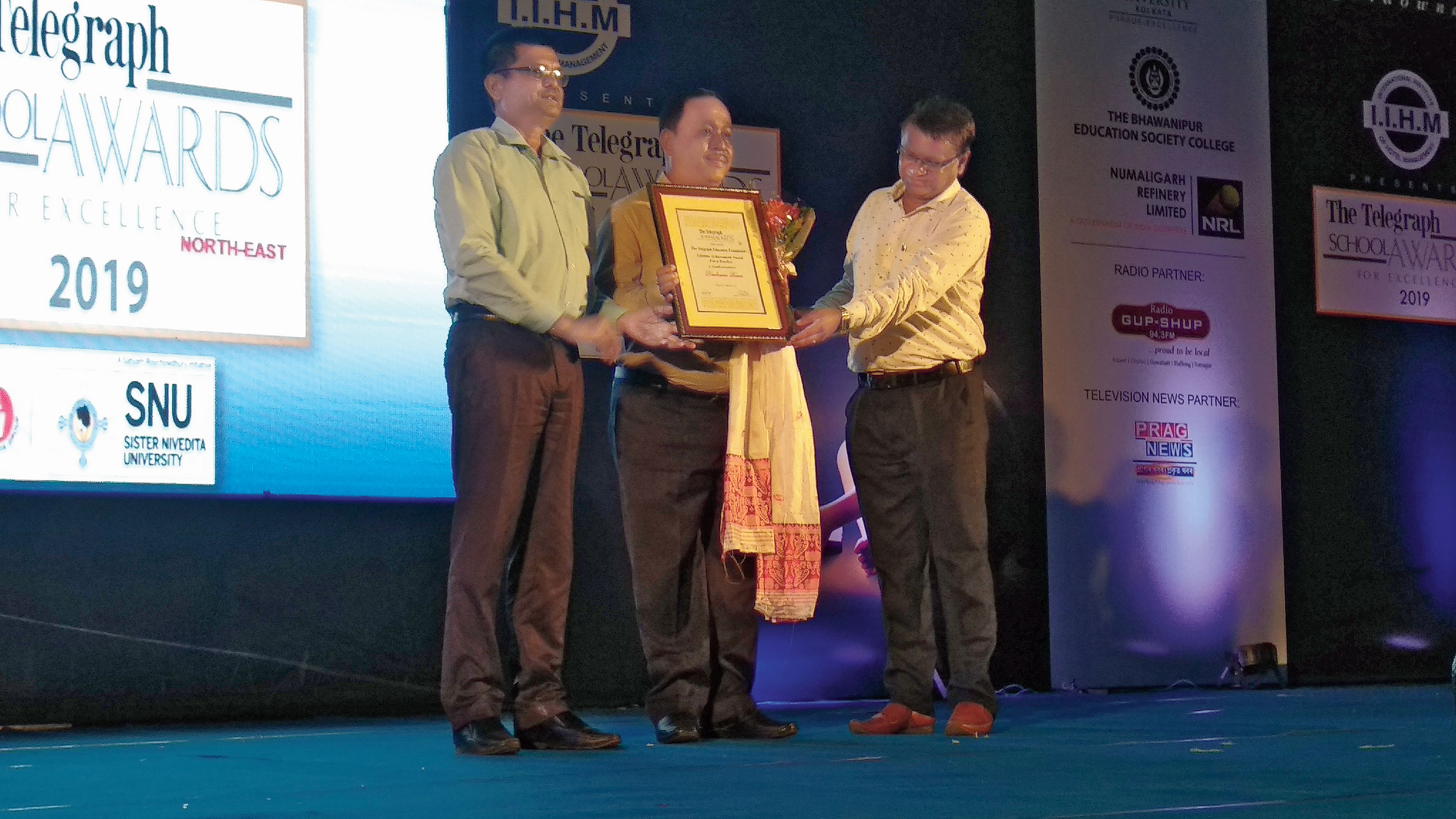 Dimbeswar Baruah's son Moni Baruah (centre) receives the award.
Mohsin Khaiyam
---
Guwahati
|
Published 02.10.19, 12:26 AM
|
---
 Nonagenarian teacher Dimbeswar Baruah has urged big business houses to come forward in recognising and honouring educationists, who toil ceaselessly for the uplift of society without ever coming into the limelight.
Baruah, a former principal of Sivasagar Government Multipurpose Higher Secondary School, was honoured with the State Bank of India Lifetime Achievement of a Teacher Award at the second edition of IIHM presents The Telegraph School Awards for Excellence 2019 Northeast on Saturday.
A distinguished teacher and author of two books, Dharma Jijnasha and Vaishnaviya Abhidhan, Baruah has dedicated his life to society through education and social work.
After a meaningful career in schools spread across several districts, Baruah joined the Sivasagar Govt Multipurpose HS School as principal in 1983, from where he retired in 1989. A dedicated teacher and administrator, it was during his tenure as principal that the school produced many HS toppers in the science and arts streams.
His contribution to society did not end with retirement. He was entrusted with several important assignments related to development of schools by both the Secondary Education Board of Assam (Seba) and the Assam Higher Secondary Education Council. He also joined the Srimanta Sankardev Society and embarked on social and religious work. He has also received several awards.
Baruah was moved on getting the news about the award but could not attend the award event due to health issues. His son Moni Baruah accepted the award on his behalf.
"I am honoured to receive the award. By instituting the awards, The Telegraph has paved the way for other big business houses to follow in the footsteps and launch such initiatives. This is a great gesture towards educators. Such recognition to people who work for society throughout their lives will surely inspire others to dedicate their lives to education. The awards and scholarships to students will provide support and inspiration at a stage when they need it the most," Baruah said from Sivasagar.
SBI assistant general manager (personal relations) Dijen Borah, who gave away the award to the lifetime achievers, said, "It was an honour for me to give away the awards to teachers who give so much to us but receive so little in return. This is a brilliant initiative by The Telegraph to honour both students and teachers on the same platform. I was especially moved by the courage awards to differently-abled children".
Lifetime achievement awards were also presented to eminent educationists Anil Kumar Som and Nitya Sarma.
Som transformed Kamakhya Vidyalaya, one of the most sought-after government schools in the city, by his vision and dedication. His good work in pulling out an institution from obscurity to glory has been acknowledged and amply rewarded. The recipient of innumerable awards, Som received the State Award for Best Teacher in 1987. He was also conferred the Best Teacher Award in 1992 by the then President Shankar Dayal Sharma for his relentless efforts in the field of education. It was his zeal and enthusiasm to shape young minds that motivated him to venture out and sow the seeds of an institution of repute. Thus was established St Vivekananda English Academy.