Meghalaya govt bans wedding receptions, to close entry points
Steps follow case surge in East Khasi Hills and Ri Bhoi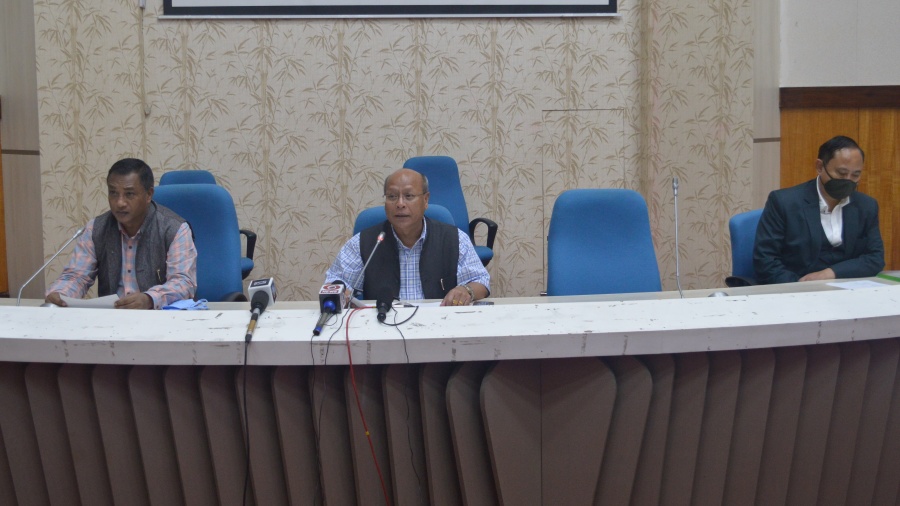 Meghalaya deputy chief minister Prestone Tynsong, health and family welfare minister AL Hek and DHS (MI) Dr A War at the news conference at Yojana Bhavan, Meghalaya Secretariat, on Wednesday.
Telegraph picture
---
Shillong
|
Published 15.07.20, 10:57 PM
|
---
The Meghalaya government on Wednesday banned wedding receptions in two districts while announcing the closure of entry points into the state.
Following a surge in Covid-19 cases in East Khasi Hills and Ri Bhoi, deputy chief minister Prestone Tynsong said that no wedding reception can be held in these two districts. However, he said that solemnisation of marriages can take place with strict adherence to protocols and safety measures.
Till Wednesday evening, Meghalaya recorded 297 active cases, of which 28 were recorded during the day. These cases are from the BSF (19) and the remaining from military and paramilitary forces.
Of the 297 cases, East Khasi Hills alone has 261, including 198 from the BSF campus located at Umpling. Ri Bhoi currently has 22 active cases.
"With effect from today, we have decided to prohibit the holding of wedding receptions whether in private residences or other locations within the East Khasi Hills and Ri Bhoi districts. This applies for other receptions as well," Tynsong told reporters.
While many have applied for permission to hold wedding receptions, he said the government had to take the "extreme" step due to the rise in cases in East Khasi Hills and Ri Bhoi.
He said that from July 23 midnight to July 31 midnight, all the six entry points into the state would be closed. These include Byrnihat in Ri Bhoi, Ratacherra in East Jaiñtia Hills, Bajengdoba in North Garo Hills, Tikrikilla and Hallidayganj in West Garo Hills and Mir Jumla in South West Garo Hills.
Other than emergency services, carrying of essential commodities and allowing transit movement of Assam vehicles, no other vehicular movement would be allowed during the period.
Tynsong said the decision to close down the entry points was to "unburden" health care, other frontline workers and district administration officials who have been engaged in surveillance at the points for nearly four months.
In the period from July 23-July 31, those who intend to return to the state would also have to postpone their journey. To date, 21,977 people have returned to Meghalaya.
The deputy chief minister said that during the period of closure, time would be utilised to conduct workshops to impart knowledge on behavioural change in all localities in the state.
The government will also be shifting the Byrnihat entry point from its current location to another spot due to objections from the Assam government as the present entry point was affecting those who were travelling to Upper Assam.