Covid: Inter-faith prayer in Manipur for joint fight
Chief minister cites the need for 'unity and oneness' with spiritual strength at a time tackling Covid is becoming a huge challenge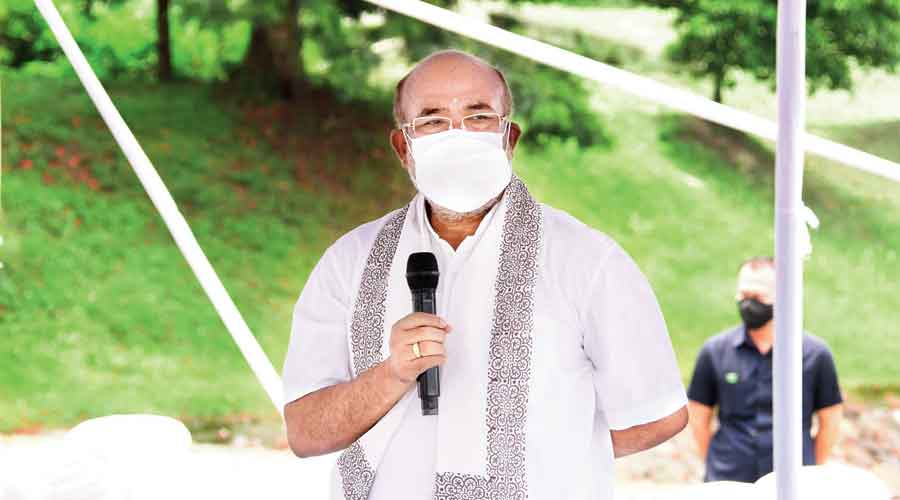 ---
Guwahati
|
Published 08.06.21, 12:28 AM
|
---
Manipur is seeking "divine healing and protection" from the pandemic.
Chief minister Biren Singh on Monday participated in an inter-faith prayer held under his supervision at the western gate of Kangla Fort in state capital Imphal.
Singh said he felt an inter-faith prayer was necessary to heal the world that had been badly affected by the pandemic.
"People usually pray when they go through hard times as it gives them mental peace and hope," he said.
Singh believes such inter-faith prayer will "bring unity and oneness" among different communities to "jointly fight" the pandemic with spiritual strength at a time tackling Covid is becoming a huge challenge.
The prayer programme began with a one-minute silence in memory of all those who have died of Covid.
Participants at the prayer included Archbishop Most Rev. Dominic Lumon and priests from Shree Shree Govindaji Temple Board, All Manipur Christian Organisation, Jamiat-Ul-Ulema, Lainingthou Sanamahi Temple Board, Tingkao Ragwang Chapriak, Giani Gurudwara Prabandhak Committee, Shree Digambar Jain Samaj and Kabui Poupei Chapriak Fom.
"They prayed to the Almighty seeking divine healing and protection of the state and the world from Covid-19," an official statement said.
Over 800 lives in Manipur have been lost to Covid-19 and the state currently has over 9,000 active cases. Curfew was extended in seven of the 16 districts till June 11 to check the spread of the virus.
The chief minister said the high number of daily positive cases was due to the increased testing capacity — around 8,000 to 9,000 samples a day. The positivity rate has reduced to around 8 per cent while mortality rate is also steadily coming down, Singh said.
On June 1, Singh had said that the state was putting in every possible effort to fight Covid-19 and had appealed to all the MLAs to set up community isolation centres in their constituencies as the number Covid patients would increase following the mass testing drive.