Midland Hospital staff put in quarantine
The six hospital staff are among the 111 people who came in contact with first coronavirus patient since March 1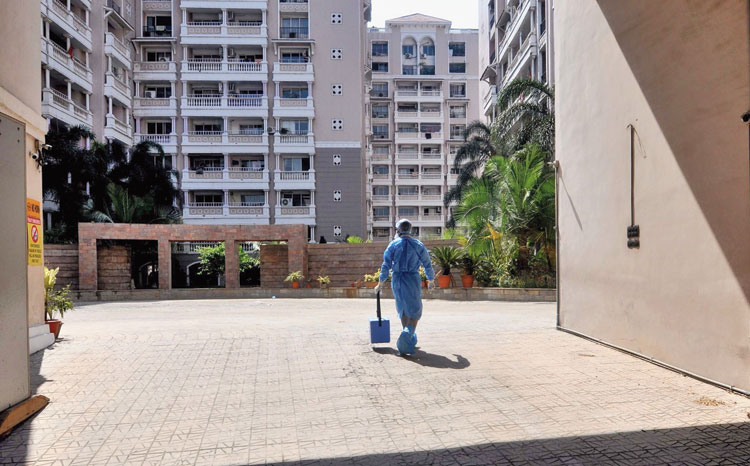 A health worker enters Spanish Garden complex to collect blood samples of residents on Sunday.
Picture by UB Photos
---
Guwahati
|
Published 05.04.20, 07:42 PM
|
---
The Guwahati Municipal Corporation on Sunday started sanitising Midland Hospital where the city's first novel coronavirus patient was said to have undergone treatment between March 12 and 14.
Sources said businessman Manish Tibrewal, who tested positive for Covid-19 on Friday night, had undergone treatment at the hospital and there are chances of surfaces being contaminated by the virus. Therefore, the entire building was being sanitised. The health department also quarantined six hospital staff, including doctors, who were in direct contact with Tibrewal.
Tibrewal, who had taken to social media to announce about his status, had visited New Delhi on February 28 with his family and came back to Guwahati on March 1.
The six hospital staff are among the 111 people who came in contact with Tibrewal since March 1. All of the traced persons have been quarantined and tested for Covid-19. His wife and 34 others have tested negative, while the department was waiting for the remaining results.
Sources said two among the 111 are suspected to be infected and have been shifted to the quarantine centre at Sarusajai stadium for observation.
The district administration is also sanitising a 1km area surrounding the Spanish Garden apartment complex, where Tibrewal and his family stay. There are 150 apartments in the complex. The authorities have barred the entry or exit of any person and vehicle to the complex since 10am on Saturday.
Health minister Himanta Biswa Sarma said on Saturday that Tibrewal had no symptoms since his return to Guwahati, till 28 days later. However, none who came in his contact had tested positive. He said Tibrewal was infected by some "silent carrier" but this was being verified.
Sarma tweeted on Sunday: "We have collected 48 samples of people from Guwahati and Nagaon who had come into close contacts with Sri Manish Tibrewal who tested positive yesterday. However all samples are negative. Everyone will remain under Home quarantine till expiry of 14 days."
Police have also stepped up vigil against lockdown violators after the detection of the positive case by intercepting anybody seen on the streets and letting them go only after they offered a valid reason.
Till Sunday morning, at least 75 people arrested and more than 2,000 vehicles seized by city police for violating lockdown norms.