Online class aids students in Hailakandi
The distance learning programme classes are being conducted during school hours with the content shared with the students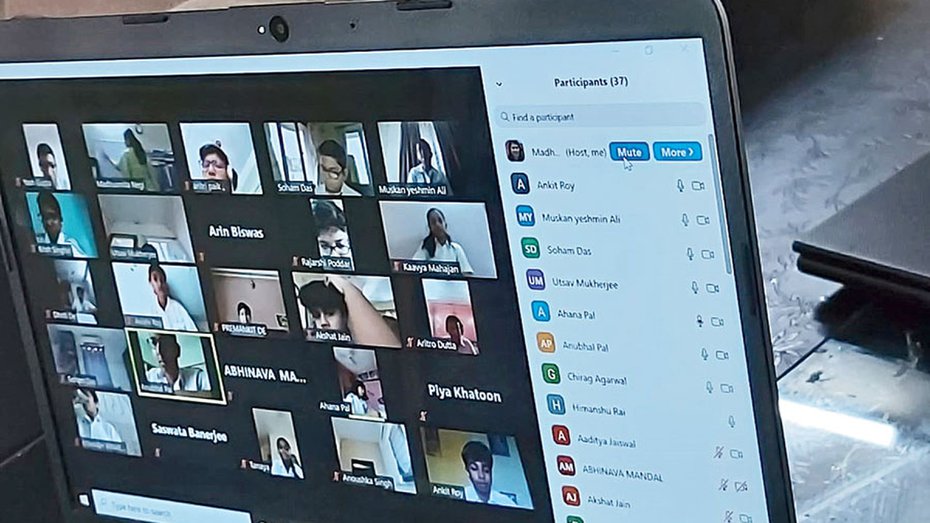 ---
---
The education department has launched a distance learning programme in Assam Hailakandi's district to aid academic activity after closure of schools owing to the lockdown.
The information and communications technology (ICT)-based programme has been launched in 13 government-run higher secondary schools, 33 high schools, 16 high, senior and title madarsas and 36 pre-senior madarsas from April 2.
Teachers of Indra Kumari Girls' Higher Secondary School checked homework and notebook of students online on Thursday and said the system will continue.
Inspector of schools Rajiv Kumar Jha said the programme was undertaken to continue academic activities.
A directory containing mobile numbers with WhatsApp and email ids of students and teachers have been compiled through which learning materials like written text, recorded teaching videos, YouTube videos, question-answer practice sets and other materials are being shared daily.
"Homework is given to the students and their responses checked. A screenshot of WhatsApp class per school per day is being shared in our district WhatsApp group," said Jha.
The distance learning programme classes are being conducted during school hours with the content shared with the students.
The heads of the institutions monitor the teacher-wise record of classes taken and type of content provided to the students at home. "Academic support is also being provided through phone call, conference call, video call and online class," Jha said.
Every school has its Facebook page, Twitter and Instagram accounts through which content shared with students are uploaded on social media platforms for use of students.
With Zoom app installed in their mobile handsets, video-conferencing is being held by the heads of the institutions with Jha and vice-versa.
Meanwhile, Seba chairman R.C. Jain, during a Zoom conference on Thursday, suggested covering more students, particularly those who cannot afford smartphones.
In Karimganj district, 42 teachers of Saraswati Vidyaniketan are imparting classes to 1,200 students through WhatsApp.
Bangalore-based educational technology start-up Eduvizo has decided to help JEE and NEET aspirants through doubt-clearing sessions.
The start-up provides information about coaching institutions in surrounding areas but after the lockdown, it is providing free doubt-clearance access to all students. One-to-one video and telephonic sessions can be booked with a team of IITians, doctors and senior subject experts by calling toll free helpline 18002127144 and WhatsApp number 8011035308.
The Guwahati centre of Allen Career Institute has also announced doubt-clearing sessions and mock tests for JEE Mains and NEET aspirants. It has also made available a series of 10 mock tests each for JEE Main and NEET free of cost at www.onlinetestseries.in. The institute has already started online classes of XI and XII, Pre-Nurture and Career Foundation (for classes VII to X).
In Tripura, in a video message, chief minister Biplab Kumar Deb said the "state government has decided to provide coaching classes through different mediums, including electronic media and social media".
Additional reporting by Ali Fauz Hassan in Guwahati and Tanmoy Chakraborty in Agartala