Covid-19, rain dampen Id festivities in Assam
Mosques and Iddgahs across the state remain deserted as the faithful heed the advice of religious and political leaders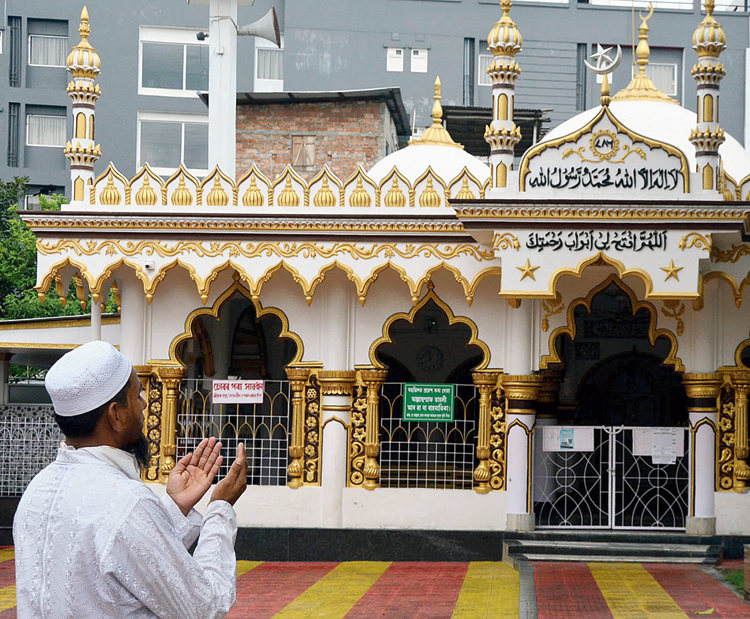 ---
|
Guwahati
|
Published 25.05.20, 06:40 PM
---
Id-ul-Fitre this year turned out to be a damp affair, literally, as it rained through the night before and morning of Monday.

The mosques and Iddgahs across the state remained deserted as the faithful heeded the advice of religious and political leaders to perform namaz at home.During normal times these venues for community prayers used to be overflowing with hundreds of people lining up for the special Id namaz dressed in new outfits and colourful headgear.
It was a sad day indeed as even the kabarsthans — the Muslim burial grounds — were barred for those intending to pray at the graves of their near and dear ones.
The traditional way of greeting each other on Id was also not possible because of social distancing brought on by the threat of the Covid-19 pandemic.
Missing this time were the visits to homes of relatives and friends. No groups of children turned up for the Id or gifts.
The spirits of the people were lifted for some time in the day as the weather gods relented and the sun came out. The showers, however, resumed in the late afternoon.
The charity doled out by Muslims during Ramadan in the form of Zakat and Fitra was utilised to provide the much-needed relief to those unable to provide for themselves, with no work and income. Many of the needy, however, could not be reached because of the lockdown restrictions.
Charitable organisation Khalsa Centre North East celebrated their completion of two months of Fight against Hunger during Nationwide Lockdown by celebrating Id with slum dwellers in three localities of Kamrup (metro) district.
A special menu for Id, including vegetable pulao, kheer and kabli chana was distributed at Beharbari, Boragaon and Gandhi Basti areas which are mostly dominated by the Muslim community.
People like Nasir Mian, Afsana Begum and children like Rafiq were thankful to the entire team of Khalsa Centre for making it possible to help them celebrate their festival during these dark days as most of them are daily-wage earners and they have no work now, according to the chairman P.P. Singh.
"So far, it was all men who undertook this mission to reach out to people, but for the last few days women and children of Morakhali also joined in feeding the poor at gurudwara but today they all joined us and went to different locations to distribute food," said Singh.
During these 60 days, Khalsa Centre reached out to over 2.6 lakh people in over 70 localities, providing them hot, hygienic and healthy food at their doorsteps, he added.