Covid-19 denies last farewell
In several cases, bodies have to be buried without coffins and shrouds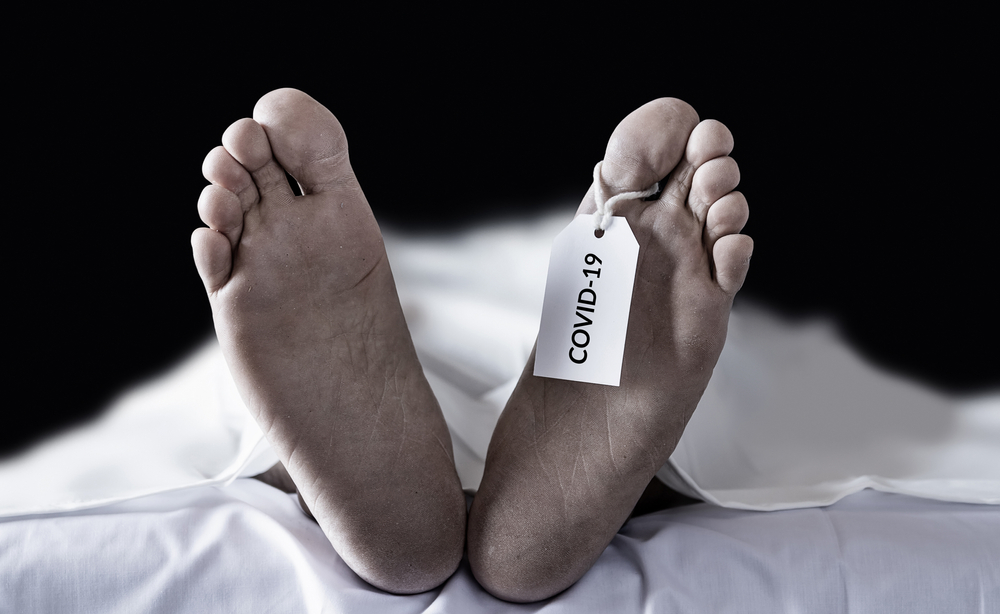 ---
Doomdooma
|
Published 24.04.20, 10:48 PM
|
---
The Covid-19 lockdown has made death darker than ever by heaping untold agonies on bereaved families.
In several cases, bodies have to be buried without coffins and shrouds while last rites have to wait till the lockdown is lifted.
"My father, Rajaram Munda, 80, died of age-related ailments on Wednesday evening. Our relatives, who live in Arunachal Pradesh and Nagaland, could not join the last rites because of the ban on inter-state movement. We waited till Thursday afternoon for the villagers to arrive but none did because of the coronavirus scare. At last, my elder brother Madhav and I buried him in our field," Ghishu, the youngest son of the deceased, a resident of Phillobari village in Tinsukia district of Assam, said on Friday. Madhav said, "We couldn't even arrange a shroud as all the cloth stores are shut or prepare an bier as the entrance to the bamboo shrub area, a few kilometres away, has been sealed by the villagers there till the lockdown is lifted. We took him till the burial ground wrapped in a mat. Had it been a normal day, we would have cremated our father with rituals and prayers."
On Friday, a Christian family here buried their loved one without a coffin after facing lockdown inconveniences. "Even if one gets a coffin, where will one get the hearse to carry the body to the cemetery?" Gabriel, a family member, said.
Hearse driver Sulochan Prasad said getting a pass for movement of vehicles is a lengthy process nowadays. "Moreover, there is the fear of coronavirus infection if I go out. So I have decided to stay home till the lockdown is lifted," he added. Barbers, who tonsure the son's head as a part of death ritual, are also not available. "People do call me now and then but my salon is closed since last month. I am not leaving home," said barber Uday Thakur.
Getting wood for cremation is also difficult as wood-sellers have stopped supply. Most crematoriums in the region are running out of wood. "The bad weather for the last few days is also a factor for the non-availability of wood," said Jagan who lives in a crematorium here.
Bijendra Trivedi, a priest who performs last rites, appealed for keeping rituals simple. "Do all the rituals when normalcy return. For now, maintain social distancing, wear masks and gloves and keep your house, campus, village and towns sanitised. Moreover, bury or cremate the body properly and not throw them into rivers," he advised.
Akhil Bharatiya Tirtha Mahasabha spokesperson Amit Rajya Baidya said the rites done at Allahabad and Varanasi in Uttar Pradesh, Gaya in Bihar and Haridwar in Uttarakhand have been stopped during the lockdown.
"People are requested to wait till normalcy returns," he said. The deputy commissioner of Haridwar, C. Ravishankar, has requested all states not to allow pilgrims to travel as the administration is turning them all away from the state's boundary, even those with passes.
According to reports, 27 people from Rangiya in Assam are stranded at Allahabad where they had gone for rituals but they are safe.
The government has also framed guidelines for performing last rituals in case of a non-coronavirus death during the lockdown and crematorium authorities and Kabristans are observing them stringently. These include limited people (five) accompanying the body, wearing masks, maintaining social distancing.
Mahesh of Beesakopie crematorium said people serving at crematoriums should be given passes, masks, safety gear and insurance cover.
People seem to be coping with this trauma in silence. Funeral rites are done quickly, mourning is subdued, attendance at crematoriums is unusually thin and the last rites have a changed format for the survival of human race.