Congress states to reject CAA: Rawat
Congress would repeal the law if it comes back to power in 2024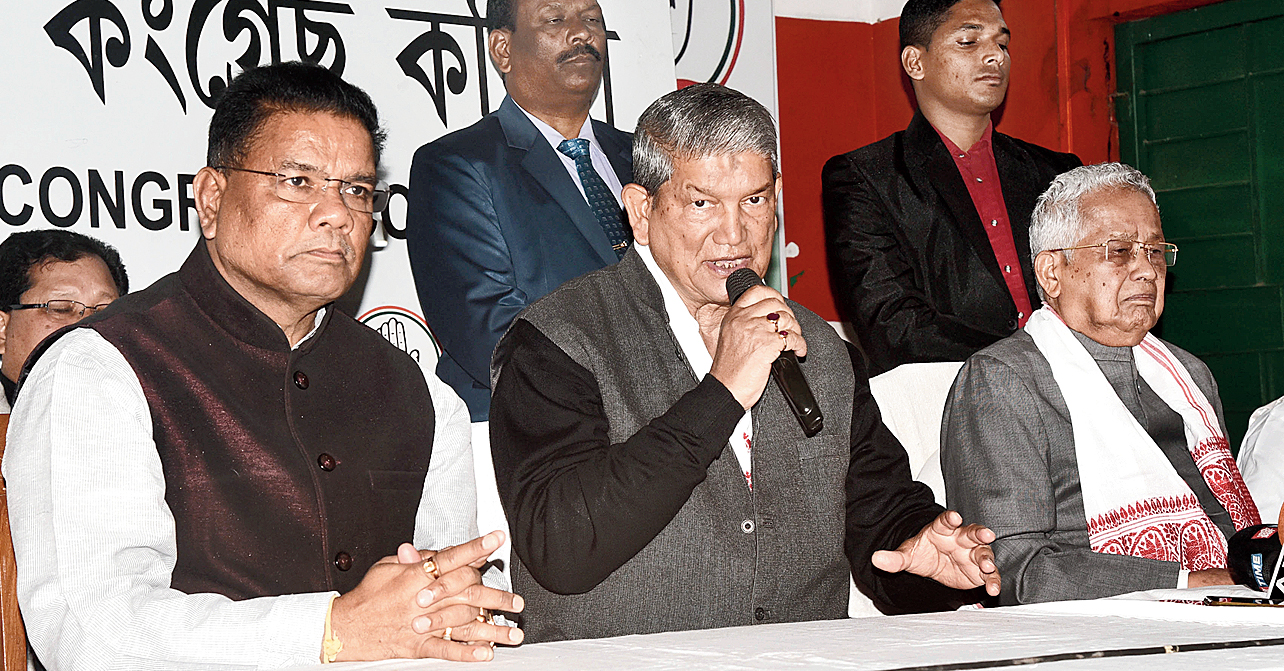 Harish Rawat, flanked by Ripun Bora (left) and Tarun Gogoi, addresses the news conference in Guwahati on Friday.
Picture by UB Photos
---
Guwahati
|
Published 20.12.19, 09:00 PM
|
---
AICC general secretary in charge of Assam Harish Rawat on Friday said no Congress-ruled state would implement the Citizenship Amendment Act (CAA). Thanking the people of the state for initiating the fight against the CAA, Rawat said the Congress would repeal the law if it comes back to power in 2024.
Addressing the media, Rawat said, "Scrapping the CAA will be the first thing the Congress will do once it comes back to power at the Centre. This legislation is draconian in nature and against the country's interest, social harmony and ethos. Congress has decided not to implement this act in all Congress-ruled states." At present, the Congress heads the government in Punjab, Rajasthan, Chhattisgarh, Madhya Pradesh and Puducherry. The national leader announced that the Congress would take out a massive statewide padayatra against the CAA from Sunday.
"Congress senior leaders will kick off the padayatra from all over the state. Besides, a postcard campaign will be launched on December 28 on the foundation day of the party. In the campaign, the Congress will reach out to all sections of the people, including academicians, intellectuals, freedom fighters and ask them to write postcards to the President asking him to scrap the CAA. We aim to send around 25 lakh postcards to the President," Rawat said.
The senior Congress leader came down heavily on the ruling BJP for applying force on unarmed protesters. "It's shocking to see how people were shot at point-blank. I've visited some of the people who received bullet injuries during the protests in the city and they have revealed disturbing facts like how police went ahead to shoot unarmed protesters. It's an oppressive regime ," he said.
Rawat alleged that the BJP was trying to derail the anti-CAA movement by trying to communalise and politicise it.
"There is a nefarious design to malign the movements. But the government failed to understand that people all over the country have now realised its agenda and that's why they are opposing the CAA. Congress wants to thank the people of Assam for initiating this fight which has now spread like wildfire. The Prime Minister and home minister will burn themselves if they play with this fire," he warned.
Meanwhile, the Assam PCC organised a joining programme on Friday where many youths from various organisations and political parties, including the AGP and BJP, joined the Congress.
The Congress also held a CLP meeting in the evening on Friday and decided to take the mass movement against CAA forward.