CAA dampens winter revelry
Tourism industry in Assam also takes a hit due to the ongoing row surrounding the Citizenship Act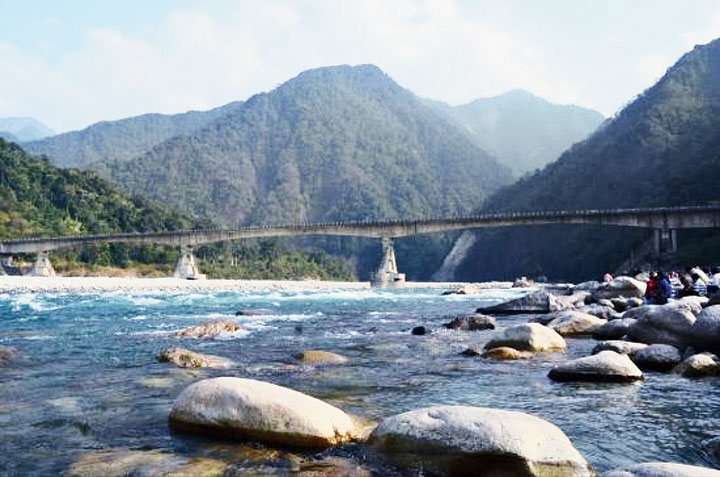 Parshuram Kund
Picture by Manoj Kumar Ojha
---
Doomdooma
|
Published 24.12.19, 06:54 PM
|
---
The chill in the air, the winter sun and holidays invite revelry but picnic spots, usually chock-a-block in December, appear deserted this season because of the protests against Citizenship (Amendment) Act.
"In December, picnic revellers throng Guijan ghat and Dibru-Saikhowa National Park at Guijan (12km from Tinsukia town) to see the beauty of the place with its waterbodies, river dolphins, migratory birds and flora and fauna, including the rare hoolock gibbons. But this time the picnic spots bear a deserted look because of the anti-CAA protests. Anger towards the bill, bandhs, road blockades and night curfew have affected people's mood," said Kashmira Goswami Ghosh, a resident of Guijan.
The tourism industry in Assam has also taken a hit — hotels, transport, house boats, motorboats, ferries, eco camps, heritage chang bungalows and eco-tourism resorts at Guijan ghat in Assam's Tinsukia district, Dilli ghat at Namrup in Assam's Dibrugarh district, situated near the foothills of the Patkai mountain range, Parshuram Kund and Alubari bridge in Lohit district in Arunachal Pradesh and local handicrafts — all have been adversely affected.
Guijan ghat, on the bank of the Dibru river, into which four rivers from Arunachal, Siang, Sibla, Dotong and Dibang, fall, is a hotspot for picnickers. One has to cross the river to go to Dibru-Saikhowa National Park, which is located on an island. The place is famous for migratory and local birds that flock to two large waterbodies —Maguri and Motapung beels.
"Arunachal Pradesh, especially the eastern part, including Lower Dibang Valley, Upper Dibang Valley, Namsai and Lohit districts, is a hotspot for picnickers. Thousands throng here at the year-end, especially at Parshuram Kund, but the crowd is missing this year. Picnickers from Assam might have cancelled their celebration because of anti-CAA protests," Vishnu Pujari, a resident of Parshuram Kund, said.
Some youths, who took out a bike rally against CAA in Doomdooma on Tuesday, said they couldn't think of picnics this time in view of CAA, which is inimical for the state and its people.
Assam Tourism Development Corporation chairman Jayanta Malla Baruah said the state's tourism sector has been affected by the recent protests. According to the state's tourism department, Assam has lost a revenue of over Rs 400 crore in December with many domestic and foreign tourists cancelling their bookings to Assam and other parts of the Northeast.
Altogether 4,504 foreign tourists and 4.25 lakh domestic tourists had visited Assam in December last year.