Border outposts in Meghalaya
Setting up of BoPs or police stations and increasing security along the border was a key demand of leading pressure groups following the skirmish at Mukroh village in West Jaintia Hills on November 22 that left six dead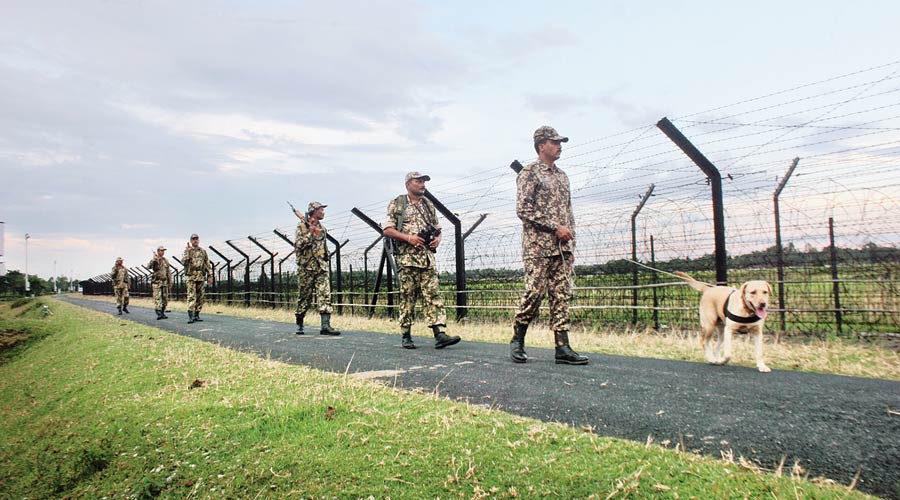 Besides the BoPs, the Meghalaya government will also set up a police outpost for Athiabari in West Khasi Hills district and upgrade two police outposts — Patharkhmah in Ri Bhoi and Kyrshai in West Khasi Hills
Representational picture
---
Guwahati
|
Published 30.11.22, 03:28 AM
|
---
The Meghalaya government on Tuesday announced setting up of seven new border outposts (BoPs) in "sensitive" areas in four districts along the inter-state border with Assam.
Setting up of  BoPs or police stations and increasing security along the border was a key demand of leading pressure groups following the skirmish at Mukroh village in West Jaintia Hills on November 22 that left six dead Meghalaya chief minister Conrad K. Sangma has announced after a cabinet meeting in Shillong that the BoPs will be set up at Mukroh and Tiwieh in West Jaintia Hills district, Umwali, Lejadubi and Langpih in West Khasi Hills district and one each at Muriap in East Jaintia Hills district and Rani in Ri Bhoi district.
Sangma said the second list of BoPs will be announced in Ri Bhoi district but after a detailed study.
"Suggestions had also come for Ri Bhoi District bordering Block 2, but we had to review with local communities to ensure we get the correct locations. Have asked DGP @MeghalayaPolice to visit the areas and come up with the proposal for the areas of difference in Block 2," he tweeted after the meeting.
Besides the BoPs, the Meghalaya government will also set up a police outpost for Athiabari in West Khasi Hills district and upgrade two police outposts — Patharkhmah in Ri Bhoi and Kyrshai in West Khasi Hills.
Sangma said all necessary manpower and infrastructure will be sanctioned immediately for the setting up of these security infrastructures.
Leading organisations have staged protests/dharnas seeking the setting up of a border outpost/police station in Mukroh and a vulnerable area for the safety of the people living along the border.
They are also seeking the arrest of those involved in the firing incident and an early solution to the inter-state border dispute to prevent another Mukroh.
On Tuesday, a protest was held at Jowai, about 60km from Shillong, over the Mukroh incident where effigies of Sangma, Assam chief minister Himanta Biswa Sarma and Union home minister Amit Shah were burnt, Hynniewtrep Youth Council general secretary Roy Kupar Synrem said.
Both Assam and Meghalaya have a border dispute since the latter was carved out of Assam in 1972.
The states share a 884.9km inter-state border and there are 12 areas of differences out of which they have signed a deal to resolve six but six complicated areas still remain.
Both states claim Mukroh fall within their territory. Meghalaya claims Mukroh to be located in West Jaintia Hills while Assam says it falls under West Karbi Anglong district which has four areas of difference.
Meghalaya also claims Mukroh does not fall in the area of difference and that the firing incident was a result of "unprovoked" firing by Assam police in its territory.
Assam says it was a clash between people from Meghalaya and Assam forest personnel over a seized truck carrying illegal timber leading to firing by the police in self-defence.
Sarma said in Silchar on Tuesday that he was "sure" that Meghalaya will not enter the constitution boundary of Assam and we too will not enter Meghalaya when asked in Silchar about the Meghalaya's plan to set up BoPs in sensitive areas.
"Both states have a constitutional boundary. Maps are available to both states. I am sure the Meghalaya government will not do anything within the constitutional boundary of Assam … "If they do something, that will not have any legal validity. Suppose there is a police station and if that PS takes any case and somebody goes to the court over how Meghalaya can have a PS in Assam. All cases will be quashed by the HC over jurisdiction."
Sarma also said both states have agreed to maintain status quo in areas of differences till the border issue is resolved. He also said police should not fire at civilians, adding he did not approve of the firing that took place in Mukroh.