BJP gives Pallab prime Tezpur seat
The announcement about Das's candidature, two days before the last date for filing of nominations on Monday, has ended all speculation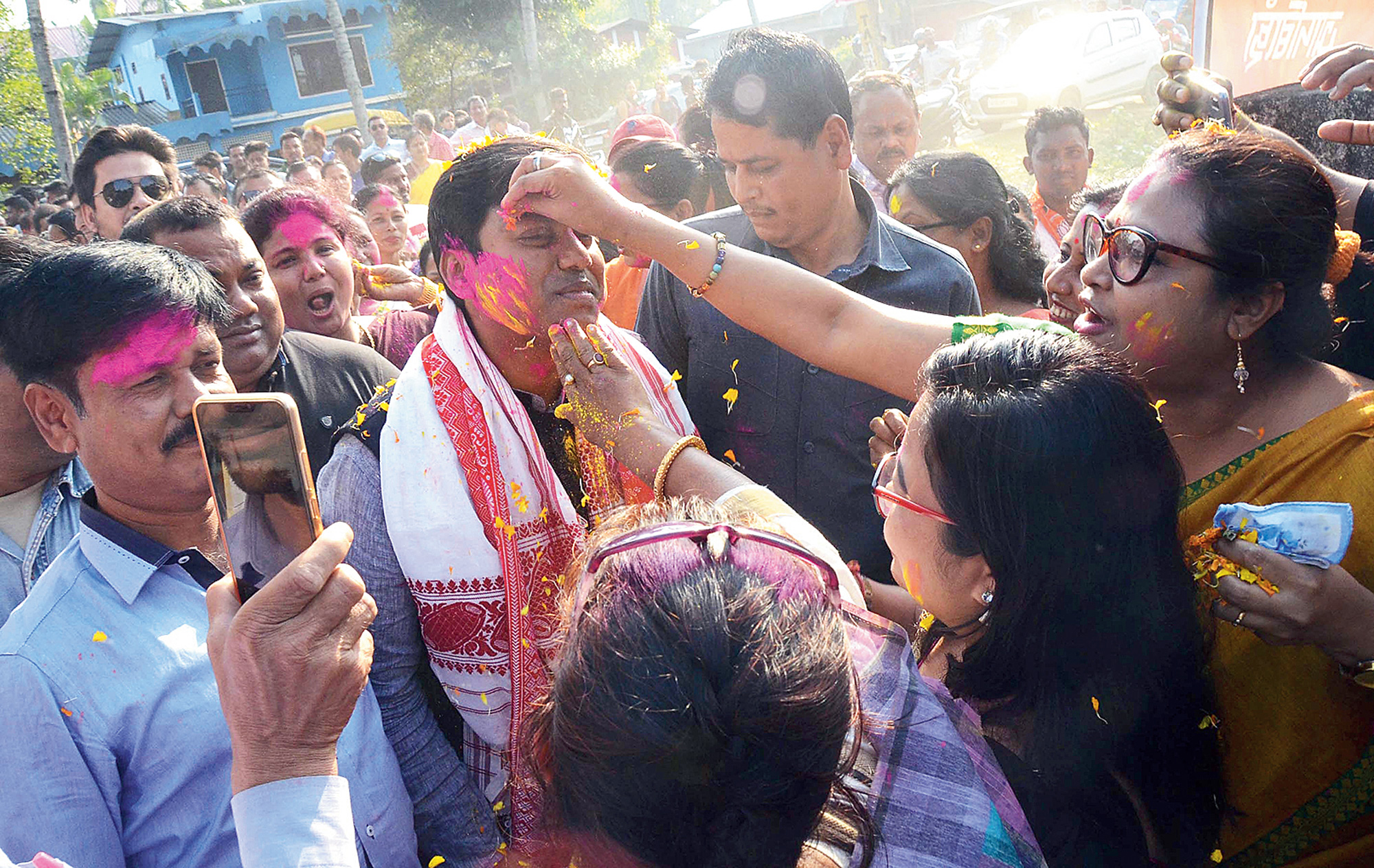 Supporters smear gulal to welcome Pallab Lochan Das on Saturday after he was nominated as the BJP candidate from Tezpur Lok Sabha seat.
UB Photos
---
Guwahati
|
Published 23.03.19, 07:49 PM
|
---
The ruling BJP on Saturday ended the suspense over its Tezpur candidate by fielding sitting MLA and minister Pallab Lochan Das, dashing any outside hope sitting MP R.P. Sharma may have harboured of being renominated.
Though Sharma had resigned from the party through a Facebook post even before the name of BJP candidate was announced, he had on Friday triggered speculation by collecting his nomination papers and asserting he was still a contender for the party ticket as his resignation was yet to be accepted. He quit the party because his name was not in the list of probable candidates for the Tezpur seat despite him being the sitting MP.
The party, too, had fuelled speculation. First, it did not name the candidates for the Tezpur and Nagaon seats on Thursday night while announcing names of candidates for eight of the 10 seats it will be contesting.
Its allies, the AGP and BPF, will contest in three and one seats respectively. Assam has 14 Lok Sabha seats.
Second, the state BJP had unanimously recommended cabinet minister and convener of the North East Democratic Alliance (Neda) Himanta Biswa Sarma for the Tezpur seat, but party's national president Amit Shah said they could not accept the recommendation in the interest of the party and the Northeast.
The announcement about Das's candidature, two days before the last date for filing of nominations on Monday, has ended all speculation.
Das was in Guwahati when the announcement was made. He left around 9am to Tezpur where he was given a warm welcome on Saturday afternoon. His supporters took out a bike rally from the Bhomaraguri bridge in Tezpur to the BJP's party office at Mazgaon where he addressed party workers, seeking their cooperation to win the election.
The first to tweet backing his candidature was Sarma. "I welcome candidature of Sri @pallablochandas, my young colleague in Assam, for Tezpur LS seat. A leader from tea tribe community, he has always worked hard for the community and for welfare of Assam. Tezpur will surely reward him with thumping majority and strengthen PM @narendramodi," he tweeted.
Das is a former Congressman like Sarma and also very close to the latter. He has never lost an election, winning his first MLA election in 2011 defeating then BJP state president Ranjit Duta from Behali and then in 2016 from Rangapara under Tezpur constituency, defeating deputy Speaker Bhimananda Tanti.
Das tweeted soon after, "Honoured to be nominated for LokSabha #BJP4INDIA candidate representing Tezpur constituency Assam. Immensely thankful to HPM @narendramodi ji,@AmitShah ji,HCM @sarbanandsonwal ji, @himantabiswa ji @RanjeetkrDass ji. Humbled by the confidence bestowed upon me #AbkiBaarPhirModiSarkar."
Before attending a meeting of senior leaders at the party office in Tezpur, he said a lot of development work had taken place under the BJP regime. He added that insurgency had been curbed in the north bank districts. "There is a lot going for the party. We will do well," Das said.
Das said the Congress was very unstable now for which they could not even field a local candidate — referring to retired bureaucrat M.G.V.K. Bhanu who is from Andhra Pradesh but who had served in Assam especially as deputy commissioner of Sonitpur district. Like Das, this is going to be Bhanu's debut Lok Sabha polls.
Das was also optimistic about securing the support of Sharma. "I have good relation with him (Sharma) and I am sure he will wholeheartedly campaign for the party to win the seat," Das said.
The ruling BJP is on a strong wicket in Tezpur. Of the nine Assembly segments, it holds eight and the remaining one is held by ally AGP. Of the 14,85,426 voter count, there are an estimated 246,785 Adivasis, 416,800 Assamese, 206,419 Muslims, 160,450 Nepalis, 145,950 Bodos, 102,000 Bengalis, 52,662 Mising and 54,360 Hindi-speaking people.