Protests at Assam blowout site continue
Erratic gas supply hits tea factories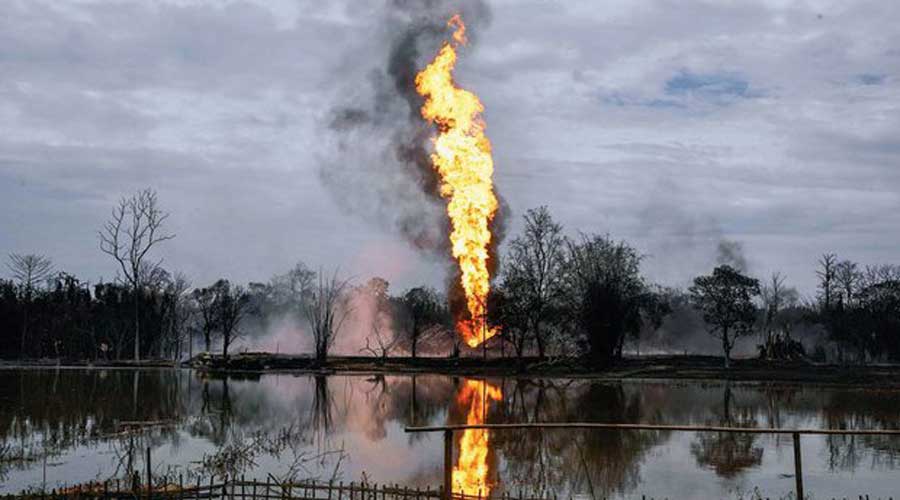 Smoke billows from the oil well fire at Baghjan in Tinsukia district of Assam.
File picture
---
Guwahati
|
Published 15.07.20, 12:28 AM
|
---
Manufacturing of tea has been affected in at least 50 gardens in Upper Assam's Tinsukia and Dibrugarh districts because of erratic supply of gas and disruption in supply of gas to their factories, following protests by local organisations since the May 27 gas well blowout at Baghjan in Tinsukia district.
Industry sources said protests by those affected by the blowout have disrupted the functioning of Oil India Limited's gas wells that cater to 30 gardens in the Doomdooma and Tingrai areas in Tinsukia district. The blowout not only impacted the ecology but people's livelihood.
A clash between locals and oil tanker drivers on Monday afternoon has further compounded their woes, affecting operations at the Deohal well in Dibrugarh district, they said. A source said erratic supply was making it extremely difficult for the tea factories to operate in a situation where pressure/flow of gas to the tea gardens is frequently interrupted by protests.
The affected gas wells in Tinsukia district produce nearly 1.44 million standard cubic metres (mmscum) of gas per day, meeting the needs of industrial units and as well tea gardens. Deohal produces another 1 million mmscum a day, the source said.
Madhurjya Barooah, secretary, Assam Branch Indian Tea Association (Zone 1), told The Telegraph that they had written to the state industry department and local administration seeking their intervention to resolve the issue.
"It is a worrying situation. Almost 50 gardens have been affected. The Dhakual well started operating at 2pm today but we will get gas only by about 10pm. Gas pressure has dropped significantly at the factory delivery point because of erratic supply, causing damaging impact on production and manufacturing of tea," Barooah said. Apprehending a breakdown of machines due to fluctuating pressure, most garden factories have activated their burners, using TD (tea tyre) oil. This is produced by OIL and used exclusively for drying tealeaf. But it pushes up the cost of production and affects quality.
"The price per kg of tea produced using gas is Rs 5.10 while using TD oil is Rs 13.55. There is an oily smell leading to drop in prices. It's certainly not a long-term solution," Barooah said.
OIL sources said protests and disruptions in the greater Baghjan area have resulted in a loss of about Rs 30 crore since the blowout. "We are trying to cap the well in the next three days, everything remaining equal. Ground work is almost complete," a senior OIL official said.The blowout had affected the local ecology and livelihood of locals leading to protests.